Do you find yourself raiding the flyer shelves of airports, hotels, and tourist centres when on holiday, looking for suggestions and insider tips on what to see, do or eat? Now you don't have to waste time figuring all this out. Introducing Touristly – a new travel itinerary platform that enables travellers to customise holidays with ease, all at just the click of a button.
Launched just last year in June, Touristly aims to eliminate the process of searching through various websites and apps for the best deals, thus becoming a one-stop centre for travellers' on-location activities.
And now, you can get rewarded just by planning and booking your holiday on this travel platform!
Announcing their partnership today, Touristly, and AirAsia's loyalty programme, AirAsia BIG, are giving AirAsia BIG members the opportunity to earn AirAsia BIG Points, just by creating and booking their holiday itineraries on Touristly.com:
One (1) AirAsia BIG Point for every RM3 spent on the travel platform
300 bonus AirAsia BIG Points when they create and book their first travel itinerary
An additional 200 AirAsia BIG Points for transactions above RM500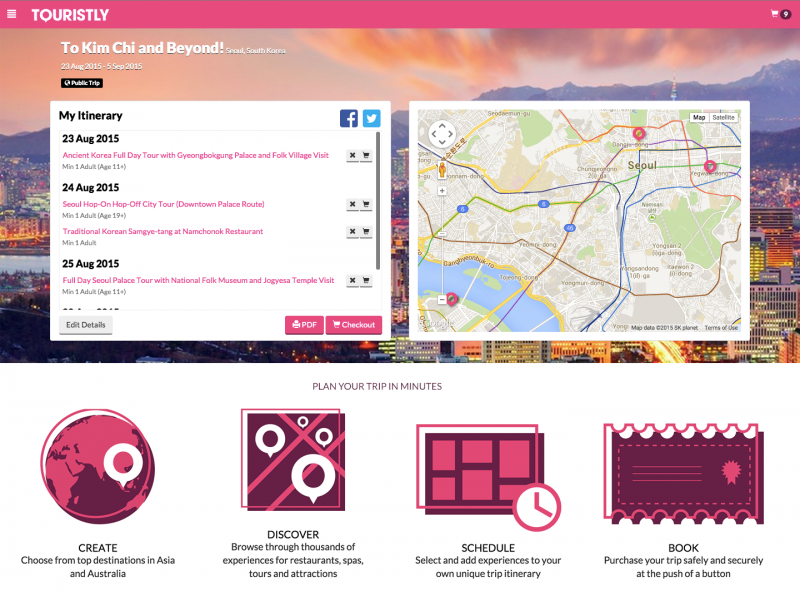 In celebration of this new collaboration, from now until 30th April 2016, members can earn 5x AirAsia BIG Points for every RM1 spent (instead of the standard 1x AirAsia BIG Point for every RM3 spent). Members will also enjoy 15% off their first booking through an exclusive promo code.
"At Touristly, we are always looking for ways to enhance the travel planning experience by engaging travellers in what we view as the most fun element of going on a trip – the holiday itinerary. This exciting partnership gives us an opportunity to further reward travellers for planning and booking their holiday itineraries ahead of time by allowing customers to earn AirAsia BIG points not only from their flight and hotel arrangements but also from the actual holiday," expressed Aaron Sarma, CEO and founder of Touristly.
In view of the partnership between AirAsia BIG and Touristly, Dato' Bernard Francis, Chief Operation Officer from AirAsia BIG added, "AirAsia customers have been the reason for our success these many years, and we at AirAsia BIG would like show our appreciation for their much-valued support. This is why AirAsia BIG Loyalty Programme offers the best value of points to our BIG members and frequent flyers of AirAsia, worldwide. Our ultimate goal is to reward our members. With the joint partnership with Touristly, our mission is to enable everyone to fly to their dream destinations by earning AirAsia BIG Points together."
Looking forward, AirAsia BIG and Touristly will be working to enable members to redeem travel activities and tours from the Touristly platform with their AirAsia BIG Points.