Earlier this year, Touristly announced its partnership with AirAsia BIG Loyalty, and now the Kuala Lumpur-based travel platform is powering up a new concierge service, starting with major budget hotel chain Tune Hotels.
Yesterday, the travel startup launched its integrated online hotel concierge service, that will ease the reservation process for hotel guests looking for tours, activities and attractions while on holiday.
For chains like Tune Hotels, this service enables them to seamlessly cater to guests who are looking to book and customise their own vacation activities, all in one place.
"We endeavour to furnish our guests with quality service; great rooms, 24-hour security, centralised locations, necessary amenities and now with Touristly, we are able to further enhance their stay with us, taking the stress out of holiday planning," expressed Jack Tan, COO of Tune Hotels. "Not only do they get a great night's sleep at Tune Hotels, they also get to have a great day out and about."
Aiming to change the way travellers and holidaymakers view the trip planning process, Touristly eliminates the need to browse through dozens of guidebooks, brochures, and websites in search of on-ground activities. Offering over 7,000 deals in 70 destinations around Asia, Australia and New Zealand, travellers will be spoiled for choice with to-do options.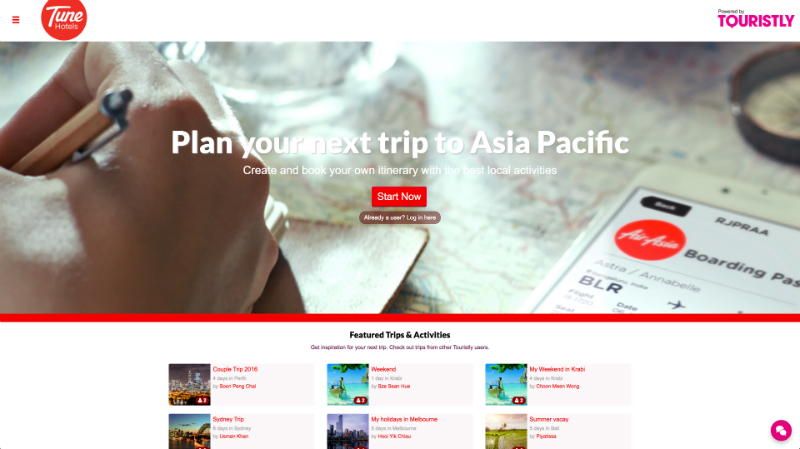 "We are excited to roll out a customised solution for Tune Hotels that assists their guests who are on the travel booking path to find amazing things to do. Once they have locked down their flight and hotel plans, the natural thing to do is to plan the fun parts of the holiday experience, which is where we come in," voiced Aaron Sarma, founder and CEO of Touristly.
Touristly offers holiday itinerary solutions to hotels, B&Bs, and travel agencies, giving them access to their inventory of content, making the most of travellers and holidaymakers' experience.
Guests of Tune Hotels can access this concierge service through Tune Hotel's website, through pre-trip emails, and at the reception desks in all Tune Hotel branches.