Breathtaking, serene, lush – these are but a few words that can succinctly describe the beautiful and sprawling 12-hectare property that is The Anam in Cam Ranh, Vietnam. Affording undisrupted, panoramic views of Cam Ranh's pristine Long Beach on one side with towering headlands and abundant greenery on the other, The Anam is canopied by some 3,000 palm trees and fronts 300 metres of private beach and gentle waters. It's little wonder why this area was chosen to be the home of this new colonial-inspired resort when you see it for yourself.
Upon arrival, you'll be completely immersed in the 5-star resort's nostalgic ambience and fine details. Take notice of its imperial Hue-style roofing, custom mosaic floors and stone pathways as incandescent lanterns light up the way and big-bellied water vases help set the tone.
The space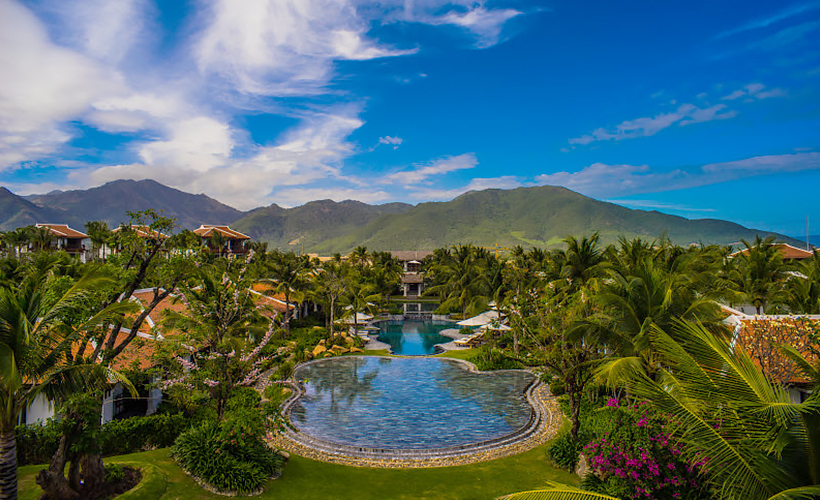 Blending right in with its surrounding natural setting, the oasis boasts a whopping 117 villas and 96 rooms, along with several world-class amenities. Creatures of comfort will especially love the 10 treatment-room luxury spa, three decorative swimming pools and 3D movie theatre, while active guests will enjoy facilities such as The Anam's yoga room and deck, water sports centre and tennis court.
Not forgetting, The Anam also has a grand ballroom and conference rooms, making it a prime choice for destination weddings. The hotel's honeymoon package even incudes a complimentary room upgrade, bottle of wine, airport transfer, two-hour couple's spa treatment and romantic beach dinner for two.
Fun for everyone
As romantic as the setting may be, The Anam is a family-friendly resort, offering many daily activities such as futsal and water gymnastics for children to enjoy. Parents looking to have some down time can also rest easy knowing their kids are in the safe hands of hotel staff at the resort's kids club that runs various indoor games and activities.
For the grown ups, whether solo or among friends/family, there's plenty to look forward to as well. Complimentary daily activities include beach volleyball, badminton, sepak takraw (a sport known as 'kick volleyball' native to Southeast Asia) and sunrise yoga.
Those with a sense of adventure can head over to the water sports centre and choose from other recreational pursuits like kayaking and bravo sailing, surfing, bodyboarding and snorkelling. Should you like, The Anam can also organise personal training, tennis lessons and even a fishing excursion in a traditional Vietnamese coracle boat!
Checking in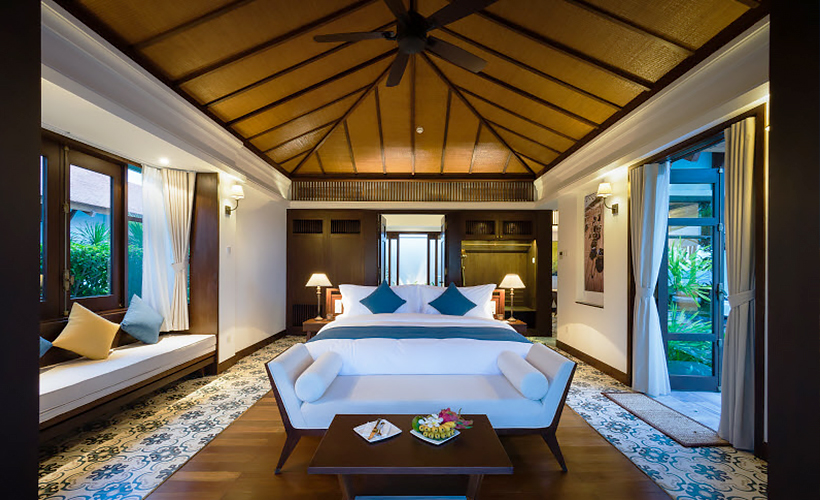 Located just 20 minutes from Cam Ranh International Airport, The Anam is easy to get to with direct international flights from locations including Hong Kong, South Korea, China and Russia. Visitors from elsewhere can fly in from Ho Chi Minh City (a one-hour flight) and Hanoi (a 90-minute flight) with numerous daily flights. Cam Ranh is also accessible by road and rail.
The resort's published nightly room rates start at USD200 for the Balcony Garden View Room to USD800 for the Anam Ocean View Pool Villa that has three bedrooms (complete with a kitchen, large living room and private pool) that's ideal for families, friends or parties.
The Anam Resort Long Beach, Northern Peninsula Cam Ranh, Khanh Hoa, Vietnam | Website www.theanam.com | For reservations and enquiries, call +(84) 583 989 499 or email info@theanam.com | Facebook fb.me/TheAnamResort