As part of its collaboration with Lotte Duty-Free, the #WorldOfWinesAndSpirits event will include over 200 of the greatest goods from more than 75 brands, including first-in-region rarities from renowned labels. So, if you're looking for ways to satiate your thirst, sip your way through the inaugural World of Wines and Spirits (WOWS).
Beginning 30 September, wine and spirit enthusiasts worldwide can shop a carefully chosen assortment of fine beverages at the WOWS' online portal.
Bowmore, The Macallan, Midleton, The Singleton, and Penfolds are just a few prestigious brands in the extensive online inventory. Customers using WOWS may anticipate a customised shopping experience: after expressing interest in a product, a Changi Airport or Lotte shopping concierge will contact the customer to assist them, facilitating questions and payments through WhatsApp, phone call, or in-person.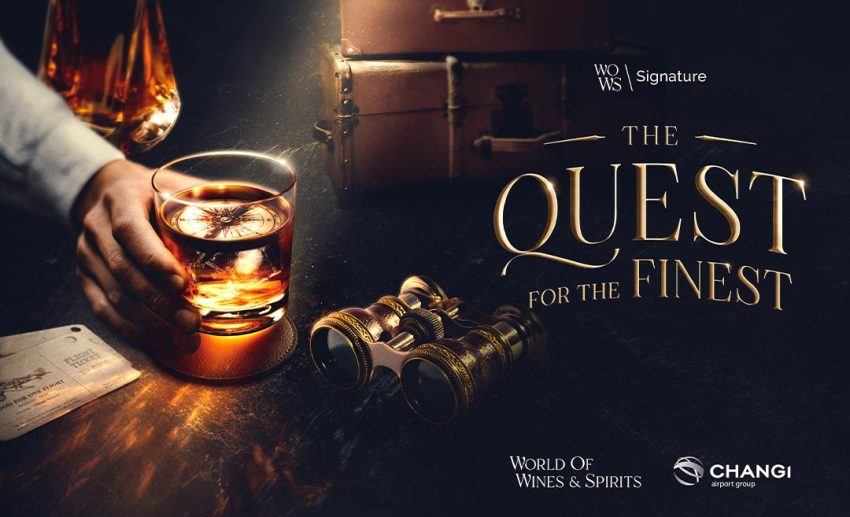 Two of the most sought-after items in the world of spirits, including bottles of Hennessy, will be auctioned off on the WOWS platform from 14 to 24 October, with bidding beginning at SGD 225,000 (MYR 722,932) and SGD 130,000 (MYR 417,694.43), respectively, for VIPs from Changi Rewards, Lotte, and other Changi partners.
Following the auction from 28 to 30 October, the famous Jewel Changi Airport in Singapore will host the exclusive WOWS signature event. The exclusive three-day event is by invitation only. It will be a sensory feast, with lectures by business professionals, artistic performances, and tastings of a hand-picked assortment of rare and excellent goods.
Wines and spirits highlighted on the WOWS portal include:
Bowmore ARC-52 (SGD 130,000) (MYR 417,694.43) – Making its travel retail debut in Southeast Asia at WOWS is the Bowmore ARC-52. This will be the only bottle retailed in the region, out of 100 bottles produced worldwide. Matured for a remarkable 52 years in a marriage of two cask styles, the ARC-52 is married in two parts – 50% from an American Oak Hogshead and 50% from a European Oak Butt.
Tales of The Macallan Volume 1: The Laird of Easter Elchies (SGD 120,000) (MYR 385,511.93) – A fantastic new series of single malts, this one is a tribute to the forefathers of The Macallan and their tradition of whisky manufacturing. The rare 1950 whisky is housed in a Lalique crystal decanter and is kept secret inside a remarkable book that tells the tale of John Grant and includes stunning images by renowned illustrator Andrew Davidson.
Midleton Very Rare Silent Distillery Chapter 3 (SGD 63,000) (MYR 202,393.76) – A bottle of this Irish single pot still whiskey, one of only 97 ever made, will soon be up for grabs. The final lock was turned at Midleton Distillery in 1975, making this 47-year-old edition a scarce gem.
Richard Hennessy x Berluti (SGD 57,900) (MYR 185,975.29) – Produced in only twelve tierçons a year, the Richard Hennessy blend is made from the rarest eaux-de-vie in the world, all of which have been hand-picked and aged in Hennessy's Founder's Cellar. A specially crafted cardholder imprinted with the Hennessy and Berluti logos is included with the case.
The Singleton 54 Paragon of Time II, Single Malt Scotch Whisky (SGD 56,800) (MYR 182,442.08) – This is The Singleton's oldest and rarest whisky to date, and there were only 235 bottles made for the entire world. This dram, aged for 54 years, honours a priceless oak butt barrel meticulously finished off by hand in a Pedro-Ximenez-seasoned cask in Dufftown in 1966.
Penfolds 2018 Superblend 802-B Imperial 6L (SGD 20,288) (MYR 65,165.23) – The wine is a rare example of the classic Australian blend of Cabernet Sauvignon and Shiraz; it was painstakingly picked from the highly sought-after 2018 South Australian vintage. Only at WOWS will one bottle be sold for sale.