The popular phrase 'Unity in diversity' is best rephrased as 'Unity in calamity' to describe the selflessness of real-life heroes from different walks of life and communities in the catastrophic event of the recent flash floods that took place in various parts of the Peninsular Malaysia — mainly the Klang Valley and Pahang.
With monetary donations, relief materials, labour, sympathy and prayers pouring in from all quarters at home and abroad, it seems that positive forces of humankind have united against the destructive forces of nature to save and rebuild the flood-hit areas.
1. Abang FoodPanda to the rescue
not me crying bcs of this , thankyou so much abang foodpanda 😭#DaruratBanjir pic.twitter.com/hXwWdizBjc

— ad ??! (@JAEADYUN1) December 18, 2021
Many 'forgotten' furry friends were in desperate need of rescue, and thankfully, many were saved from the rising flood waters. In one case, a quick-thinking delivery rider saved seven cats by transporting them in food delivery bags. 'Abang FoodPanda' was thanked for his kindness by people who saw the video.
2. MP Ong Kian Ming kayaking solo to rescue stranded flood victims
Using his kayaking skills, Bangi MP Ong Kian Ming saved numerous stranded residents of Taman Sri Muda in Shah Alam. Over the course of four hours, he and his team rescued roughly 40 individuals, making about 15 trips back and forth.
3. Sikh volunteers feed stranded people in flood-hit Klang Valley
The Gurdwara in Petaling Jaya and Shah Alam have opened their doors to aid beleaguered victims in the two flood-affected urban locations. Gurdwara Sahib Shah Alam Flood Relief Support managed to send out 5000 care packs to those stranded at Taman Sri Muda as of 21 December. The group is also cooking free hot vegetarian meals for flood victims which will be distributed in the Klang Valley area.
4. Newlyweds cancel wedding reception, use food to feed victims in Klang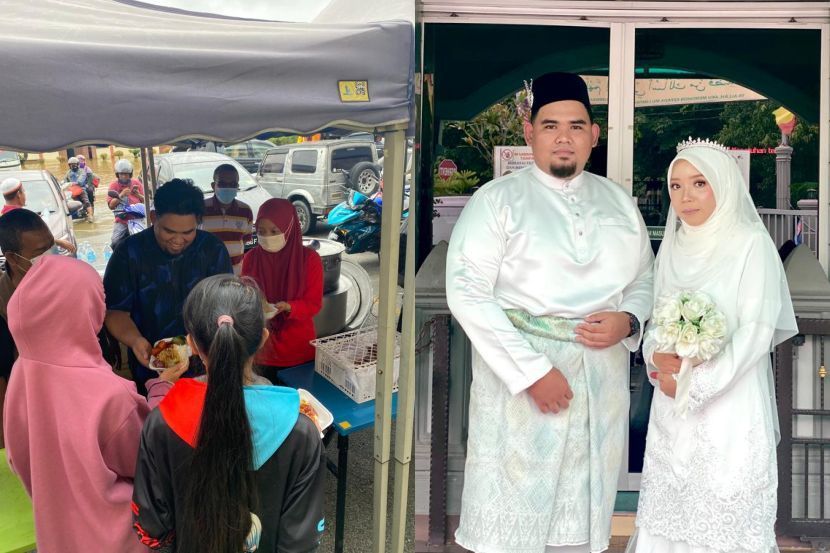 A newlywed couple who had planned a wedding reception for 300 guests cancelled the event and donated the food to victims at a flood relief centre in Meru, Klang. The couple, Muhammad Nabil Mohd Azimi, 23, and Nur Asyiqin Md Hamdan, 25, called off the event on 19 December owing to Malaysia's recent catastrophic flood disaster.
The video of the pair donating meals to flood victims after leaving their wedding reception venue, which was posted by the wedding caterer, Erin Suhaimi, on her TikTok page on Monday, was praised on social media.
5. Dengkil teacher braves floods to save test papers
"I was only thinking of my students' final year examination papers that were still in the house," said a teacher whose home in Kampung Chemperai was flooded following heavy rain on Saturday, 18 December.
Ruzita Che Him, 52, who's a Form Two teacher at SMK Bukit Changgang, Banting and her husband, Baharuddin Mohd Yonan, 61, braved about 600 metres of waist-high floodwaters to save the answer sheets which took them approximately an hour.
6. MYDIN boss forgives Sri Muda store robbers
The owner of the MYDIN hypermarket chain that was looted during the floods at Taman Sri Muda has forgiven those who had stolen from the store. Mydin Mohamed Holdings Bhd Managing Director Datuk Ameer Ali Mydin said while he does not condone theft, he understands the 'desperation' behind the incident.
7. Brother-in-law's heroic act of saving stranded family
Facebook user R S Leela, whose family was trapped in their home in Taman Sri Muda wrote that her grandmother, parents, and siblings needed immediate assistance as all helplines were either engaged or unreachable.
Following her posting, her brother-in-law, Gunaseelan, stepped up to help using lifesaver tubes. The video Leela shared of him slowly lowering her grandmother from the roof to a floating lifesaver below moved Malaysian social media.
The heroic Gunaseelan took the elderly lady to the lifesaver and gently placed her on it. In addition to Leela's grandmother, her brother was rescued using the floating device.
8. Netizen provides sanitary pads and clothing to female flood victims
Hello to everyone in Shah Alam who is still affected by the flood. If you need anything, don't be afraid to text me, especially girls. If you need sanitary pads, extra clothes, blankets, or anything else, let me know.

— Qashrina Rahman (@qashrinarahman) December 19, 2021
Access to personal care and hygiene goods is in low supply after natural disasters. Netizen @qashrinarahman was fully aware of this and chose to help out by donating sanitary pads, extra clothes, and blankets to female flood victims in need.