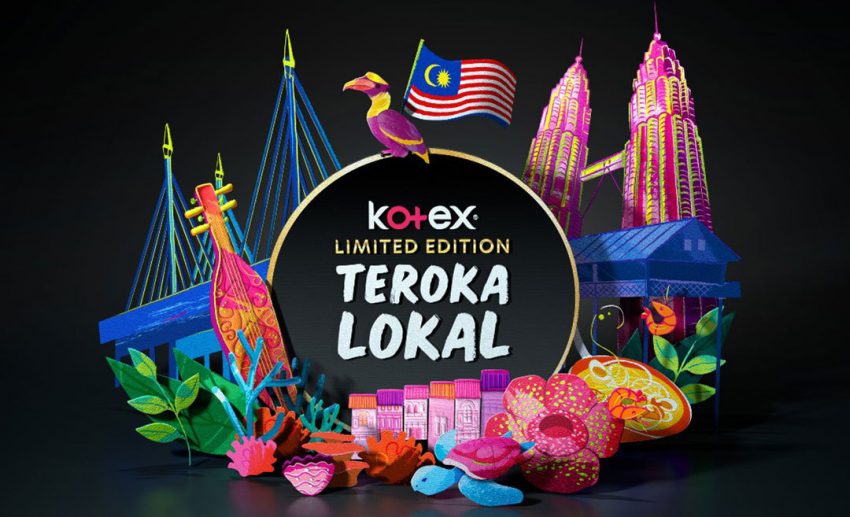 [box color="#14afa9″]Subscribe to our new Telegram channel for the latest updates.[/box]

Now that interstate is allowed, we can't wait to explore again. There's just so much to see and so much to do. But for us girls, travelling while on your period can be really inconvenient. It may be difficult to summon the bravery to embark on that long-awaited excursion or seaside soiree when your hormones are coming into play.
That is why Kotex Malaysia has released their limited edition travel-themed designs to assist females ignite their wanderlust while also supporting local communities and embrace the sights and experiences of Malaysia with a unique travel experience, from the comfort and safety of their homes. Ultimately, with Kotex, girls can plan their travel anytime, anywhere, without being constrained to their period cycle and the pandemic.
Kotex's Teroka Lokal collection is inspired by four Malaysian states in an effort to highlight the country's incredible diversity of tourism — Kuala Lumpur's cityscapes, Penang's heritage sites, Terengganu's pristine coast and ocean wildlife, as well as the ethnic culture and natural landscape of East Malaysia from Sabah and Sarawak.
The goal of Kotex Teroka Lokal is for girls to do exactly what the collection's name suggests. Kotex also has the Teroka Lokal Augmented Reality (AR) filter as part of the current campaign, allowing women and girls to immerse themselves in the Teroka Lokal environment.
Along with that, in collaboration with Pertubuhan Pembangunan Kendiri Wanita dan Gadis (WOMEN:girls), Kotex Malaysia will donate sanitary pads to local communities in need when girls use the AR filter to explore while dressed up in their most creative travel attire. Kotex will donate one pack of sanitary pads to communities in need for every post on Instagram and Facebook that uses the Limited Edition Teroka Lokal Augmented Reality (AR) filter and tags @kotexmy.
Radhika Agarwal, Marketing Manager for Kimberly-Clark Malaysia said, "With this collection, we want to spark some joy and reignite the love of exploration, especially after a hard year of being confined to a space for general health and safety."
"We also wanted to give our girls a chance to support their fellow sisters in need. Through our partnership with WOMEN:girls, we want to support 20,000 young girls and women who have been affected by the pandemic.
"We believe that every woman, no matter where they are from, deserves basic access to feminine hygiene products as a necessity, and not as an option," she shared.
Visit your nearest store as soon as possible to get all four variations of the Kotex Limited Edition collection! Don't forget to use the AR filter on Instagram and to tag @kotexmy!
[vc_row][vc_column][zf_post_boxes widget_hide_desc="true" num_post="3″ post_id="43968, 30520, 48367″][/vc_column][/vc_row]
Follow Zafigo on Instagram, Facebook, and Twitter. Sign up for our bi-weekly newsletter and get your dose of travel tales, tips, updates, and inspiration to fuel your next adventure!