Subscribe to our new

Telegram

channel for the latest updates.



The month of October is here, which means you'd have noticed that everything just got a lot more pink. It's Breast Cancer Awareness Month, so you'll see a pink ribbon slapped on everything from socks to skincare products. But why is this important? Well, breast cancer happens to be the most common form of cancer affecting Malaysian women, with one in 19 women at risk.
Recognising this, Sunway Medical Centre Velocity (SMCV) is focusing their #GIRLPOWER campaign, which will run throughout the month, on women's health and how they may take responsibility of their own well-being. So, think of those pink products as a reminder to get yourself and your 'breasties' checked.
Dr Hafizah Zaharah, an SMCV Consultant Oncologist, believes that women of all ages should take care of their health and do what is best for them. "Women should always be mindful of their body modifications." Even when they are still young (in their 20s and 30s), they are at risk of developing cancer.
She said they have recently seen an increase in the number of patients in this age group. Those who have their cancer diagnosed early, regardless of their age, have a better chance of being treated and recovering.
While some may be hesitant to schedule an appointment or go for screenings because they are afraid of receiving a negative diagnosis, or even try to self-treat at home, early detection is critical, and that warning signs and symptoms must be observed.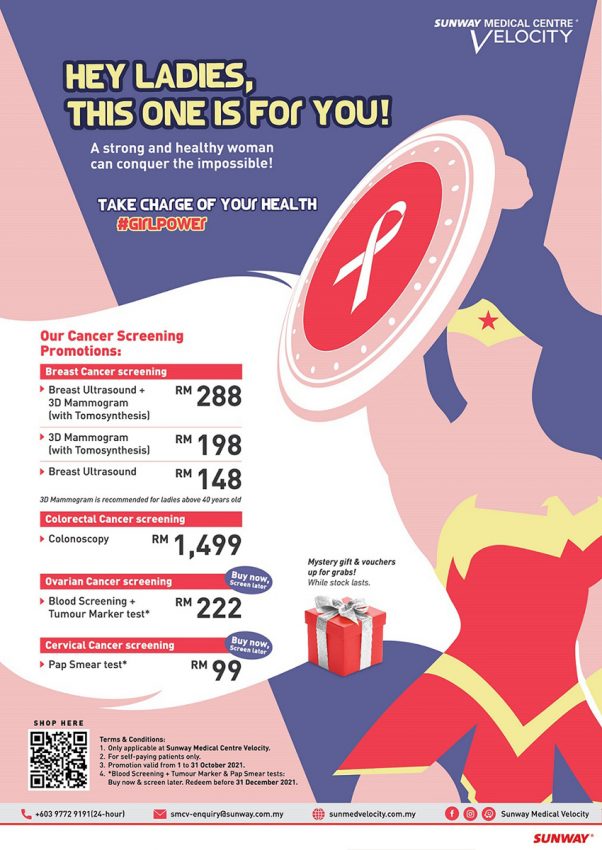 Dr Hafizah stressed that even if she only has one of the symptoms, a woman should get herself examined straight away. This is because various patients may have different symptoms. Some people may have several symptoms, while others may just have one.
Some of the important symptoms to look out for include:
◉ Lump in the breast or armpit
◉ Changes in the breast size, skin, and shape (swelling, dimpling, irritation, thickening, or redness of the skin)
◉ Nipple changes (appearance of one of both nipple, spontaneous discharge especially bloody, scaliness or retraction)
Dr Hafizah advises ladies who've never had a screening to receive the precise health screening or test that corresponds to the symptoms they are experiencing. This will include mammograms and breast ultrasounds for breast cancer. For a more accurate diagnosis, they can also have additional blood and tumour marker tests for breast or colorectal cancer screening.
Women who have had symptoms and have previously done these tests should be checked again, and if they experience the symptoms again after the initial test, they may require a more complete screening.
Women over the age of 40 should have health checks once a year, while women under the age of 40 should have them every two years.
As part of the #GIRLPOWER campaign, SMCV is offering a variety of packages to encourage more women to come forward and take charge of their health. The hospital hopes that this will encourage more women to talk about their health and equip them with the tools they need to enjoy a better quality of life.
SMCV is located in Sunway Velocity's Lingkaran SV (Google Maps/Waze). Please call +60397729191 or email smcv-enquiry@sunway.com.my with any questions.
Separately, AIA is also back with their Pinktober deals in support of Breast Cancer Awareness month. If you are an AIA insurance policy holder, their special deals make up of a mammogram screening at RM39 and cancer screening at RM525. Otherwise, consider looking into the A-Life Lady Female Exclusive Plan and A-Life Cancer360 insurance plans to stay protected. Those interested may book an appointment with Shukor at 012-2245555.
For more information on SMCV's health packages and promos, connect with them at: