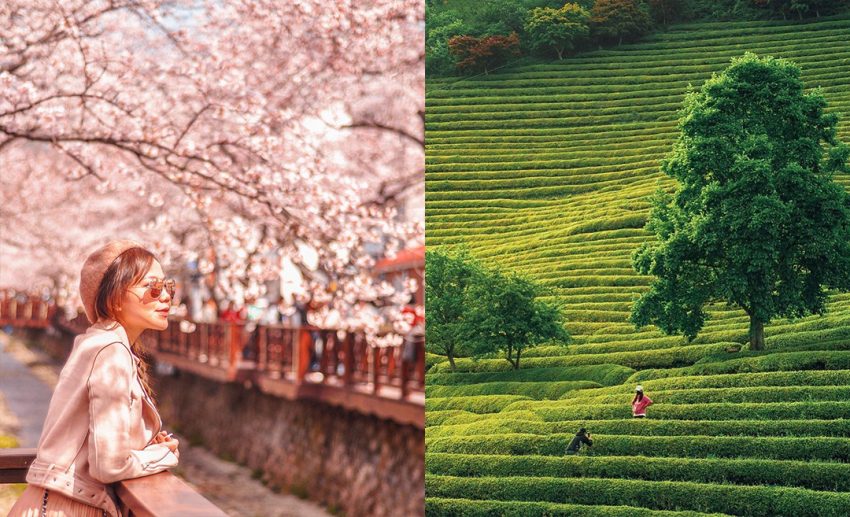 Subscribe to our new 

Telegram

channel for the latest updates.
Love K-pop, K-dramas, and all things K-culture-related from minimalist cakes to Korean desserts? Well, the is the listicle for you! South Korea has a rich history, and some of these places were featured in movies, but you may not have paid much attention to them. Meanwhile, some other places are considered among the best-kept secret places in South Korea that you probably haven't even heard of. If you're in a country that allows you to travel, then be sure to drop by, otherwise, bookmark these places for later. So, let's get to it.
1. Boseong Green Tea Plantation 
 

 

View this post on Instagram

 
If you've watched Legend of the Blue Sea, you'll surely recognise this location. The difference is whether you paid attention to it or not. This plantation in Bushong County is regarded as South Korea's green tea capital and the most famous plantation in the country. It's also home to an extensive tea garden. 
The tea field is a perfect blend of forest trees and green tea leaves, and has a crisscrossed structure that gives it a unique look. Spring is the best time to visit because that's the start of the flowering season, when the field releases its green tea scent. 
2. Jumunjin Breakwater
 

 

View this post on Instagram

 
If you're visiting South Korea as a couple and looking for a romantic coastal escape, then look no further than Jumunjin Breakwater. This beach is also fun for friends and family to hang out and is especially loved for its beautiful blue waters, fine sand, lots of restaurants, and numerous Instagrammable spots. 
This site was also featured in the movie Guardian: The Lonely and Great God. There are about five artificial breakwaters, and people sometimes line up to see them. Complete your experience with a buckwheat flower and red scarf the same way it appears in the K-drama. 
If you're a K-pop fan, head to the BTS bus stop nearby. Although the real bus stop used in the You Never Walk Alone album is no longer there, a similar version was created so visitors can take pictures in it. 
3. Samgwangsa Temple, Busan
 

 

View this post on Instagram

 
This is a famous temple in South Korea, known for the lantern festival held annually to honour the birthday of Buddha (typically late May). This festival attracts more than a million people who participate in the festivities every year. Countless lanterns are lit up during the celebrations in spectacular colours just below the night sky. 
4. Jinhae 
 

 

View this post on Instagram

 
Jinhae is located just about 20 miles to the west of Busan. This quiet coastal town isn't known for many things, but it does blow one away with its cherry blossoms. Every year, there's a cherry blossom festival held in this city during the spring, which is the biggest in South Korea. Expect to find pink trees in their hundreds of thousands lining the streams, railways, and streets. 
5. Dae Jang Geum Park
 

 

View this post on Instagram

 
Looking to travel through time? Then look no further than the Dae Jang Geum Park. This is the location used for filming most historical Korean dramas that you're sure to recognise some of it. Although there are plenty of sets across the country used for historical drama, this one in Dae Jang Geum Park is by far the biggest. The facilities within this park reflect the culture, lifestyle, and architectural style of ancient life, taking cues from historical records. 
Recreate the experience by trying a hanbok while you take a walk through the historical park. While you're at it, look out for spots featured in dramas including Joseon Exorcist, The King: Eternal Monarch, A Korean Odyssey, and Jumong, among many others. Music videos have been filmed here too.
6. Rooftop Beomcheon-dong
 

 

View this post on Instagram

 
While this location has only ever been spotted in one K-drama, Fight for My Way (the Tamil Bar where the characters hangout), it doesn't refute the fact that it's an absolutely beautiful destination. If anything, it's a must-visit location in Busan overlooking the city's colourful houses. 
There was previously memorabilia placed in this location from the drama, but it was removed because the rooftop remains a private residence. The memorabilia was moved to the Hocheon Village, just some minutes away from the rooftop. If you find yourself in Busan, you can also go to Hangsung and check out the Tamil Villa and the apartment buildings where the lead character lived in the drama. Happy location hunting!