The best thing about shopping downtown in Kuala Lumpur is just how accessible everything is, with just a quick hop on a train or bus. The best place to start is by hopping onto the Rapid KL train line and stopping at the Pasar Seni stop.
Pasar Seni is named after the Malay moniker for the beloved old tourist attraction Central Market.
Central Market

Central Market, on first glance, does look like a tourist trap. Kitschy souvenirs such as keychains and mugs (likely made cheaply overseas in bulk) are everywhere. But if you look past the gaudy displays, you'll find Central Market has other things to offer.
Antiques, vintage collectibles as well as traditional handifcrafts can also be found here and the surrounding area has plenty of vendors selling street food. Occasionally, you'll also stumble across the odd busker though not quite as frequently as before when Central Market was also busker central.
Exhibitions, performances and ongoing promotions happen on a monthly basis, often tailored to one of Malaysia's many festive occasions.
For event schedules, visit the Central Market website or visit its Facebook page.
Just across from Central Market is local designer Peter Hoe's little boutique. Besides reasonably-priced batik clothing that range from dresses to pareos, you can find plenty of little knick-knacks that are a cut above the mass market fare you'll see at Central Market stalls.
Petaling Street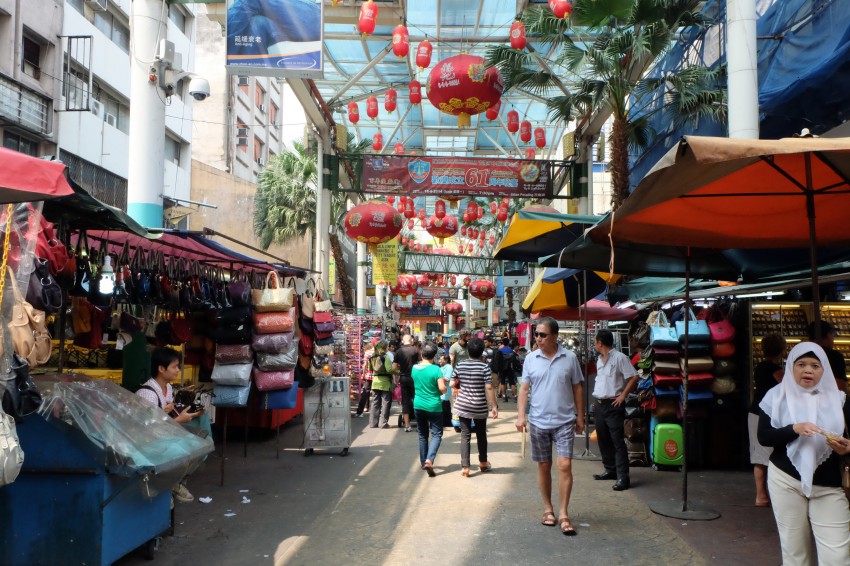 To get to Petaling Street, all you need to do is walk straight on from Central Market. It's a barely 10-minute walk away and has a different character entirely, with colour, chaos and a lot to see and do.
Besides the obvious fake goods on display, you could eschew the stalls and instead look at the little shoplots around and on Petaling Street. Cheap clothes imported from Hong Kong and China, street food or unexpected gems of coffee cafes, Petaling Street is best explored with an open mind.
Downtown Exploration
Once you tire of the Petaling Street and Central Market strip, head back to the train station and you have two options: take a train to Masjid Jamek LRT and explore Jln Masjid India for cheap trinkets or head over to the Bandaraya LRT stop (you'll need to change train lines) and take the covered walkway to downtown Sogo mall. From Sogo you could also head to Pertama Complex known for cheap tailors and leather goods.
Had enough of the downtown bustle and want a little comfort and better airconditioning? Again, you could hop on the train and visit the KLCC shopping centre at the KLCC LRT stop or take the monorail to Bukit Bintang. Stay safe and enjoy your shopping!
Safety Tips:
Downtown Kuala Lumpur has its own challenges for women travellers. Snatch thieves and pickpockets have enough of a presence that you will need to keep an eye on your handbag at all times. Foreigners are often targetted so make sure you keep spare copies of your passport and other important documents in your lodgings.
While trains are the most convenient form of transportation in the city, try and schedule your travelling out of the normal peak hours of 7-9am and 5-7pm to avoid the commuter rush.