"I became #Kacaumama to Ella Grace at 31. Following that experience, I always tell mamas this – you can know everything in theory, you can even have a degree in Child and Family Development, but nothing really prepares you for the wild ride that is motherhood," reveals Racheal Kwacz, Child and Family Development Specialist, Parent Coach, and expert mama of one (for now).
Not one to shy away from what she preaches, Racheal is a strong advocate of mindful parenting and believes in enriching her child's growing days with experiences rather than a tablet's screen. This is what gives her the motivation to travel non-stop with a little one in tow.
From Ella Grace's first international flight at three months old to celebrating her third birthday in Bali (where she tricked waiters into giving her free gelatos), Racheal reveals that her daughter is more well-travelled at three than she was at 30!
Zafigo sat down with the feisty mama to unearth more about her parenting style and what her travel adventures with Ella Grace look like. Here's what she had to say:
Things can go wrong on the road all the time. Anticipate the best, prepare for the worst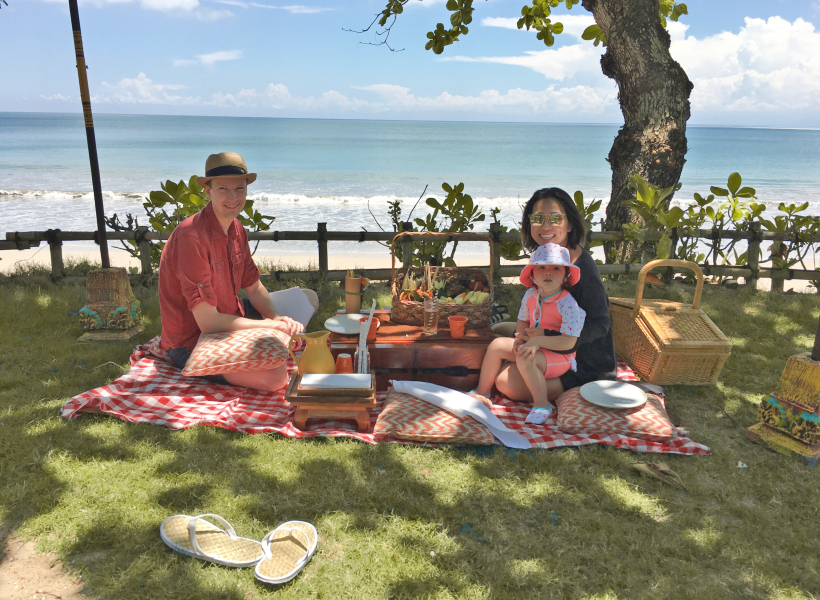 When travelling with a toddler, you have to hope the best and expect the worst. They can get sick, bags can get lost, flights can get delayed, they can have an epic meltdown, and you might lose things. Worst yet, you might and horrifically accidentally leave "puppy" (aka the favorite comfort toy) on the plane. This is a true story.
Of course, you'll prepare, anticipate, and plan to no end for all possible scenarios, and as mamas, we always have a plan A, plan B, and plan C lined up. However, sometimes it all fails and the key to keeping it together is taking a deep breath, reassessing, adjusting expectations, and strapping on for a wild ride.
A question I always ask myself is what's the worst that might happen in any given scenario. Remember, this can be a crazy adventure or a disaster solely by the way you define it. For instance, if a flight gets delayed for a day, then woohoo – time to explore the airport and embark on travel camping!
Plan a relaxing holiday. Remember it's a vacation for you too
Never schedule more than one or two activities a day, and work in times for naps/snacks/meals. This doesn't mean you have to be bed-bound, we've napped a lot on-the-go, but it's important to make space for it, as a sleep-deprived – and 'hangry' – child is the key ingredient in a recipe for disaster.
If you have a choice between a night flight and day flight, choose the night flight. Don't try to put off bedtime in hopes that they'll sleep better on the flight. This rarely works out in your favour as sleep is cumulative. Instead, follow your routine and just transfer as necessary. Go with the flow; nothing's going to go as planned anyway.
The real trick is in unpacking correctly
This isn't about what to pack but more about what you should unpack. I always take a few minutes to unpack and set up areas when we first arrive at a hotel. It's a bit of a pain, especially when you're so excited to explore, but it really helps with keeping you organised.
Set up a change area with all the supplies, feeding area with all her snacks (bottles and pump if you're still breastfeeding), bath area (with soap, shampoo, lotion, swimsuits and so on), dressing area, and a daily bag/diaper bag packing area. Most importantly, she needs a play area. Or in respectful parenting terms, her "yes space".
This way, I can go to the spa in peace, and my husband will know where everything is, thus allowing him to have special daddy-daughter time with our teeny tiny.
Breakfast buffets are the best place to pack a yummy container for your tiny human
My husband and I love street food! So we always bring a container and pack a lunch for Ella Grace from the extensive breakfast buffet. As long as you're polite and kind, the staff are usually quite helpful. Plane food is generally unhealthy, too, so try to bring something along for flights. Here's a trick: There's usually some sort of rice or porridge, hard boiled eggs, whole fruit, meat or blanched veggies at the noodle station, and breads. These things will be easiest to pack, and the least messy.
Get on the road as much as you can
It's safe to say that my husband and I love travelling, and I think we've really imparted that love to our daughter. I love that she gets to see so much of the world, and really get a sense and respect for how other cultures do things. As a mixed-culture child, I love that travel also teaches her the beauty of things that are different as well as similar in approach.
One day, when she was about one year old, we were in a little restaurant in Phuket for a mid-afternoon coconut-and-Singha break. Ella Grace was curiously watching the way the ladies were folding the napkins for dinner service. They invited her to come watch and learn and even though they didn't speak the same language, it was such a special experience for us. It's these magical people that really make travelling a value-added experience for her and us.
Children can handle things really well. Don't be afraid to take it up a notch
Two Christmases ago, we took a cross-continental flight to the United States and took Ella Grace to Disneyworld. She did brilliantly on the flight, and it took over two days of travel from start to finish, as we also opted for longer layovers but more direct flights.
Trust that your little one is capable of travelling well, respecting others, and listening to boundaries, while adjusting expectations and making space for her to still be a toddler. No one else knows your child the way you do, so parent with instinct. Never forget the golden rule of making sure they are well-rested, fed, and have time to play and quiet down too. Enjoy it all, they'll never be this crazy and cute again.
The secret Racheal tip for a peaceful flight and loud restaurants
Invest in a pair of noise-cancelling headphones for your toddler. They will be a lifesaver in multiple situations. They're great for shows, live bands, planes, fireworks, and loud restaurants too!
Get all the latest travel stories from Zafigo. Follow us on Facebook, Twitter, and Instagram.