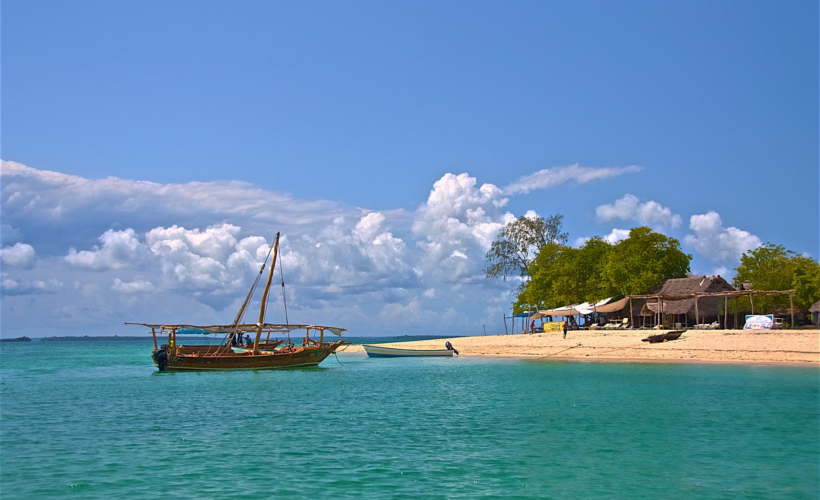 [/dropcap]W[/dropcap]hen you think of Zanzibar, clear blue water and white sandy beaches are what immediately come to mind. Zanzibar is actually the name of a Tanzanian archipelago off the coast of East Africa and is a popular destination for travellers. There are three main islands here – Pemba, Mafia, and Unguja.
The archipelago is about 60 kilometres (about 90-120 minutes by ferry) northeast of Dar es Salaam, a major city and port in Tanzania that has an international airport, so Zanzibar isn't difficult to get to. There's lots to see and do in Zanzibar, here are a few ideas to help you get started on planning your trip.
Go beach-hopping
With calm, crystalline waters and powder-white sandy beaches, Zanzibar ranks up high up on the list as far as beach destinations go. It might seem a bit obvious, but a day (or a few) at the beach is a must. There are spectacular beaches all over the islands with Nakupenda, Jambiani, Kendwa, Nungwi, and Paje being the most popular choices. Another thing to try is to rent a taxi and explore a little bit – you might just find a secret, secluded beach!
Diving and snorkelling
Zanzibar offers some of the best diving and snorkelling experiences in the world. The corals are colourful and pristine, surrounded by countless sea critters flitting about. You'll find frog fish and harlequin shrimp nestled in the coral. There are many schools of dolphins around the islands and plenty of opportunities to dive and snorkel with these amazing creatures. Some dolphin tours are not always ethically run, so be sure to do some research on the service provider and their practices before making a booking.
Kite surfing
Paje offers excellent kite surfing opportunities for those looking for some adventure. Imagine whizzing around, moved by the wind over spectacularly clear seas with the sun shining down and the beach in the background. There are also schools that offer gear rental and classes in this paradise setting. Kite surfing season runs from mid-June to mid-September and again from mid-December to mid-March.
Spice tour
Zanzibar is also known as 'Spice Island', so what better way to learn about the culture than going on a spice tour? There are a number of spice farms that you can visit, all offering guided tours where you can walk along the plantations to learn about the spices and their medicinal uses. Of course, you can also see how they grow spices like black pepper, cardamom, nutmeg, vanilla, cinnamon, cloves, chillies, turmeric, ginger, and even coffee.
If you're a beauty junkie, you'll definitely enjoy learning how some of there plants are used in cosmetics, like the lipstick tree and the henna plant. The land is so lush and rich that there are also fruit plantations that grow star fruits, jackfruits, custard apples, bananas, papayas, mangoes, neem, lychees, coconuts, and durian.
Hit the city
Stone Town is the main city on the island and definitely a place you'll want to get lost in. The city offers all sort of things. On the one hand, there are plenty of bazaars and food markets to visit, while the Old Fort a ruin that now houses an art gallery and curio market. For those interested in history, Sultan's Palace (a museum) and the Former Slave Market are worth a visit.
From Stone Town, you can book a trip to Prison Island to see the giant tortoises. Prison Island gets its name from an old colonial hospital that was originally built as a prison in 1893 but turned into a hospital to contain the cholera and bubonic plague epidemics that affected the island's population. Trips here last about three hours and includes some time spent snorkelling around the island.
Zanzibar has a feel of magic everywhere you go. From the unique and beautiful architecture (pay attention to all the beautiful doors) to the flavours of the food and the smell of the spices lingering. The people here are warm and welcoming too, with a fantastic sense of humour! Ultimately, Zanzibar has something for everyone, whether you're a foodie or adventure traveller, interested in history, and yes… even if you just want to chill on the beach with a good book.
Get all the latest travel stories from Zafigo. Follow us on Facebook, Twitter, and Instagram.