Like an island surrounded by a sea of malls, offices, apartments and retail shops, the Kuala Lumpur city centre has lots of dining options. But if you're seeking good hot food minus the hefty price tags that usually come with the city's glitziest real estate, fret not as there are lots of frills-free places where a meal can be enjoyed for around RM10 (about USD2.50) and is GST-free too!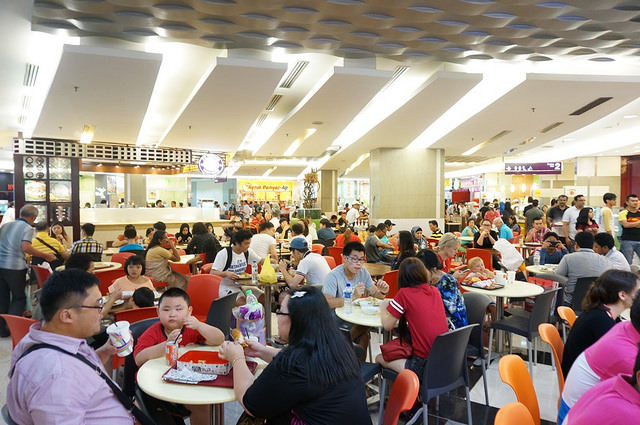 KLCC Signatures Food Court, Suria KLCC
Regarded as one of the city's best food courts, there's a large variety of food to tempt every tastebud and if you manage to get a table by the windows, lovely views of the park and fountains as well, which are especially beautiful at dusk. A favourite here is the Ipoh Noodles stall, where the dry noodles are bathed in a delicious blend of coconut milk-enriched curry and thick soy sauce, for less than RM10. Or order the original soup version; the broth is fragrant, with a distinctive prawn flavour. Every portion comes with shredded chicken, prawns and soup.
Signatures Food Court Level 2, Suria KLCC Tel +603 2383 2828 Opens 11am-9.30pm daily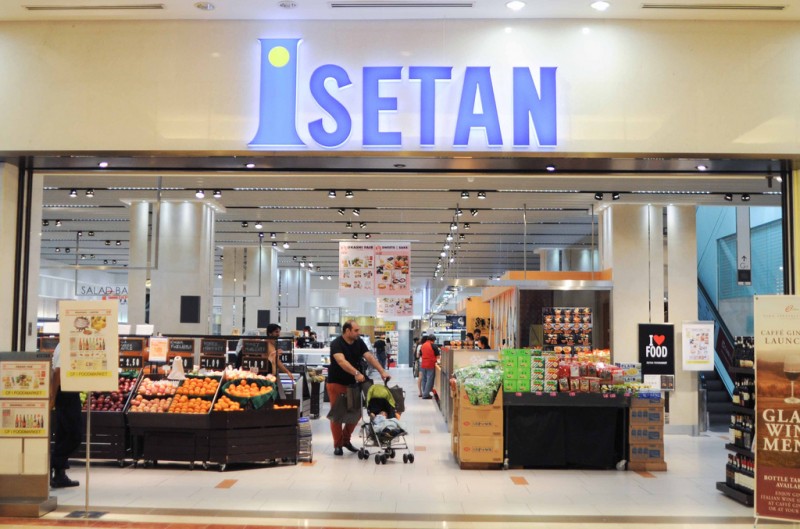 Isetan Food Market, Suria KLCC
Plenty of ready-to-go choices are available at the Isetan Food Market, with counters selling a wide selection of Japanese favourites such as sushi, sashimi, donburi (Japanese rice bowls with eggs and toppings), tempura, okonomiyaki and yakitori.
Self-scoop pastas and salads are also available and sold by weight. A portion of approximately 100g of pasta will cost RM10-RM12, while salads works out to be about a third of that.
Isetan Food Market Ground Floor, Suria KLCC Tel +603 2382 7777 Opens 10am-10pm (food usually runs out by 9pm, and leftover stock will be sold off at a 20% discount)
Ah Cheng Laksa, Avenue K
This is a popular franchise from a single family recipe dating back 50 years ago in Alor Setar. A bowl of their signature Asam Laksa Fish with rice flour noodles delivers scintillating sweet-spicy-sour flavours and is chock full of fish pieces. As Alor Setar is close to the Thai border, a distinctive tom yum flavour can be discerned. A bowl of laksa is priced at RM8.90, or get the set that comes with a drink at RM11.50.
SAC-UC-1 Avenue K, 156 Jalan Ampang (located across the street from KLCC and connected via the walkway that leads to the KLCC LRT station) Opens 10am-10pm daily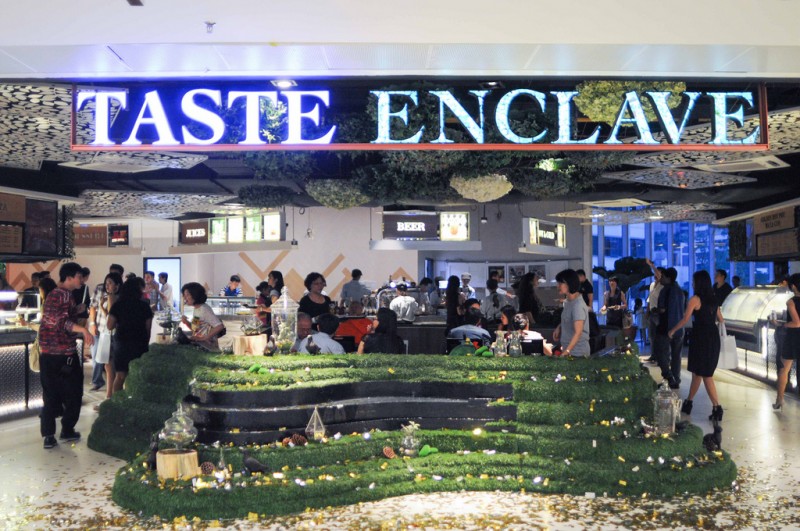 Taste Enclave, Avenue K
Sporting a contemporary design and a relaxed atmosphere, this is a rare one as far as mall food courts in Kuala Lumpur are concerned as it offers non-halal (kosher) stalls. Tuck into a variety of Malaysian Chinese favourites including streaky roast pork, beef tripe noodles, and yong tau foo (vegetables stuffed with meat or fish paste). There's a smattering of international fare as well, such as Vietnamese. Our recommendation is Tong's Roast for its platter of well-flavoured and textured herbal duck noodles, at RM11 per serving, or the char siew (roast pork) wonton noodles with perfectly charred and layered meat.
Food Atrium, Level 2 Avenue K Tel +603 2181 8888 Opens 10am-10pm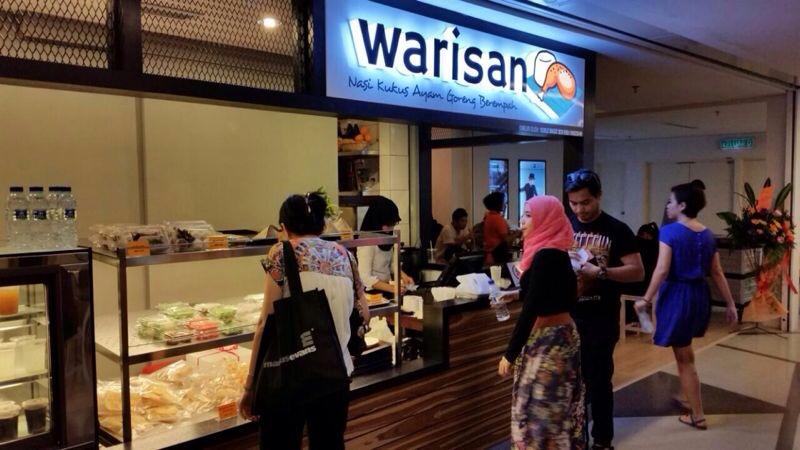 Kafe Warisan, Avenue K
This is a good place to try a variety of local Malay favourites, and there are several under-RM10 dishes that make for substantial meals. The Nasi Lemak (coconut milk steamed rice with sambal and condiments) or Chicken Porridge starts at RM7.30, Mee Siam (spicy fried rice vermicelli) at RM6.35, and the Mee Kuah (noodles in gravy) with Crabmeat is RM10.50. The must-try is their signature Nasi Kukus Ayam Goreng Berempah, or steamed white rice with spiced fried chicken, which is slightly pricier at RM13.65.
SAC-C-1, Level C, Avenue K Tel +603 2181 8888 Opens 10am-10pm daily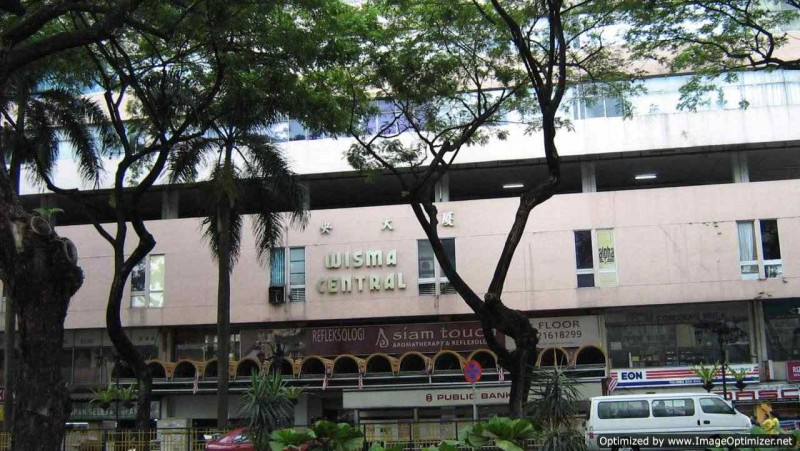 Lew Seh Kang Economy Mixed Rice, Wisma Central
Ask an office worker or a mall worker where they go for lunch and chances are, they will point to Wisma Central, just next door to KLCC. Despite its dingy appearance and unattractive entrance, there are a number of good options for a hot, cheap lunch, including Indian and Malay food. Taking the lead is the Chinese mixed rice stall which is always busy with people packing to-go lunches. They serve at least 30 types of meat and vegetable dishes daily, and that goes up to 50 on some days. The curry chicken is appetising as is the simple sliced steamed pork, and the salt and pepper fried chicken. A typical plate of one meat option with two vegetables with rice goes for RM7-RM8; soup and Chinese tea are free.
First Floor, Wisma Central, Jalan Ampang Opens 11am-3pm weekdays only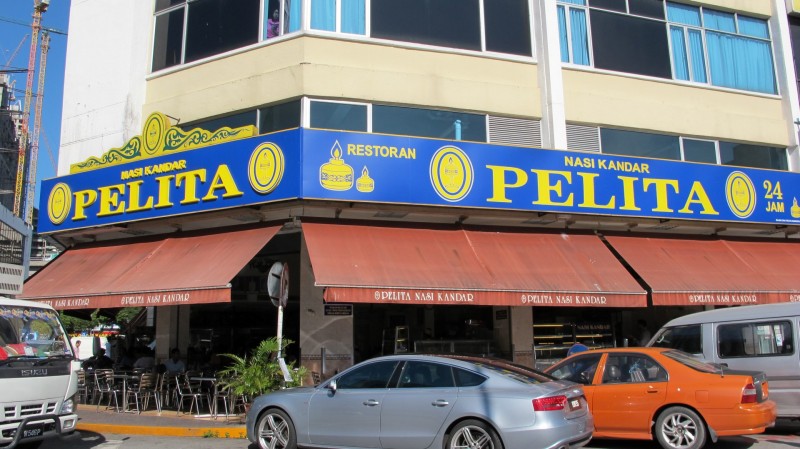 Pelita Nasi Kandar
The aromas of curry chicken and briyani rice are as enticing as this brightly-lit restaurant housed in a large bungalow adjacent to Wisma Central. Open round the clock, Nasi Kandar Pelita has many outlets in the city and there's always a huge spread of fiery curries and vegetables. Their most popular dishes are honey chicken, rendang chicken (a dry curry), chicken kurma, prawn sambal, spiced burung puyuh (quail), and daging kicap or soy-braised beef. White rice with a single piece of meat with a vegetable option is priced around RM10. If you're watching your budget, note that the seafood dishes are the most expensive options.
149 Jalan Ampang Tel +603 2162 5532 Opens 24 hours daily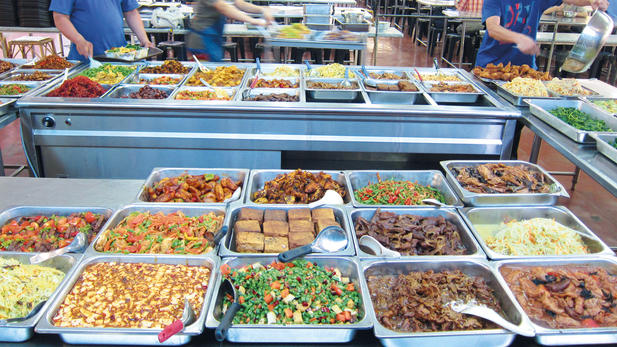 Dharma Realm Guan Yin Sagely Monastery Canteen
Walk past Nasi Kandar Pelita and Chef Choi Restaurant, and you will come to this temple that's dedicated to the Goddess of Mercy. Go round the back to access their no-frills vegetarian cafeteria that's most popular for its mixed rice; the self-service counter is laden daily with trays of freshly cooked vegetables and soups served with steamed brown or white rice, sliced fruits and herbal drinks. Noodles are also available.
Among the most popular options that are snapped up quickly are the delicious deep fried spring rolls, sweet and sour 'chicken', deep-fried mushrooms, soy-infused foo chook (bean curd sheets), and vegetarian nasi lemak. On certain days, fried sweet lotus buns and steamed wheat buns are available, while Hakka lui cha rice (served with a mixture of finely chopped vegetables and a green herbal soup) is a Friday special.
A long-time favourite among office and retail employees in the vicinity as prices are so affordable (the canteen is not for profit), getting a seat at the rows of metal tables and stools can be challenging at lunch hour so make sure to head there before noon. A typical meal here will come up to around RM7.
161 Jalan Ampang, Kuala Lumpur Opens 11am-2/2.30pm, Monday-Friday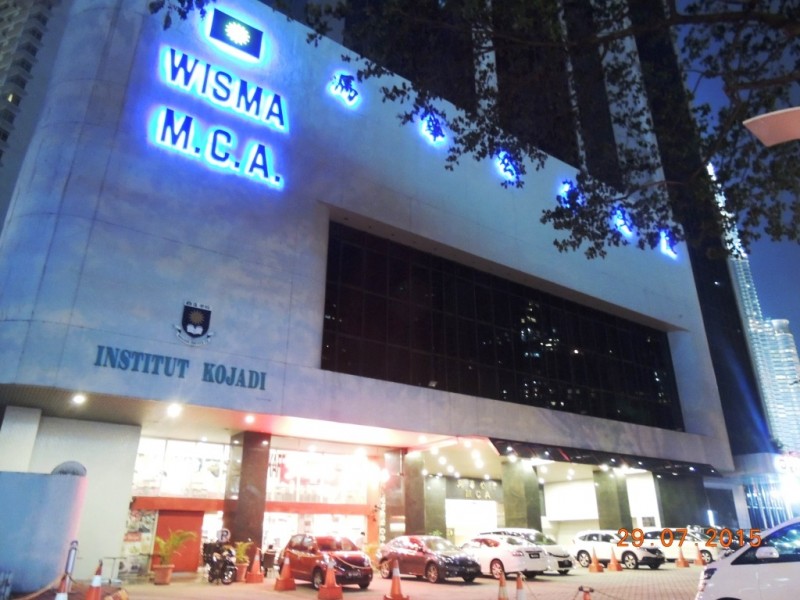 Wisma MCA cafeteria
The headquarters of the Malaysian Chinese Association (MCA), just steps away from the temple, hosts many conferences or events at its Dewan San Choon. It also has a small cafeteria selling Chinese mixed rice and noodles that is often packed during lunch. You could be sharing tables with conference delegates, office workers, and visitors applying for or collecting travel visas here. A meal of rice with two or three dishes costs around RM6.
4th floor, 163, Jalan Ampang Opens 7am-2pm/3pm, depending on the crowd and on weekdays only
More budget meals options
If you don't mind taking a further walk, there are street stalls and food trucks parked daily behind the Beach Club, at the junction of Jalan P Ramlee and Jalan Perak.
On Friday afternoons, a line of makeshift Malay food stalls stretch across the pavement in front of G Tower hotel, selling a variety of rice dishes and catering mainly to Muslims after their prayers at the nearby As-Syakirin Mosque.
Picture credits: ilovemsiafood, farm4, Avenue K, HIMLand, Hotel Palm Inn, Timeout, reloadfood, Cheryl Chan Photography

More from Zafigo
8 food courts to visit in Kuala Lumpur Pt. I
10 healthy Malaysian breakfast meals (Yes, they exist!)
Get all the latest travel updates from Zafigo. Follow us:
[button url="https://www.facebook.com/zafigo" size="small" value="Facebook" color="#94288e"]  [button url="https://twitter.com/ZafigoAsia" size="small" value=" Twitter " color="#89c44c"]  [button url="https://instagram.com/zafigoasia" size="small" value="Instagram" color="#14afa9″]