Namibia in Southwest Africa was a German colony until as recently as 1990. It is famous for its impressive sand dunes, diamond industry and Xhosa culture. It offers a variety of activities, things to do, and plenty of photographic opportunities. Here are some exciting places to visit in Namibia.
Luderitz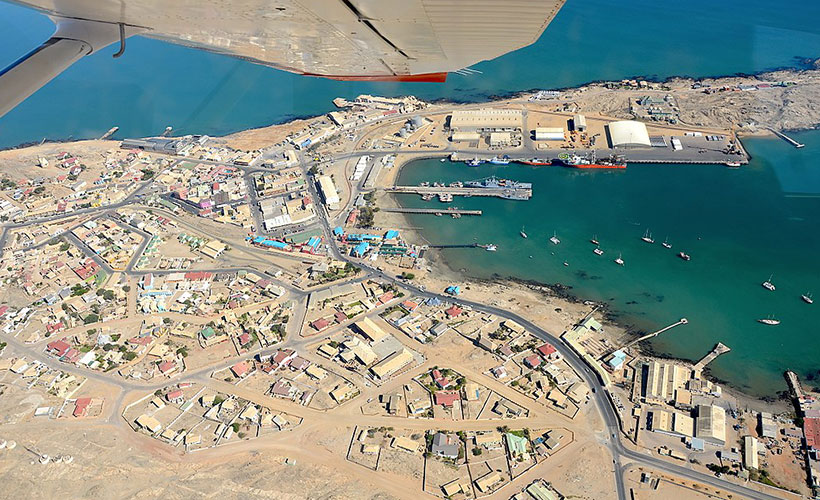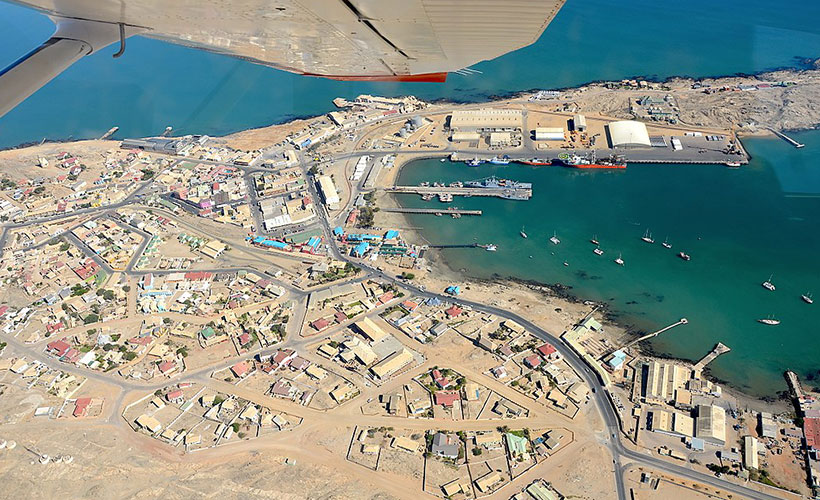 Kolmanskop is a few kilometres from Luderitz, a coastal town. It was established after the first diamond was found there in 1908. By 1954 the diamond fields were exhausted and the town was abandoned. During its prime Kolmanskop boasted many German styled homes and buildings including a hospital, school, ballroom, the Troost House, old Lutheran churches, and a casino. It was also the home of the first tram in Africa. Today it resembles a ghost town where you can walk around the deserted buildings in knee-deep sand.
Sossusvlei
Sossusvlei is located in the Namib-Naukluft National Park which spans across the Namib Desert and the Naukluft Mountain Range. The park itself is the largest game park in Africa. A large area of the park consists of the red sand dunes that has made Sossusvlei famous. The dunes can get up to 300 meters tall and offer spectacular views that are ever changing as the winds shift the dunes.
---
Traverse across one of the largest salt flats in the world:
---
Skeleton Coast National Park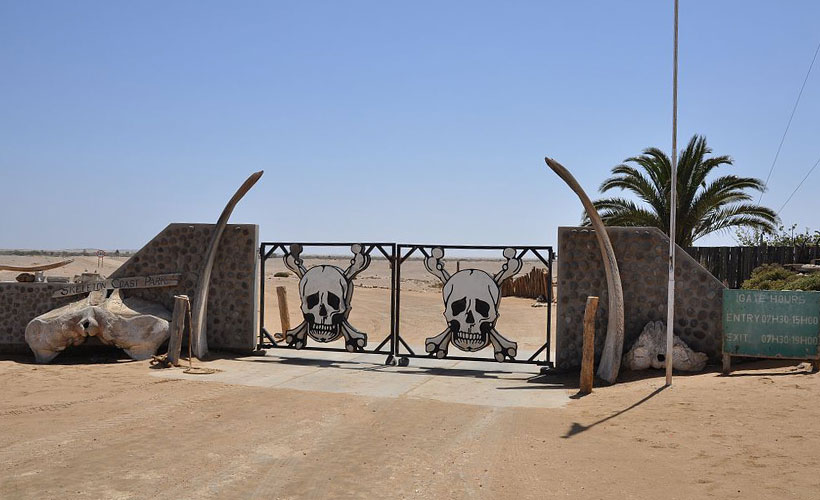 Notoriously dangerous for ships in the past, it is still known as the world's biggest ship graveyard. There are a few villages scattered throughout the National Park which was the landing point of the first Europeans to Namibia in the 15th century. The area of Cape Cross is especially popular with tourists as it is home to between 150,000 and 200,000 cape fur seals during breeding season in November / December. Cape Cross was named as such due to a cross erected by the Portuguese explorers in the 15th century. While visiting the Skeleton Coast, be sure to stop in (and a bit north of) Terrace Bay – the prettiest stretch of beach on the Skeleton Coast.
Etosha National Park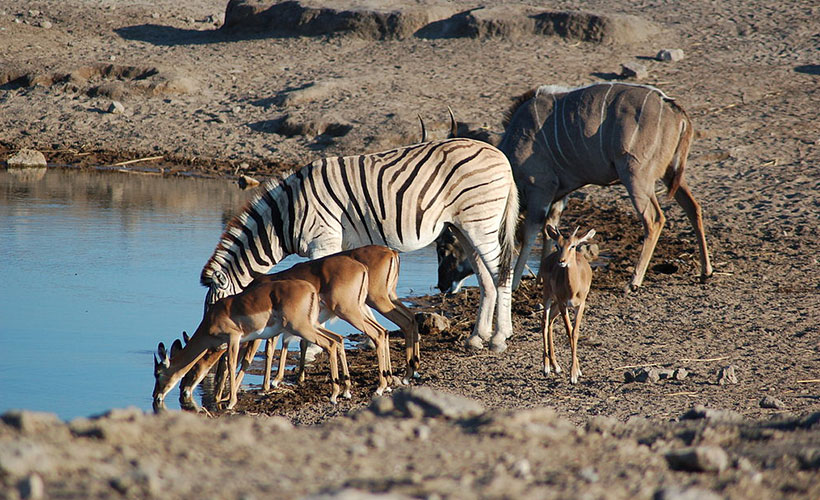 To view wildlife head over to Namibia's second largest game reserve. It surrounds the Etosha salt pan. The pan fills with water for a short period during the summer, encouraging the growth of a blue-green algae which attracts thousands of flamingos each year. You will also be able to see zebra, wildebeest, and antelope at the surrounding water holes.
Twyfelfontein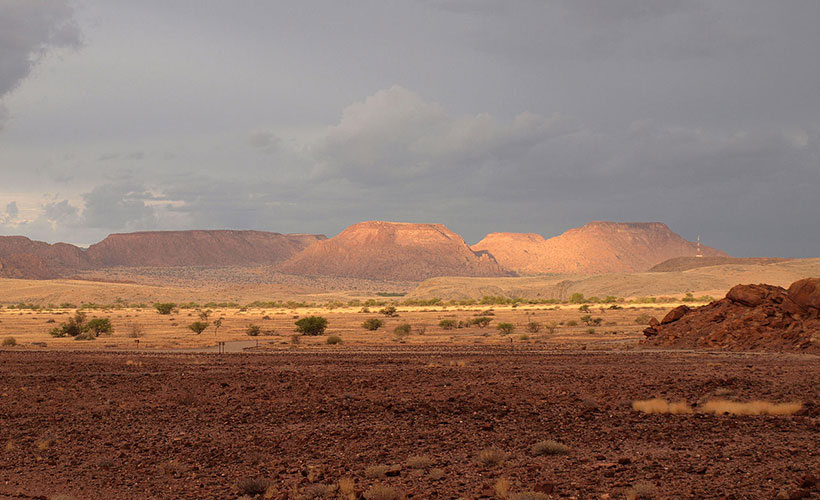 In a country full of history, Twyfelfontien is a must-visit. Here you can see a large amount of rock engravings – one of the biggest 'collections' in Africa! These Bushman carvings are around 6,000 years old and were made by carving into the surface layer of sandstone. Carvings include animals like elephants, ostriches, giraffes, and rhinoceroses, along with animal and human footprints.
---
Satyagraha House honours Gandhi in a number of ways, explore it for yourself:
---
Epupa Falls
The Epupa falls are located in Kaokoland, on the border between Namibia and Angola. There are a number of falls dropping down 60 meters over a distance of 1.5 kilometres. At its widest point the falls are around 500 meters wide. The falls are surrounded by colourful rock formations palm and fruit trees. The area is very remote and only accessible by 4×4's but definitely worth the trip!
Swakopmund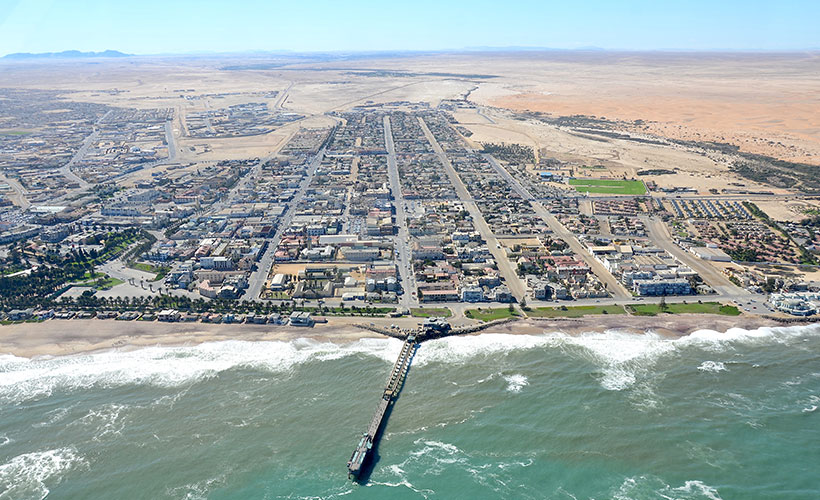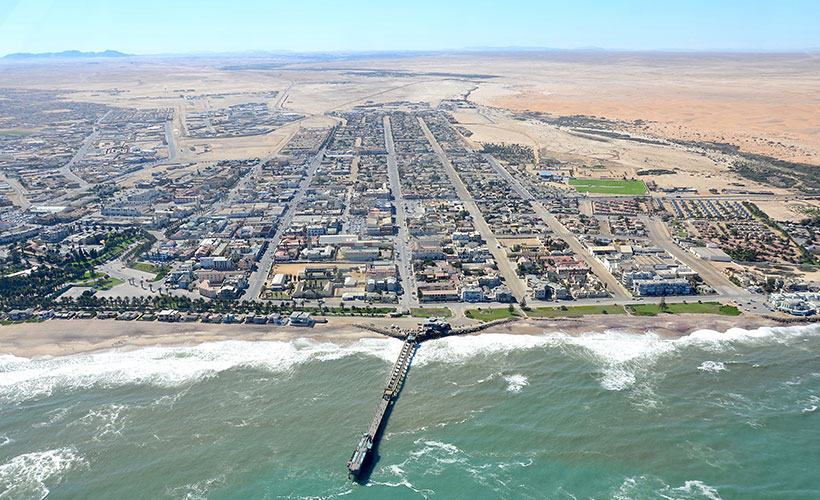 For a bit of city time, take a trip to Swakopmund. It originated as a German colonial city and has lots of historic buildings. From this base you can do activities like camel safaris, sandboarding, quad biking in the desert, and even horse riding. While those wanting to relax and soak up some sun, can head to the beach for the day.
Namibia offer a diversity of picturesque scenery, breath-taking nature scenes, deserts and an abundance of history. The culture is an eclectic mix as diverse and rich as the country's natural beauty. It truly is a country worthy of being on the bucket list of adventurous travellers.
Get all the latest travel stories from Zafigo. Follow us on Facebook, Twitter, and Instagram.