After a year in lockdown, it's the little pleasures that I miss the most — taking a drive while listening to the radio, my partner's 'old school mix', or even my 'super old school' CDs became a thing of the past. Up until now, travelling is reserved for essentials; even if it's a short distance.
Back in the day, when heading out for a quick midnight drive to Putrajaya or a spontaneous weekend to Penang was possible, the general rule of thumb was 'your car, your music'. And perhaps that's why Drive & Listen has been so therapeutic for me.
The site, which has been around for at least a year (presumably since the start of the pandemic), allows viewers to take a virtual drive through more than 50 cities around the world while listening to real-time local radio and the sounds of the street. It's like Google Street View VR, and you don't even have to click to move.
Are you also pining for that elusive taste of international travel? Running out of podcasts and playlists that scratch that travel itch? Coast through Mumbai while listening to what folks listen to in India's City of Dreams. Or Moscow, or Tokyo, or Seoul, or New York, or London, or Paris.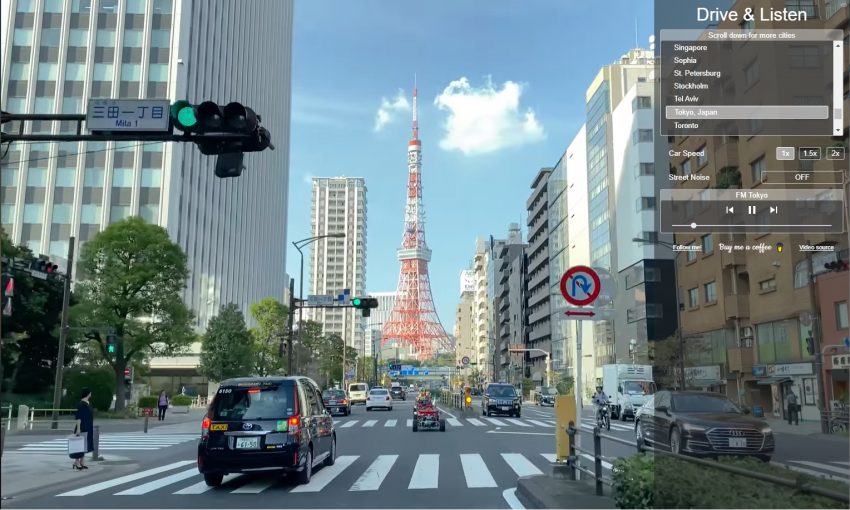 The videos are compiled from high-quality dashcam footage uploaded to YouTube and submitted to the website by Erkam Şeker, a Turkish graduate student studying in Munich. Şeker told Lonely Planet that the idea was born from pandemic-induced nostalgia for driving around Istanbul with the radio on. The result is a site that plays a brief black and white television static when you first land on it, then, a full screenshot of a street somewhere with the music and the footage rolling.
Although the location you initially land on is random, like the strange comforts of driving around late at night, there's no other purpose than to bask in the sights and the sounds (and the occasional company should you choose not to embark on this journey solo).
It doesn't exactly 'feel' real, but it's close enough. And to aid in this realism, almost all of the cityscape is shot in crystal-clear 4K with red lights, road signs, and pedestrians going about their day. Even the music goes from song to song to advertisement. You know, like a real journey.
To pick a city, you just scroll and click. Don't like where you start out at first? Click the city's name again and you'll begin at a different place on the route as most locales have two or three alternative starting points. And music? Well, you can listen to local radio, ESPN, or NPR; or you can stop the radio completely and drive without listening if that's what you prefer.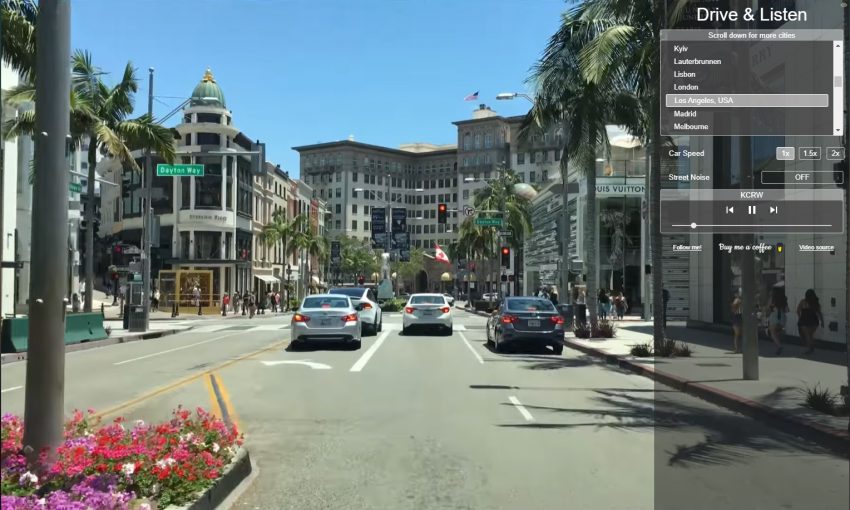 If all else fails, just click on through to the next city.
That's the real magic if you ask me. Drive & Listen captures the mundane, simple joys of the new and makes it familiar.
Is it any wonder that the site has become a trendy topic with TikTok users showing off their favourite cities to 'visit' and even racking up millions of views on the social app? But you don't have to buy into all that hype if you don't want to. Drive & Listen for yourself and make your own judgement.