How does culture, architecture, and design turn a city into a living work of art? Do murals, art installations, and other placemaking initiatives really bring people to the streets?
These are just some of the questions we hope to dive into this 23 February 2023, at 3pm. In another special episode of Hello Zafigo, we once again explore Downtown Kuala Lumpur, this time looking at the city through its art. Join host Marina Mahathir on this journey as she speaks to Nawwar Shukriah Ali — aka Bono Stellar — a multi-disciplinary creative, and Suzy Sulaiman, an artist, designer, and curator, in this special online session.
About the session
Cities are the epicentres of civilisation and are developed around cultural identities; thus the personality of a place is based upon its people. These personalities also tend to evolve with time, as new generations emerge, bringing with them new ways of life. As the years pass, new identities are forged. These make urban and revitalised areas the perfect canvas for artists to create their masterpieces.
Downtown Kuala Lumpur (DTKL) is one such area. The historic heart of KL, it has seen a revival in recent years with a slew of modern establishments popping up among the old, offering fresh outlooks and attracting younger visitors. Despite this, the old soul and enduring spirit of DTKL is still prominent through the architecture and decades-long family-owned businesses, juxtaposed in harmony.
Featured panellists
Nawwar Shukriah Ali (Bono Stellar)
Bono Stellar is a multi-disciplinary artist based in KL who creates art using iridescent films, plexiglass, light, and space. Her diverse body of work incorporates elements of art history, architecture, personal experiences, and reflections. They encompass drawings, visual merchandising, interior design, product design, installations, and photography.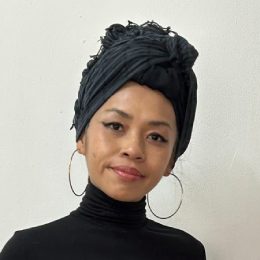 Suzy Sulaiman
Suzy Sulaiman, who started her career as a festival producer, has since become a curator for art exhibitions in Southeast Asia, Japan, and Taiwan. Currently, Suzy creates art installations for public spaces and presents them at local art festivals, with a focus on exploring the relationship between feminine and masculine spaces and how public spaces can contribute to social inequality.
Downtown KL: The City As A Living Work Of Art
will be hosted on Zoom for FREE. Details of the web session are as follows:
DATE
Thursday, 23 February 2023
TIME
3PM (GMT+8)
DURATION
60 minutes

Sign up for the session on Zoom here:
[button url="https://us02web.zoom.us/meeting/register/tZ0qcuCrrDgqGtWfGefffw_x6IK30BVCOE3K" size="medium" value="SIGN UP NOW" color="#89C44C"]
Please note that:
If this is the first time you're using Zoom, you'll need to have the app downloaded on your device. Download it here.
Each session is limited to 100 participants. If you are directed to a Waiting Room and are not admitted within five minutes, it means that the session is full. You can only join the session if another participant leaves. You can choose to either wait there for a spot to open up, or head over to our Facebook page where the session will be live-streamed.
Stay up-to-date on this and future sessions of Hello Zafigo by following us on Facebook and/or Instagram. All past sessions are available for viewing at hellozafigo.com.