Staycations have seen a steady rise since domestic travel resumed. But what happens if you need to book a hotel for just the day or for a few hours? Enter the daycation. A new way to holiday, as the name suggests, it's a staycation just for a day.
We bet now you're wondering why you'd ever need — or even want — to book a hotel just for a few hours in the first place. Here are five ways to have a fun daycation — a process made simple thanks to the Flow app! Flow's platform helps young urban travellers find a hotel room to stay in for a few hours and save up to 75% on room prices.
Read on for reasons you'd ever need one— a foodie's dream daycation giveaway at the end!
Pool for the kids
If your kids are screaming about going on holiday, but you can't afford a full-on holiday and want to lounge in the sun, that's where a daycation comes in.
Check into a hotel in the early morning or at lunch, and enjoy the facilities as you'd do any hotel stay. Leave when the sun goes down, and you would have had all there is to a vacation minus the stay and holiday laundry!
Flex your WFH(otel) Insta Stories
Tired of WFH (working from home)? Time to kick it up a notch with a work-from-hotel day. Take a luxurious bath or shower whenever you need, type away in a bathrobe, and lie with your laptop in bed. Bring your work or study buddies along for a co-working session!
Insider tip: Book a room like the Studio Executive Room at Capri by Fraser in Bukit Bintang, where you'll get a kitchenette complete with a microwave and cutleries. Talk about convenience at your fingertips.
Next rest stop: comfy hotel
Long-distance travelling is tiring, and sometimes a nap in the car just doesn't do it. With a hotel room that you can use for a few hours, you can truly unwind. Refresh yourself with a shower and a well-deserved nap before heading to your next destination.
Here are some ideas: If you're taking a long road trip (say from Penang to Johor Bahru or Singapore), stop in Kuala Lumpur (KL) for a few hours for a daycation to take a proper break and get adequate rest. It's a mid-way point so you can nap/explore to your heart's content before pushing on again. Alternatively, with international borders reopening, if you're doing an extra long layover in KL, consider a day cation instead of wasting away precious hours at KLIA.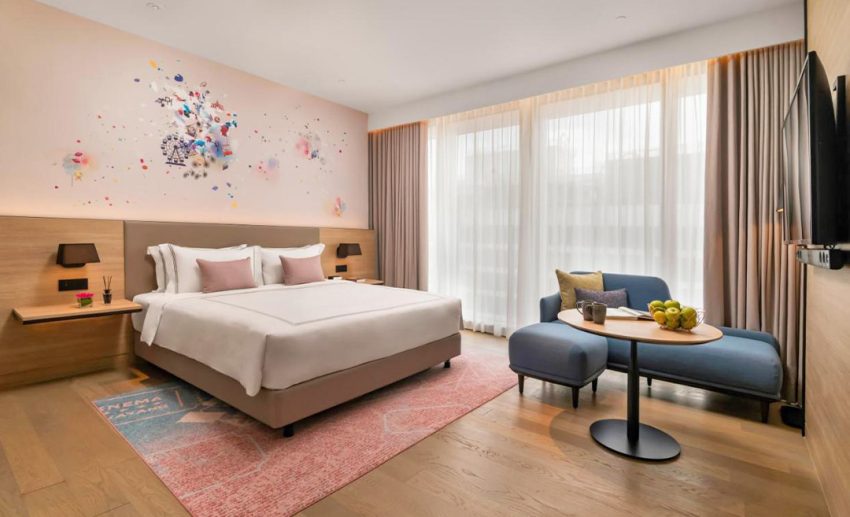 Throw a bachelorette or birthday party
Need a private and cosy environment for your next birthday or bachelorette party? Book a hotel room for the day or evening and enjoy all the hotel's amenities. It's cost-efficient, convenient, and hassle-free without too much of the venue and deco fuss.
Booking on the Flow app or website is super easy.
#BoujieTapiBajet couple's vacay
Paw-rent tip alert! Planning an anniversary surprise? Enjoy the facilities and comforts of a hotel room without the fuss of packing and staying the night. Knowing you'll be home by night to your fur babies makes a big difference and still allows you to get away for a bit. So go on and book that quick escape. You know you want to!