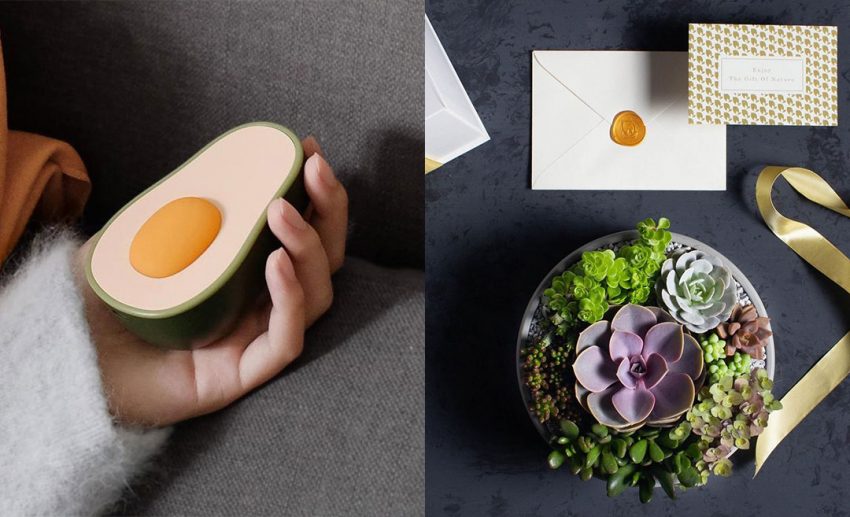 Subscribe to our new

Telegram

channel for the latest updates.
Who says Valentine's Day is reserved for couples? It's also an occasion to shower some love and affection to those inspiring, beloved women in your life. Furthermore, it's a brilliant reminder to set aside some quality me-time and indulge in some self-love with your list of favourite things.
While roses and chocolates are also acceptable gifts, we've decided to go outside the box and compile an ultimate Galentine's Day local gift guide to gift your mother, sister, BFF, cousin, grandma, aunty, sister-in-law and even your co-worker – that's right, we've thought of pretty much everyone so nobody is left out.
From the beauty queen and homebody, to the green thumb and phone addict, we've got 15 locally-made presents to satisfy pretty much every colourful character in your life this 14th of February:
Jewellery by VLT
View this post on Instagram
Who can resist adding one more piece of bling into their collection, especially when it contains a more personalised touch? Perfect for the one never seen without shiny bijouterie, the gorgeous 14K solid gold diamond/birthstone bar bracelet by VLT even has an engraving option available upon purchasing which we totally recommend f0r a truly one-of-a-kind, sentimental flair.
Website | Instagram | Facebook
Loungewear:
PJs by SAHARA by Psamathe
View this post on Instagram
In search of an effortlessly trendy loungewear set? Look no further than the subtle yet floral pattern Hera lounge set, courtesy of SAHARA by Psamathe. Not only is this comfy cotton co-ord set fit for the home and future slumber parties, but it's also an excellent all-day every day ensemble that can be dressed up or down as well as mixed and matched with the right accessories. Versatility never looked this good.
Website | Instagram | Facebook
Satin Robe by Summer & Peach
View this post on Instagram
Speaking of slumber party apparel, another comfy yet sensual must-have to complete the fit is the sophisticated Averie Lace Sleeve Satin Robe by Summer & Peach. Made with satin that feels luxuriously soft, it adds a dash of class to your loungewear ensemble and it's great for those glamorous, spontaneous photoshoot seshs with your BFFs.
Website | Instagram | Facebook
Perfume by OLFAC3 Perfumes
View this post on Instagram
Nothing sets the mood and uplifts the scent-es quite like spritzing on the right perfume. With OLFAC3 Perfumes, choose from an expansive array of distinctive and unconventional special edition concoctions from the brewed coffee-spice notes of Adonis to the earthy wood-oriental composition of SKIN N°7. You can even grab the To-Go travel duo or Discovery sets if you'd like to give your recipient the option to sample a few.
Website | Instagram | Facebook
Statement Scented Candles by
Håndlavet
View this post on Instagram
As we're all going to be spending more time at home for the foreseeable future, help your loved ones create a calming or refreshing ambience with a pair of handmade scented soy candles accompanied by pretty flowers with Håndlavet's Sweetheart love-shape preserved flower box. Go for their combinated nuanced scents like bergamot and hazakura, or raspberry and sandalwood for that special touch.
Website | Instagram | Facebook
Cheeky Tee by Apom
View this post on Instagram
Sometimes an article of clothing just speaks to us, or in this case, of us. Showcase the personality traits of those close to you in a humorous yet stylish manner with the help of Apom's cheeky unisex t-shirts. Incorporating Malaysian culture into their modern illustrations, peek at their ever so popular Geng Malaysia series and Slang series — we simply can't get enough of their sassy Little Miss Datin tee!
Website | Instagram | Facebook
Make-Up by Velvet Vanity
View this post on Instagram
As face masks have become an essential wardrobe piece, you can still present the unwavering beauty lover with the Dreamy Disco set by Velvet Vanity to create pretty eye looks. Consisting of all four of the sparkly and butter-like consistency of the Reality Star liquid shadow range, this set comes in a crystal clear wristlet pouch. All in all, it's glam done with ease.
Website | Instagram | Facebook
Self Care Set by Claire Organics
View this post on Instagram
Quintessential for the one in desperate need of some soothing me-time, go big or go home with the Valentine's Gift For Her set, courtesy of Claire Organics. Pamper them with a huge assortment of goodies including the mulberry silk eye pillow, pillow mist, rosehip body scrub, soothing balm, lip treatment, essential oil roller, soy candle and almond nougats. Sounds heavenly, no?
Website | Instagram | Facebook
Reusable Cup by One Cup
View this post on Instagram
Ideal for the bubble tea-addict, satisfy their cravings in a sustainable manner with One Cup's reusable bubble tea cup that comes with a steel straw, cleaner brush, and drawstring bag. Differing from traditional reusable cups by accommodating the serving sizes of the craze, this eco-friendly cup comes in a few millennial-pleasing hues. For an additional cost, you can even have their name monogrammed on it for a unique touch.
Website | Instagram | Facebook
Confectionery by Little Black Pastry Box
View this post on Instagram
Sweet treats will always be an imperative staple for V-Day so feast your eyes and quickly grab a few of the limited edition decadent confectionery by Little Black Pastry Box called Amour. Rather than just a typical box of chocolates, your loved ones can indulge in bites of chocolate mousse, choux cupcake, salted caramel macaron, and other delights.
Website | Instagram | Facebook
Tote Bag by La Bumba
View this post on Instagram
Instead of a regular canvas tote bag, glam it up with a mini beaded version created by La Bumba. Comes with a button loop closure, this open tote that's available in turquoise or yellow is designed with a single flower. To top it all off, it's chic look makes it versatile to bring it beyond the beaches and into cafes!
Website | Instagram | Facebook
Baking Kit by Botanica + Co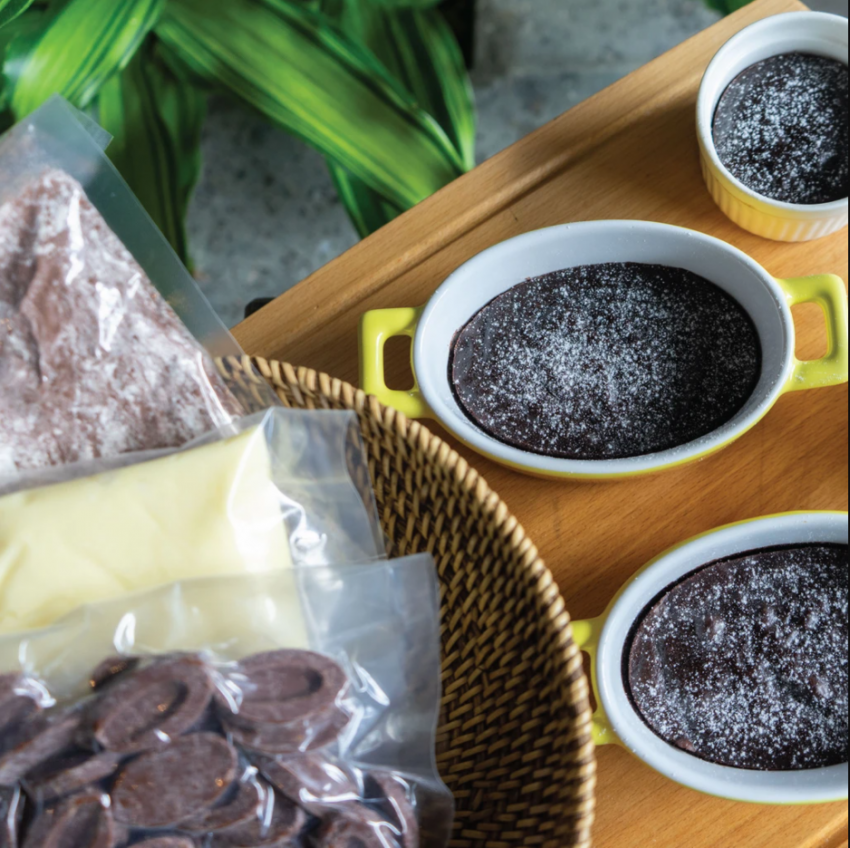 (Botanica + Co/ Website)
For the DIY-enthusiast or aspiring yet hesitant home baker, delight them with the sinfully indulgent Botanica + Co Valrhona Chocolate Pudding Home Kit. It consists of 55% Valrhona chocolate and sugar, mixed flour, and butter along with step-by-step instructions – all you need are some eggs and you're all set. It's as easy as pie… or in this case, pudding.
Website | Instagram | Facebook
Succulents by Dóro
View this post on Instagram
Invite tranquility and verve into the environment of their abode with the help of the impressive succulent creations by Dóro. With several varieties arranged in a decorative cement planter together with a care instruction card, the Dóro Life design is enclosed with an optional wax sealed envelope with your messages written on a designer gift card. Similarly, the Dóro Treeó Combo with a set of three different succulents is another great option.
Website | Instagram | Facebook
Multifunctional Device by Ordina
View this post on Instagram
If she's a cell phone-addict who's battery power is rarely above 50%, gift her the adorable avocado-modelled, pocket rechargeable hand warmer and power bank by Ordina. This 2-in-1 multifunctional device not only juices her phone but generates heat to warm her hands in cold environments like the office or library. It's perfect for the practical woman in your life.
Fleece Blanket by HOOGA
View this post on Instagram
Is there anything better than cosying up in a warm fleece blanket while drinking a cup of hot tea and binging on the hottest Netflix series on a chilly night? For the homebody that considers this the best way to spend the evening, present them with the pastel-hued HOOGA Tristan Blanket that's as soft as clouds to keep them comfy and toasty.
Website (Also available in Malaysia via Zalora; Shopee; Lazada) | Instagram | Facebook
Follow Zafigo on Instagram, Facebook, and Twitter. Sign up to our bi-weekly newsletter and get your dose of travel tales, tips, updates, and inspiration to fuel your next adventure!