Free on Saturday? Why not drop by the Kota Wanita event happening at Findars on Jalan Panggong, Kuala Lumpur? It's to commemorate International Women's Day this weekend though the actual event is on March 7.
According to the organisers, Kota Wanita is all about bringing the women of Kuala Lumpur together to have conversations about things that matter to women. There will be workshops, panel discussions as well as other activities.
Zafigo will also be part of the panel speaking about solo women travel (the panel starts at 6pm), so drop by to say Hi and pick up our handy Zafigo travel cards!
What's happening at Kota Wanita:
Workshops
1. Kopi : From Cawan to Cangkul by Nona Zainuddin of Artisan Roast Coffee and DIY Self-watering Plant and Composting Workshop by Ili Farhana + Affi Sofyan (Sekolah Kebun Akhir Minggu)
2. P.I.Y "Print It Yourself" ― A Screen-Printing Workshop with Bogus Merchandise 
3. Tamparan Wanita ― Silat Self Defense Workshop with Wan Yusmar Wan Yusof
4. Kahwen: #tilljannah? by Sisters In Islam
Talks & Panel Discussions
1. Opening Session : Reintroducing Feminism
2. Popek-Popek LIVE with June Low
3. The Definitive Guide: The 5 Books Every Malaysian Woman Should Read
4. Single Roaming Female: Travelling Solo
N2 Photo Exhibitions
Nadia J. Mahfix & Nadirah Zakariya
Rooftop Performances
1. MIME by SEFA Syafiq Effendi Faliq
2. Priya's Shakti KUALA LUMPUR x LIVE PAINTING – Neb Radzif, Engku Iman, Nurul Fyka, Ilyana Shamsudin, Ashley Gan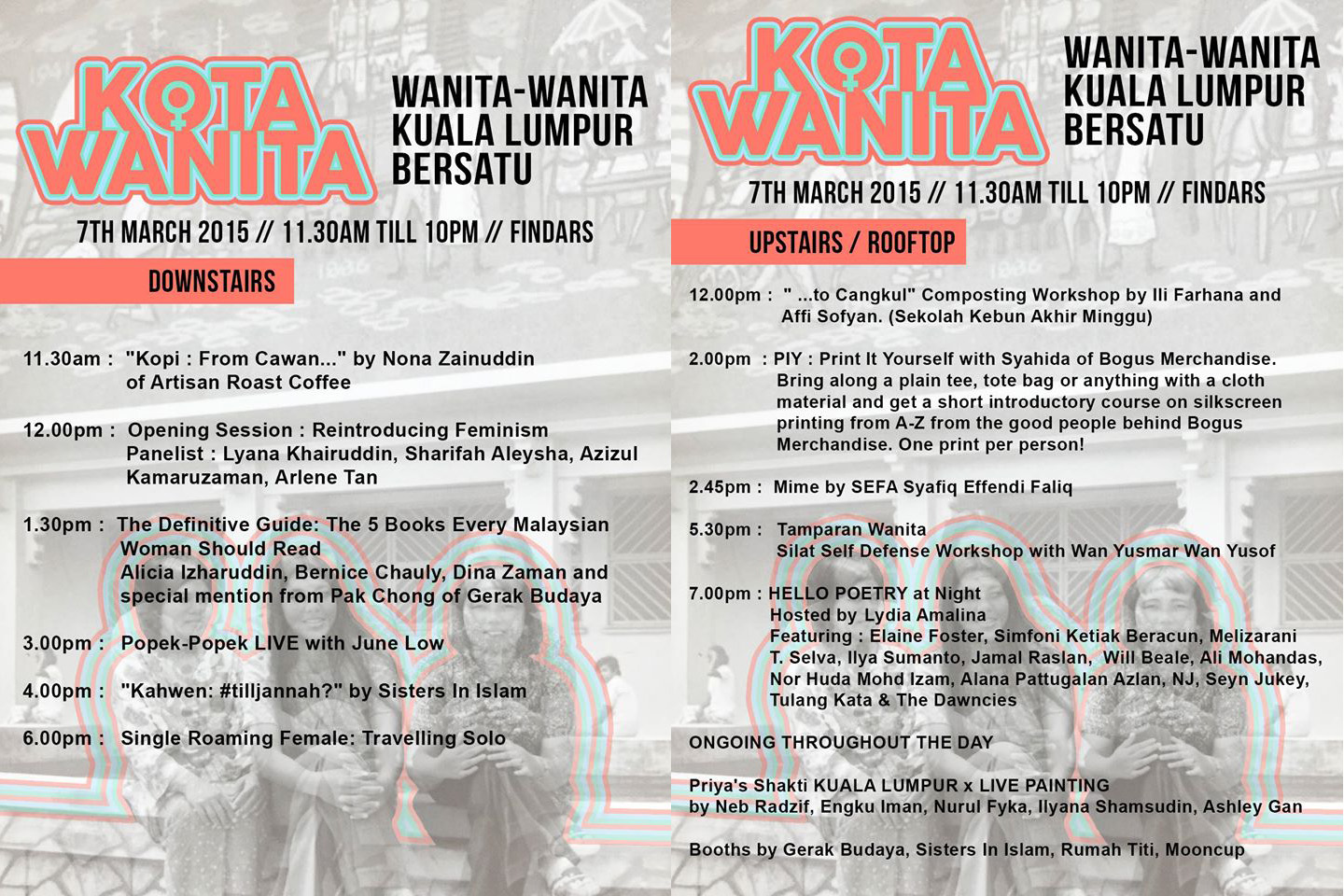 Send the organisers an email if you have any questions or give Sarah a call at (60)129781287. For more details and event timings, visit Kota Wanita on Facebook.