Singapore is a melting pot of cultures and this can be seen through their food which are rich with Malaysian, Indonesian, Chinese, Indian and its own unique influences. No other country does food quite like this city-state as the locals are ever-innovating new recipes and adding distinctive flairs to local and Western dishes (especially their crabs!).
We stumbled upon an article by HungryGoWhere Singapore where they hunted down and listed the most unique dishes available in Lion City and where to find them. We've gone through their list and shortlisted the dishes that have particularly whetted our appetite. This is definitely on our must-try list for the next time we're in Singapore:
1. Ice-cream bread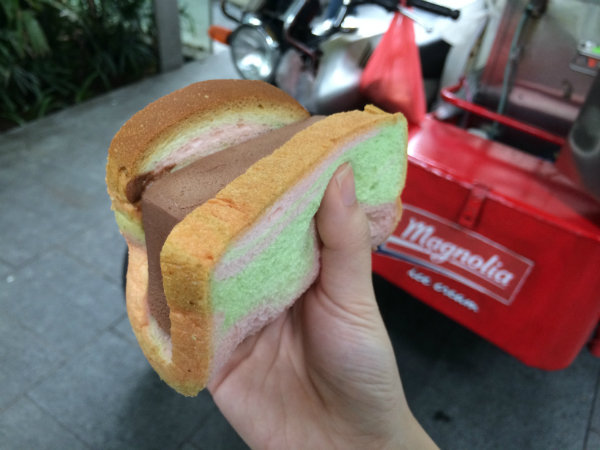 Americans have their ice-cream truck, Singapore has their local ice-cream-cart man. He pops by at odd hours and rings his bell to alert children and adults of his presence. A few are even permanently stationed along Orchard Road (in front of Ngee Ann City) or on Read Bridge at Clarke Quay. Choose from up to nine different flavours: chocolate, strawberry, peppermint choco-chip, blueberry, mango or even durian. The ice-cream is wrapped in a slice of "rainbow" bread or sandwiched within a wafer biscuit. We like how the bread soaks up every bit of melting ice-cream. At $1 ($1.20 in more touristy areas), this is one of life's simple pleasures.
Where: Orchard Road, Clarke Quay or at void decks of public housing blocks | GPS Location: Ngee Ann City; Read Bridge
2. Champagne/coffee pork ribs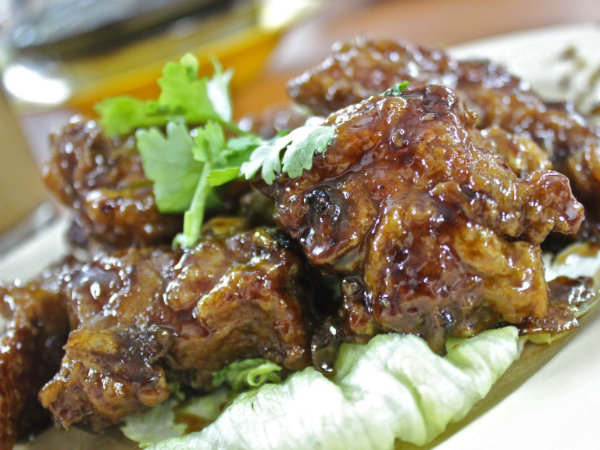 Champagne pork ribs ($20 for a small portion, available at Por Kee Eating House)? Not quite what you expect to find at a tze char (a Chinese food stall with a huge variety of a la carte dishes) restaurant. It was originally named 7-Up pork ribs, referring to the use of the fizzy drink to tenderise the meat. Chinese cooking wine is used as well and the combination of bubbles and wine, resulting in a sweet, caramelised pork dish with crisp skin and tender meat. In recent years, the restaurant started adding a splash of champagne to give this dish a nicer fragrance and a name change. Similar in taste, but with the heady aroma of Nanyang-style kopi, are the coffee pork ribs ($8/$10/$12 at Siang Hee Restaurant). These are caramelised pork ribs tossed in a coffee-flavoured sauce.
Where:  Por Kee Eating House – No. 01-02, 69 Seng Poh Lane; Siang Hee Restaurant – No. 20, Serangoon Garden Market & Food Centre, 49A Serangoon Garden Way | Tel: +65 97364067 (Siang Hee) | Business Hours: 11AM – 11PM | GPS Location: Por Kee Eating House; Siang Hee Restaurant
3. Burnt bee hoon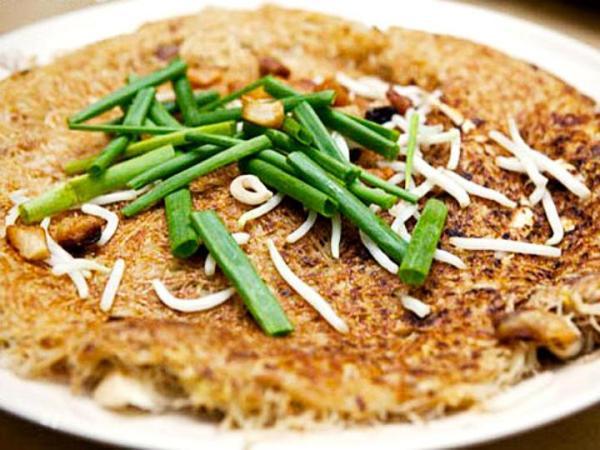 Burnt food is not always bad. This sinfully good dish of burnt thin rice noodles, said to have originated in coffee shops in Johor Baru, Malaysia, is perfect with a mug of beer. They are fried to a perfect golden brown, till the edges are crisp. The top is charred but with the insides remaining moist. Topped with spring onions and crispy fried pork lard, this decadent dish is best saved for special occasions. Available at Yong Kee Seafood Restaurant ($6/$12/$18) and JB Ah Meng ($7/$11/$14).
Where: Yong Kee Seafood Restaurant – Shing Boon Hwa Food Centre, 43 Jalan Besar; JB Ah Meng – New Good Place Eating House, 2 Lorong 23 Geylang | Tel: +65 63965390 (Yong Kee); +65 67412418 (JB) | Business Hours: 5PM – 3AM | GPS Location: Yong Kee Seafood Restaurant; JB Ah Meng
4. Chilli crab ice-cream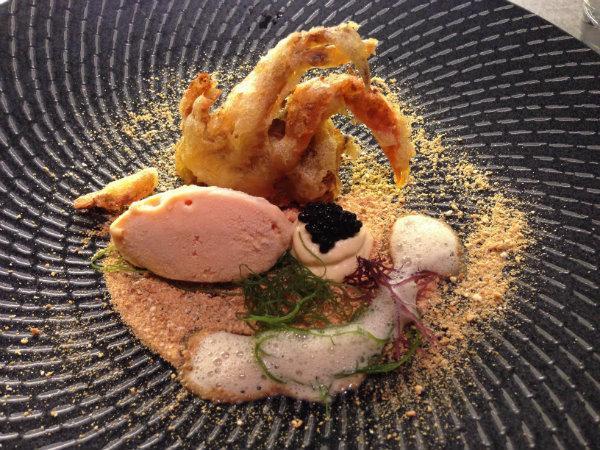 There are several dishes at this degustation-only restaurant that stand out for their modern-experimental take on local cuisine. One of them is the Labyrinth Chilli Crab, expertly put together by ex-banker chef Han Li Guang. Presented to mimic a beach on a plate, this dish comprises of deep-fried soft shell crab served with chilli crab sauce-flavoured ice-cream on a bed of mantou (buns) "sand" with crab mousse and sturgeon caviar. Chef Han advises diners to mix it up and enjoy the contrast of textures, hot and cold. Try this via its seven- ($108++ per person) or 10-course ($148++ per person) tasting menus.
Where: Labyrinth – 5 Neil Road (Relocated to Esplanade Mall) | Tel: +65 62234098 | Business Hours: 6.30PM – Midnight, closed on Mondays | GPS Location: Labyrinth
5. Chilli crab in potato skin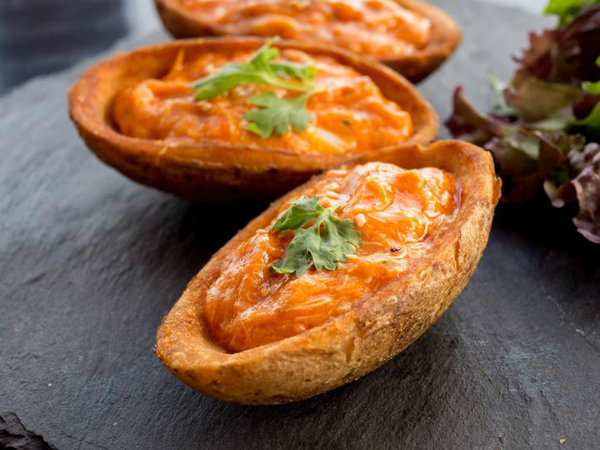 This Mount Faber restaurant's ethos for its cuisine is east-meets-west, so chilli crab is definitely dressed up here. Listed as "chilli crab in a tux" ($13), this is a convenient, classy and neat version of shelled crab meat mixed into the spicy-sweet sauce, filled into deep-fried hollowed potato halves. It's a hearty, strong two-bite (per piece; three pieces in portion) dish, with the flavour of dried shrimp. What else should you get up there for? A magnificent view of Southern Singapore.
Where: Spuds & Aprons – No. 02-00, Faber Peak, 109 Mount Faber Road | Tel: +65 68846884 | Business Hours: 11AM – 11PM | GPS Location: Spuds & Aprons
6. Hae bi hiam pizza & pasta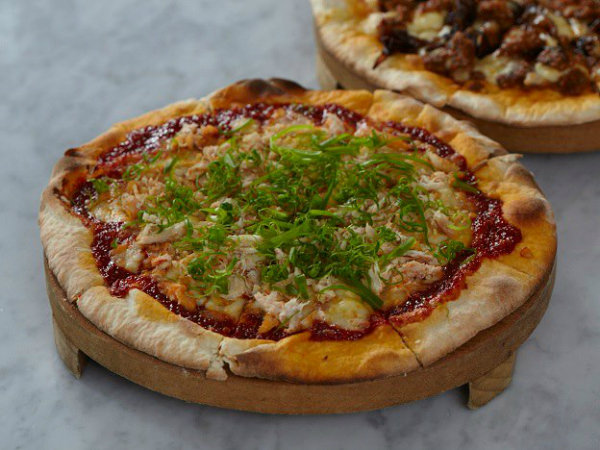 Only in Singapore will you find hae bi hiam (a spicy, dried, ground shrimp condiment) or chilli crab on pizzas and pastas. Socks & Pans serves the former (13-inch pie at $38, 18-inch at $48) with egg and tofu among the toppings; while The Coastal Settlement dishes up the hae be hiam pasta ($25) with mentaiko salmon.
Where: Socks & Pans – No. 01-108, Hdb-central Area, 7 Tanjong Pagar Plaza; The Coastal Settlement – 200 Netheravon Road | Tel: +65 65363310 (S&P); +65 64750200 (Coastal) | Business Hours: 11AM – 9PM, closed on Sundays (S&P);10.30AM – Midnight (Coastal) | GPS Location: Socks & Pans; The Coastal Settlement
7. Durian chee chong fun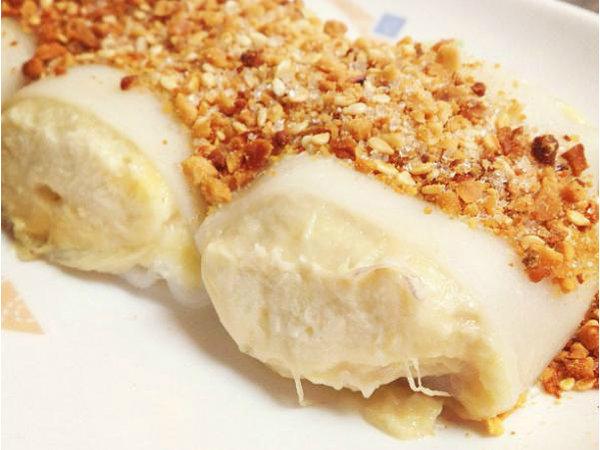 We might not be able to claim the king of fruits as a Singapore produce, but we certainly found ways to include this pungent fruit in many desserts and sweet concoctions: in chee cheong fun (steamed rice rolls), mooncakes, milkshakes, puddings and more. Our favourite is still the durian chee cheong fun ($5.50) which eschews the usual savoury fillings and toppings of soy sauce. This version is stuffed with Mao Shan Wang durian flesh and topped with a mixture of ground peanuts and sugar, and served chilled. If you are a durian lover, we have more durian desserts for you to savour, so take a look here.
Where: House of Rice Roll & Porridge – 89 Killiney Road | Tel: +65 67361355 | GPS Location: Rice Roll & Porridge
8. Fruit jam mee sua
Hong Lim Market & Food Centre is popular with the Central Business District lunch crowd for its affordable meal options. One of the more creative hawkers there is at The Sungei Road Trishaw Laksa stall. Many wait patiently in line for its purportedly healthier version of mee siam, made with fruit juice ($3/$4, or $6/$7 with crayfish). This version of the rice vermicelli with spicy, sweet and sour light gravy replaces the tamarind for a "secret" blend of fruit juices. The owner Mr. Soo declined to say what goes into the sauce, but we tasted hints of pineapple and orange, which provided the tartness to this dish.
Where: Famous Sungei Road Trishaw Laksa – 531A Upper Cross Street #02-66 Hong Lim Food Centre | Business Hours: 10.30AM – 6.30PM, closed on Sundays | GPS Location: Hong Lim Food Centre
9. Coffee crab
Try to get past what you think of the restaurants at Gardens by the Bay and get with this: coffee-cooked chilli crab. A smoking good variation ($65 per kg) on the nation's favourite, it consists of Sri Lankan crabs coated in a sticky-sweet alcoholic coffee sauce that is lit on fire before you can tuck into it. The sauce is rum-my and not as thick as the chilli crab's, but enough to give it a nutty, medium-strong coffee coating. While you're at it, also try the crisp chilli crab meat bun – chilli crab sauce in a seared bun (six for $13.80). The bun's fillings won't ooze, but at the very least, you'll get your local food fix with this reverse chilli crab experience.
Where: Majestic Bay Seafood Restaurant – No. 01-10, Flower Dome, Gardens by the Bay, 18 Marina Gardens Drive | Tel: +65 66046604 | Business Hours: 11AM – 2.30PM, 5.30PM – 9.30PM | GPS Location: Majestic Bay Seafood Restaurant
10. Chocolate kueh tutu
With its influences coming from the Indian, Chinese and Malay population here, kueh tutu has an origin that greatly represents Singapore's multi-cultural demographic. At Queensway Lau Tan at Ion Orchard, you get the rice flour (or glutinous rice flour) steamed cake with the traditional filling of coconut, peanuts, or gula melaka (palm sugar, $3 for three), as well as chocolate. The chocolate oozes in your mouth and isn't too far off from a hot and steamy chocolate cake. The texture is incredibly soft and fluffy, but we wish there are more hawkers selling these beautiful steamed cakes.
Where: Lau Tan's Tutu Delights – No. B4-32, ION Orchard, 2 Orchard Turn | Tel: +65 68846062 | Business Hours: 11AM – 9PM | GPS Location: Lau Tan's Tutu Delights
11. 'Dry' laksa
Violet Oon, one of Singapore's more prominent cookbook writers (on Nyonya cuisine) set up shop on Bukit Timah Road, and we're grateful to have access to her food. At her establishment, she serves a number of hits, including this dry, nutty version of the lemak (rich, coconut-milk-laced) laksa ($22) served with prawns, dried bean curd, and bean sprouts.
Where: Violet Oon's Kitchen – 881 Bukit Timah Road  | Tel: +65 68846884 | Business Hours: 10.30AM – 11PM, closed on Mondays | GPS Location: Violet Oon's Kitchen
12. Milk powder pork ribs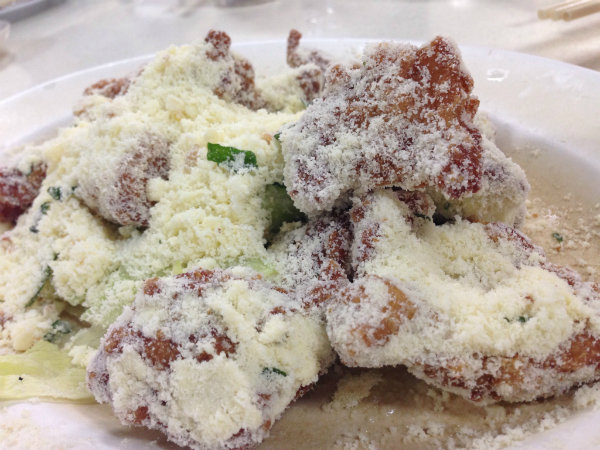 This tze char dish ($8/$12/$16) is delicious and full of buttery goodness. Butter is melted over low fire for hours before milk powder and flour are added to create the "golden dust", which is then stir-fried with pork ribs, curry leaves and red-cut chillies. The "dust" is light, gently covering the crispy outer layer of pork ribs. and slowly melts in your mouth. The process of converting high fat liquid to powder is often used in molecular gastronomy, but at Two Chefs, it's all done over the wok.
Where: Two Chefs Eating Place – No. 01-129, 116 Commonwealth Crescent  | Tel: +65 64725361 | Business Hours: Mon: 5PM – 11.30PM, Tue – Sun: 11.30AM – 2.30PM | GPS Location: Two Chefs Eating Place
13. Ondeh-ondeh cupcakes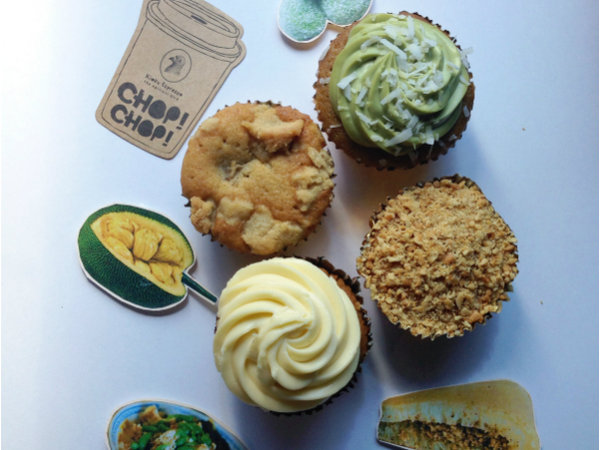 There is more than artisanal coffee and brunch plates available at this Tiong Bahru cafe. Glance at the cake display and if the ondeh-ondeh (glutinous rice flour filled with gula melaka and coated with grated coconut) cupcake ($3.50) is available, grab one. The cupcake version of the traditional Malaysian kueh (dessert) is executed perfectly. The icing is pandan flavoured and dusted with coconut shavings, and just like the kueh, the cupcake also has a decadent gula melaka centre. The cafe has cupcake versions of other local desserts such as cendol (coconut milk-based drink with green jelly-like rice-flour noodles, $4.50) and peanut pancake ($3.50) as well.
Where: 40 Hands – No. 01-12, 78 Yong Siak Street | Tel: +65 62258545 | Business Hours: Tue – Thu, Sun: 8PM – 7PM, Fri – Sat: 8PM – 10PM | GPS Location: 40 Hands
14. Pulut hitam cake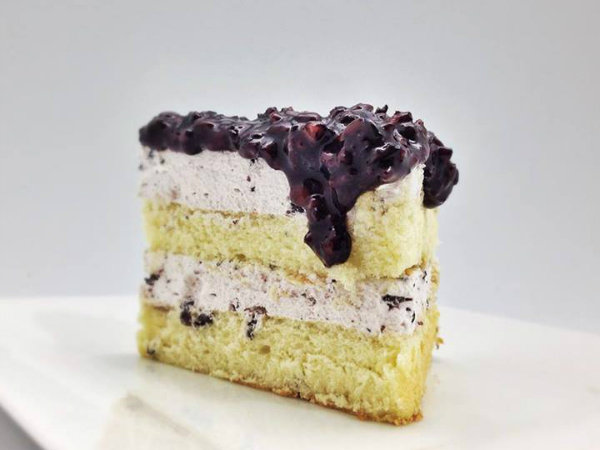 This Ang Mo Kio bakery has been in business since 1982, steadily keeping up with the times, fusing the old with the new seamlessly. The pulut hitam cake (black glutinous rice cake, 500g for $29) is one of the most popular, with a vanilla sponge base, coconut-flavoured fresh cream dotted with glutinous rice, and a layer of pulut hitam on top. Unlike the original dessert-in-a-bowl version (a thick, sweet stew of black glutinous rice, drizzled with coconut milk), this is a light, textured cake. Other cakes worth a mention: the lychee martini (500g for $29).
Where: Pine Garden's Cake – No. 01-2369/2329, 529 Ang Mo Kio Avenue 10 | Tel: +65 64576159 | Business Hours: 8.30AM – 9.30PM | GPS Location: Pine Garden's Cake
15. Drunken cockles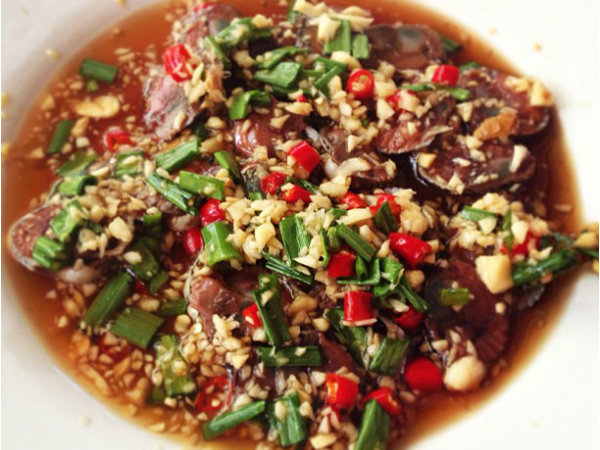 This tze char dish is not for the weak. Though it is "drunken", there is no alcohol: it is a starter plate ($7) of cold, fresh blood cockles on the half shell, doused with soy sauce, topped with fresh chopped garlic, spring onions and chilli. If you can stomach picking up the red-juiced clams, sucking off the sweet, strong sea-scented meat with a hit of garlic (and the aftermath of a possible garlic breath), order this.
Where: Two Chefs Eating Place – No. 01-129, 116 Commonwealth Crescent | Tel: +65 64725361 | Business Hours: Mon: 5PM – 11.30PM, Tue – Sun: 11.30AM – 2.30PM, 5PM – 11.30PM, closed every last Monday of the month | GPS Location: Two Chefs Eating Place
16. The 'Michael Jackson'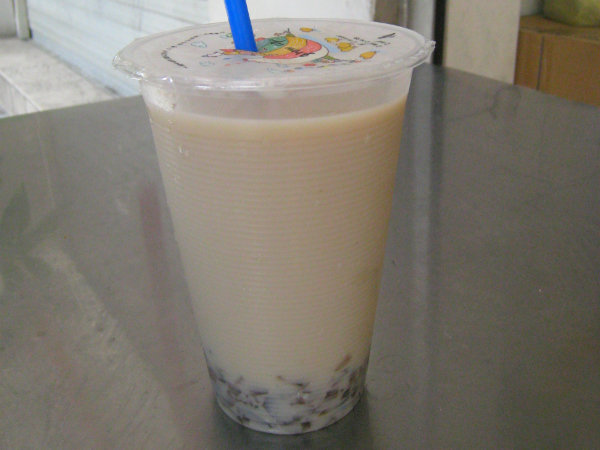 Not the most politically-correct name for a drink, but this soya bean milk with cincau (grass jelly) is worth a sip. The hawkers have nicknamed this mildly sweet drink ($1.20) "Michael Jackson" because of its colours (white on the outside, black on the inside, get it?) We must say, however, that this qualifies as Singapore's near-equivalent to bubble tea in Taiwan.
Where: Rochor Original Beancurd – 2 Short Street ; various coffee shops | Tel: +65 63341138 | Business Hours: Noon – Midnight | GPS Location: Rochor Original Beancurd
17. Alaskan King Crab
It is hard to pin down one dish to recommend from this stalwart tze char restaurant. The menu is crammed with both innovative dishes as well as comfort fare. For a special occasion, we would go with anything featuring Alaskan crab (charges are per market price). While most restaurants prefer to just steam and serve these, at Sek Tong Gai, you can opt to have them baked with foie gras, baked with cheese, tossed in a rich salted egg yolk sauce, braised with bee hoon or even baked with a Western-style minced mushroom sauce that clings to the shells beautifully. As an added touch, the restaurant cuts the crab shells in ways that allows the flesh to be easily picked out.
Where: Sek Tong Gai Restaurant – No. 01-317, 47 Tanglin Halt | Tel: +65 64744547 | Business Hours: Mon, Wed – Sun: 6PM – 1AM, closed on Tuesdays and alternate Fridays | GPS Location: Sek Tong Gai
18. Steak fried rice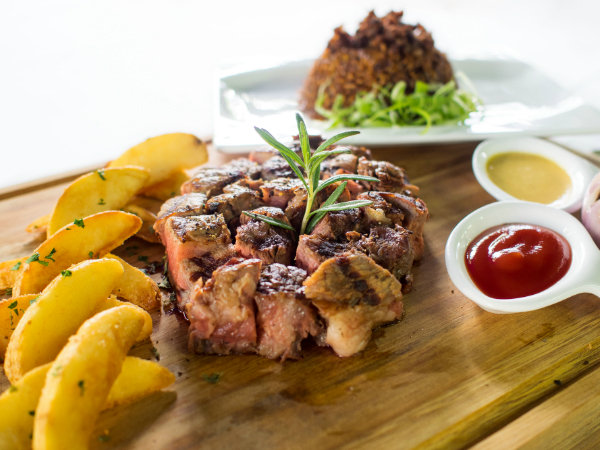 Ribeye steak is seared and cut up into cubes. Its fat and rich juices retained, and in the same pan (with the fats), rice is stir-fried in it (500g for $60). The result? Fragrant rice, cooked al dente, and the grains are coated evenly with steak fat. This is tze char cooking with a twist – dishes improvised to become restaurant standards, inspiring other tze char restaurants to do the same. If you know of another place in the world that does this, tell us now. We want to be there.
Where: New Ubin Seafood – No. 01-174, Sector A Sin Ming Industrial Estate, 27 Sin Ming Road | Tel: +65 64669558 | Business Hours: 11.30AM – 2.30PM, 5.30PM – 10.30PM | GPS Location: New Ubin Seafood
19. Sup tulang
Known to be a local innovation, sup tulang (bone soup, $15) is a combination of the gravy of mee kuah (noodle soup) with mutton soup. Big chunks of mutton or beef bones served with thick gravy that is coloured in signature bright red, like in most Indian Muslim food, so the visual of this dish itself is an experience. Forget about the plastic fork, use your fingers, dig in, suck out the bone marrow and mop up all the gravy with the bread provided.
Where: Haji Kadir & M Baharudeen Sup Tulang – No. B1-13/15, Golden Mile Food Centre, 505 Beach Road | Tel: +65 62940750 | GPS Location: Golden Mile Food Centre
See HungryGoWhere SIngapore's full list of must-try Singaporean dishes here.