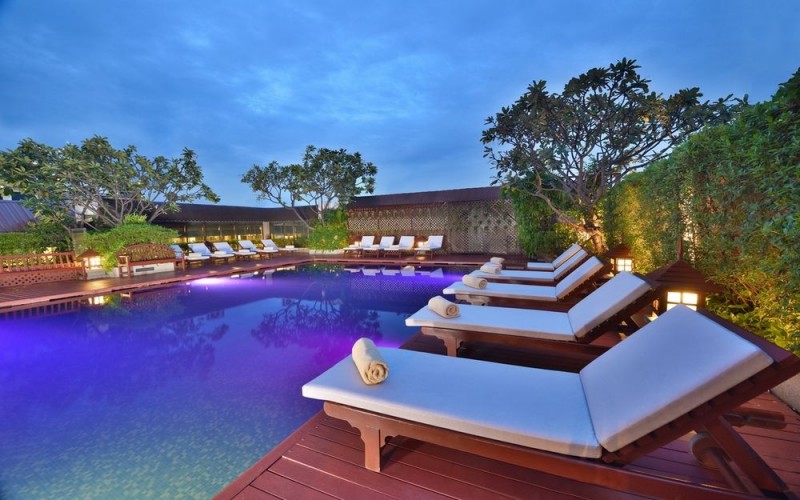 Experience the Thai New Year with Hotels.com
---
Malaysia – Every culture rings in and celebrates a brand spanking new year differently, each with a gran purpose. For the people of Thailand, ringing in the new year means preparing for the country's biggest water fight! Join in and experience the annual Songkran festival and enjoy great savings on accommodation with Hotels.com.
Regarded as Thailand's most important festival, Songkran signifies the change in the sun's sign from Aeries to Taurus. What began as a ritualistic display for one's elders, this annual festival has now morphed into a giant friendly water fight!
Don't be alarmed if you find yourself being watered by random strangers, it's all part of the fun. Just don't forget to your extra towels and clothing!
Book by 31 March 2016 and enjoy savings of up to 60%. All deals are valid for travel by 20 May 2016.
Thailand's capital, Bangkok, is a bustling metropolis known for its plethora of activities. From snapping up the best bargains, to sampling some of the finest Thai cuisine, your trip to Bangkok won't be easily forgotten. Kick start Songkran and getting wet with the largest and wildest crowd at Silom and Khao San Road!
Grande Centre Point Hotel, Ratchadamri, Bangkok
Save up to 53% on your stay
Rooms start from RM 489
Centre Point Pratunan, Bangkok
Save up to 60% on your stay
Rooms start from RM 303
Amari Watergate Bangkok
Save up to 15% on your stay
Rooms start from RM 408
Once a quiet fishing village, Pattaya is now known the world over for its wild nightlife. If never-ending parties and dancing the night away is more your cup of tea, Pattaya will surely leave you wanting more. The Songkran festivities continue with 'Wan Lai' festival .Travellers may also enjoy the annual Miss Songkran beauty pageant that usually takes place in conjunction with Songkran.
Long Beach Luxury Villas
Save up to 30% on your stay
Rooms start from RM 367
Dusit Thani Pattaya
Save up to 20% on your stay
Rooms start from RM 466
Aya Boutique Hotel Pattaya
Save up to 55% on your stay
Rooms start from RM 314
The seaside town of Hua Hin became a popular holiday destination among Thailand's high society after the royal family built their summer palaces here in the 1920s. Today, Hua Hin retains its cosmopolitan ambience with its lively nightlife and long stretches of white sandy beaches. Celebrate Songkran amongst some of the most beautiful beach resorts Thailand has to offer.
G Hua Hin Resort & Mall
Save up to 71% on your stay
Rooms start from RM 355
Anastasila Villa by the Sea
Save up to 50% on your stay
Rooms start from RM 466
Wora Bura Hua Hin Resort and Spa
Save up to 25% on your stay
Rooms start from RM 611
*All prices and deals are correct as of 1 March 2016 but are subject to change. Terms and conditions apply; please see specific details for each hotel listed below by clicking at the hotel of your interest. Search with your preferred dates for travel to see the discounted rates for your stay. All prices listed do not include tax and fees. For more deals and information please visit www.hotels.com.