Kuala Lumpur – Freeform Untitled, the organisers of the creative arts festival Urbanscapes, will launch Tiffin. Like the concept of the eponymous food carrier, Tiffin is a multi-layered platform for varied dining experiences and activities that is spurred by Malaysians' unparalleled love affair with food and drink. The brand will be launched during Taste of Tiffin from 26 Feb to 28 Feb 2016 in Publika. Taste of Tiffin will offer a sneak preview of its flagship project Tiffin Week, a city-wide celebration of food and drink slated for the second half of 2016.
"We're excited to bring the best of the region to all of Tiffin's initiatives. Taste of Tiffin will give those with a deep affection for food and drink a preview of Tiffin Week's dining experience and activities. We will also take the opportunity this February to announce more details on Tiffin Week. We hope foodies everywhere will join us in Publika and find out how we're celebrating the love of food and drink in real exciting ways," said Adrian Yap, founder of Tiffin and Freeform Untitled.
Taste of Tiffin comprises a series of free and ticketed events namely, the weekend food market Chowdown; Brunch Sessions that are catered by independent tastemakers; and the mixology and craft spirits enthusiasts' pop-up bar Heart Of The Run. To complete Taste of Tiffin's offering for the weekend, visitors can look forward to a few rounds of all-ages Mini Golf in and around Publika. The 3-day event will kick off with Tiffin Throwdown, which will also serve as Taste of Tiffin's official launch party.
Not your usual culinary contest, Tiffin Throwdown is where a panel of judges and the public vote for the best all-time favourite foods within a high-octane party environment. The debut Throwdown will see the nation's 11 best burger maestros — myburgerlab, Burger Giler Power, Daily Grind, YummyLicious and Big Hug Burger competing for ultimate bragging rights and cash prizes. Judges include 8TV and Asian Food Channel host Razif Hashim, celebrity chef Sherson Lian and DJ Blink.
Tiffin Throwdown will take place on Friday, 26 Feb 2016 from 7.30 pm onwards at The Square, Publika. At RM55 per entry, patrons will have a chance to sample 11 burger sliders. The party will feature ice cold drinks, and entertainment by DJ duo Dangerdisko.
A summary of Taste of Tiffin's events are as follows.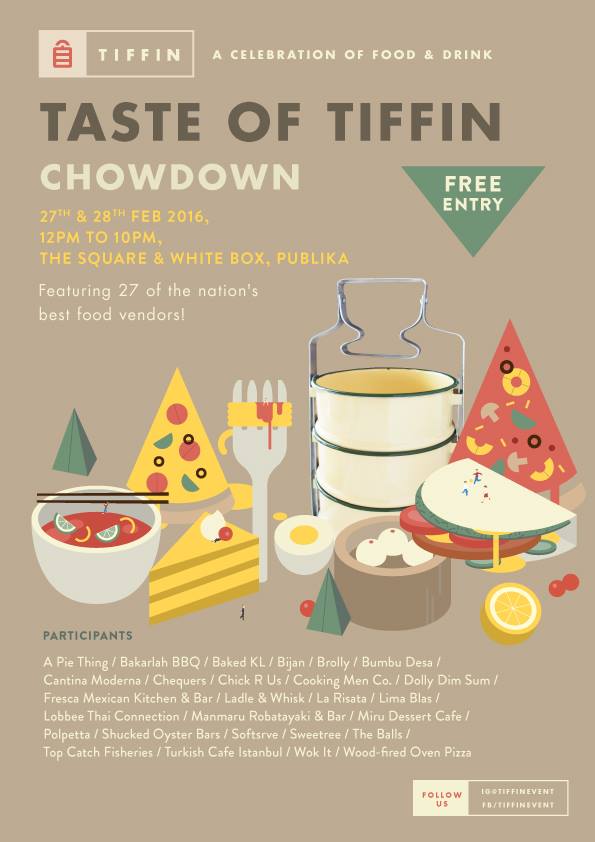 1. Chowdown: 12 pm to 10 pm, Saturday and Sunday, 27 & 28 Feb 2016, The Square & Whitebox at Publika. Free Entry.
Throughout the weekend, saunter down a gastronomic path and discover delicious delicacies from 27 of the nation's best food vendors such as Top Catch, Fresca, The Balls, A Pie Thing, Softsrve, and plenty more throughout the entire Taste of Tiffin weekend.
2. Mini Golf: Not your dad's game of golf. This all-ages activity by Mini Putt features a variety of obstacles and surprises. Spend RM30 or more at Chowdown and receive a voucher to play 1-round of mini golf.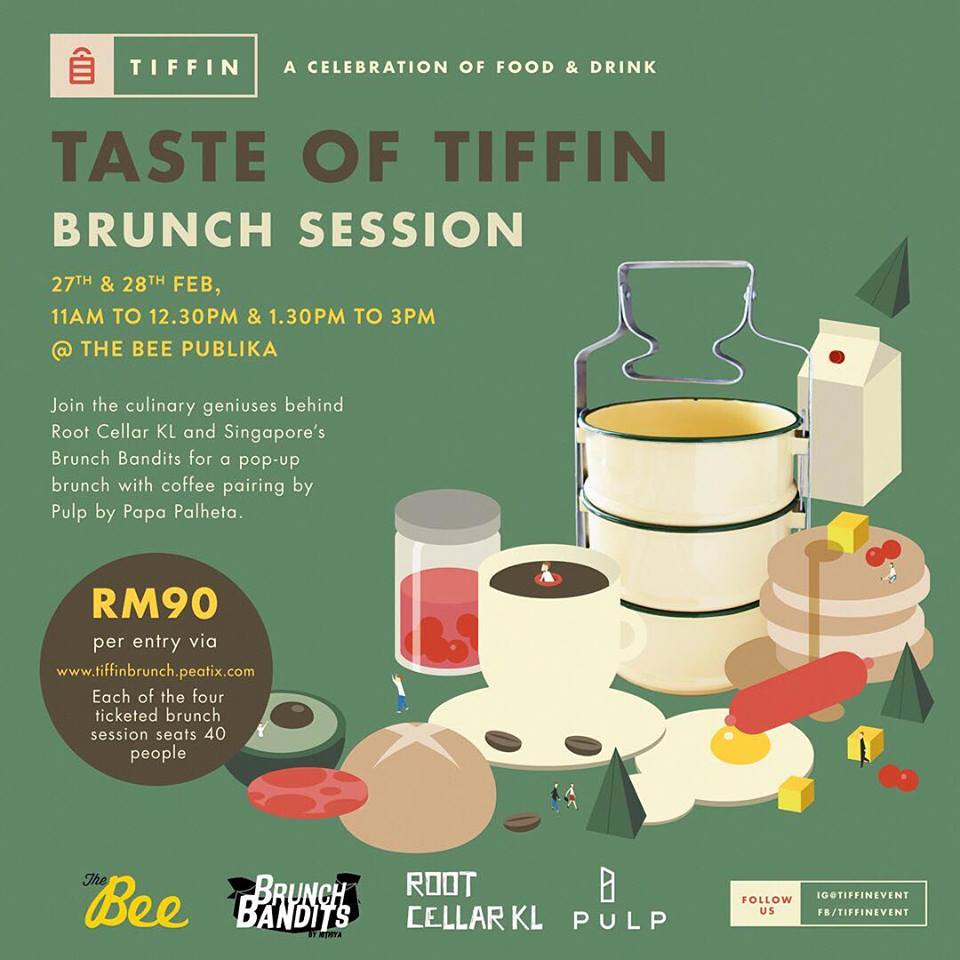 3. Brunch Session: 11 am to 12:30 pm and 1.30 pm to 3 pm, Saturday and Sunday, 27 & 28 Feb 2016 at The Bee, Publika. Advanced booking at RM90 per entry.
Let there be brunch! Join the culinary geniuses behind Root Cellar KL and Singapore's Brunch Bandits for a pop-up brunch with coffee pairing by Pulp by Papa Palheta. Expect a breakfast fare with an international twist from modern European, Southeast Asian influence to the burst of Afro-Latin flavours. Each of the four ticketed brunch session seats 40 people.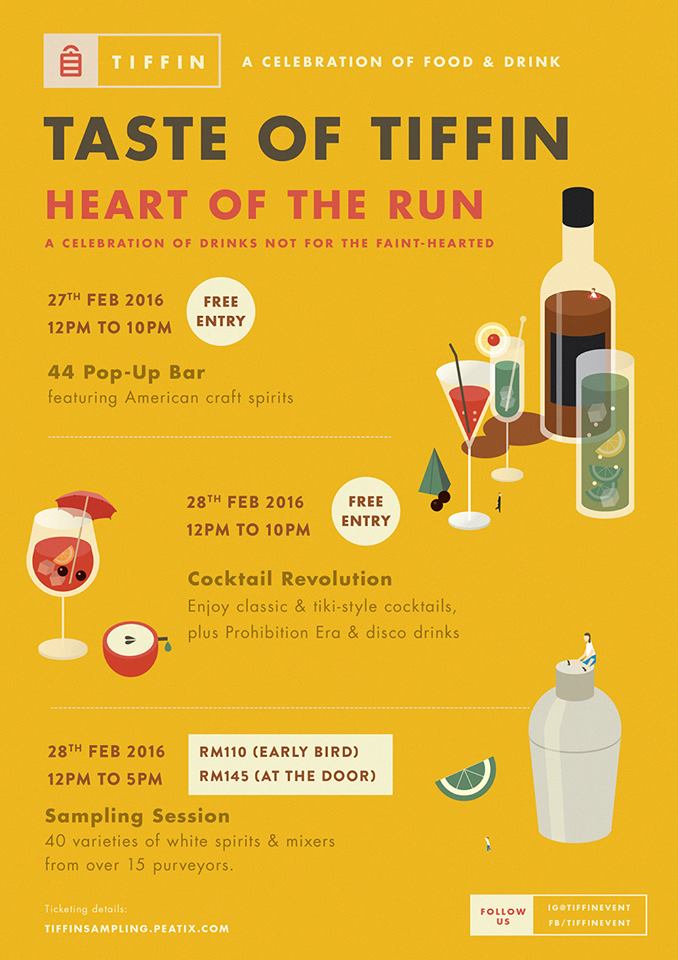 4. Heart of The Run:
○ 12 pm to 10 pm on Saturday, 27 Feb 2016 at Black Box, Publika. Free Entry
The nomadic 44 bar will run a pop-up service featuring well-known specialty American craft spirits cocktails. An intimate oasis for those with a thirst, after a culinary journey.
○ 12 pm to 10 pm on Sunday, 28 Feb 2016 at Black Box, Publika. Free Entry
Get tippled with KL's most wanted bartenders from bars such as Chinatown's first speakeasy PS150, Hyde at 53M and Omakase + Appreciate. Join the Cocktail Evolution and enjoy classic and tiki-styled cocktails, as well as concoctions from the prohibition and disco era.
○ 12 pm to 5 pm on Sunday, 28 Feb 2016 at Black Box, Publika. RM110 (early bird) or RM145 (at the door)
Make like a cocktail connoisseur and guarantee a Sunday well-spent. Brush up on your knowledge on an impressive repertoire of 40 kinds of specialty white spirits from all 14 purveyors.
Tickets are on sale on Peatix via the links below:
● Brunch Session
● Tiffin Throwdown
● Heart of The Run
For more information on Tiffin, please visit Facebook: www.facebook.com/tiffinevent or Instagram: @tiffinevent