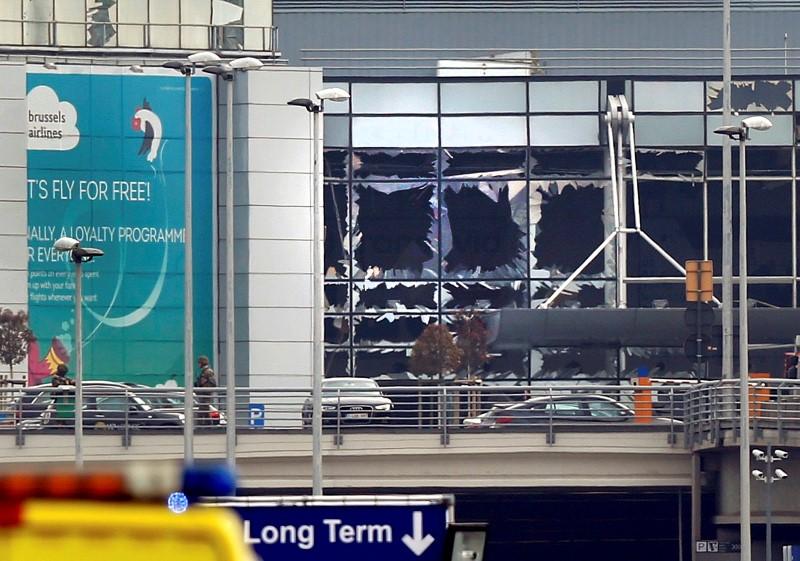 Brussels – Two explosions tore through Brussels airport on Tuesday morning killing 13 people in what Belgian public broadcaster VRT called a suicide attack, and a further blast struck a metro station in the capital shortly afterwards.
The Belga agency said shots were fired and there were shouts in Arabic shortly before two blasts rang out at the airport. Pictures on social media showed smoke rising from the terminal building through shattered windows and passengers running away down a slipway, some still hauling their bags.
All public transport in Brussels was shut down, as it was in London during 2005 militant attacks on the underground that killed 52. The Belgian Crisis Centre, clearly wary of a further incident, appealed to the population: "Stay where you are".
The blasts at the airport and metro station occurred four days after the arrest in Brussels of a suspected participant in November militant attacks in Paris that killed 130 people. Belgian police had been on alert for any reprisal action.
British Sky News television's Alex Rossi, at the airport, said he heard two "very, very loud explosions".
"I could feel the building move. There was also dust and smoke as well… I went towards where the explosion came from and there were people coming out looking very dazed and shocked."
"The thinking here is that it is some kind of terrorist attack – that hasn't been verified by any of the authorities here at the airport."
The blasts triggered concern across western Europe with Britain calling a meeting of its crisis response committee. The Dutch military strengthening security at airports and borders and London's major airports Heathrow, Gatwick, Stansted and City said they were working to provide a high police presence.
Video showed devastation inside the departure hall with ceiling tiles and glass scattered across the floor. Some passengers emerged from the terminal with blood spattered over their clothes. A witness said the blasts occurred at a check-in desk.
The metro station hit by the explosion was Maelbeek, close to European Union institutions. There were no details immediately available of casualties in this second incident of the morning.
VRT said the blast went off on a carriage of the underground train but that no one was killed. Earlier, private broadcaster VTM had said there were reports of the metro death toll at 10.
Other media reports cited the transport authority saying the explosion was on a train traveling between Schuman and Maelbeek stations, close to the EU institutions.
A local journalist tweeted a photograph of a person lying covered in blood among smoke outside Maelbeek metro station, on the main Rue de la Loi avenue which connects central Brussels with the EU institutions.
The European Commission told staff to stay indoors.
Ambulances were ferrying the wounded away and sirens rang out across the area.
Flights Cancelled, Passengers Evacuated
Belgian Prime Minister Charles Michel said on his twitter feed: "We are following the situation minute by minute. Our priority concern is for the victims and those present in the airport.
"For now, we are asking everyone to avoid all movement."
British Prime Minister David Cameron, whose country is also on a high security alert, expressed shock over the attack. "We will do everything we can to help."
Brussels airport said it had canceled all flights until at least 6 a.m. (0500 GMT) on Wednesday and the complex had been evacuated and trains to the airport had been stopped. Passengers were taken to coaches from the terminal that would remove them to a secure area.
All three main long-distance rail stations in Brussels were closed and train services on the cross-channel tunnel from London to Brussels were suspended.
Police did not give any confirmation of the cause of the blast. But there has been a high state of alert across western Europe for fear of militant attacks backed by Islamic State, which claimed responsibility for the Paris attack.
While most European airports are known for stringent screening procedures of passengers and their baggage, that typically takes place only once passengers have checked in and are heading to the departure gates.
Although there may be discreet surveillance, there is nothing to prevent member of the public walking in to the departure hall at Zaventem airport with heavy baggage.
Following an attempted ramraid attack at Glasgow Airport in 2007, several airports stepped up security at entrances by altering the pick-up and drop-off zones to prevent private cars getting too close to terminal buildings.
European stocks fell after the explosions, particularly travel sector stocks including airlines and hotels, pulling the broader indices down from multi-week highs. Safe-haven assets, gold and government bonds rose in price.
French citizen Salah Abdeslam, the prime surviving suspect for November's Paris attacks on a stadium, cafes and a concert hall, was captured by Belgian police after a shootout on Friday.
Belgium's Interior Minister, Jan Jambon, said on Monday the country was on high alert for a revenge attack.
"We know that stopping one cell can … push others into action. We are aware of it in this case," he told public radio.
– Reuters
This is a developing story. Please check back for updates.