Innovative online platform now empowers travellers to search and discover amazing destinations based on their passions
---
Amsterdam – Booking.com™, the global accommodation booking platform, has launched Passion Search, a new feature that helps travellers easily uncover destinations tied specifically to what interests them most – matching people's unique passions and interests with the best destination and accommodation to suit their needs.
"Booking.com is not just about a transaction. We are all about the experience. We can certainly help people find the perfect spot – whether it's a hotel, a villa or an apartment – in any city or local town in the world. But what about the people who have a passion but don't know where to go? Now we have created technology that can unearth the perfect destination – anywhere in the world – tied to the passions of our customer base," said David Vismans, Chief Product Officer at Booking.com.
So whether you're a stargazing lover, street food fanatic or skydiving enthusiast, you will now be able to discover unique destinations across the world to indulge your favourite pursuits.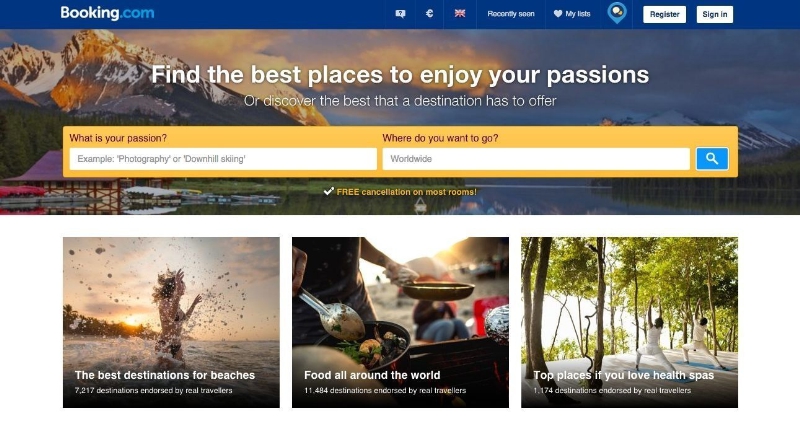 Drawing from over 26 million recommendations courtesy of Booking.com's extensive global base of customers, Booking.com's Destination Finder leverages a new, innovative method to match the world's most incredible places to stay with the experiences they crave.
Vismans added: "Our aim is to connect every traveller with those possibilities which perfectly match their personality, desires and ambitions."
Features of Booking.com's Passion Search include:
Over 200 initial passions to search from whether it's including passion for skydiving, truffle hunting, the tango and beyond
Over 1,000 destinations featured with rich content that perfectly mix curated expertise with real reviews and insights from Booking.com's base of travellers
Destination recommendations that feature over 180 curated, local insider guides, giving you expert insight into the best hot spots to visit wherever you're headed
With over 850,000 places to stay and 30 types of accommodation in over 220 countries worldwide, travellers can satisfy their thirst for adventure by visiting www.booking.com/destinationfinder .
For more information, visit: www.booking.com