There's an inside joke in my family, where if we were to all go out on an outing, and I am suddenly missing from the group- the first and best place to look for me is in the nearest bookstore.
My mom still finds this true to this day, in an age of smartphones and "share location" via Whatsapp. In a city like Kuala Lumpur, where locals and tourists alike need to escape from humidity, heat, and oftentimes haze by hiding in air-conditioned shopping malls, bookstores are always my safe haven to escape from the bustling crowd.
If I have to choose the best bookstore around for range of books available and ideal reading spots, my first choice would be Kinokuniya in KLCC. There are a few benches provided, one section facing the big window looking out from KLCC near the sports section and another two benches near the information desk with a view of shoppers in the mall.Yet, I always find sitting cross-legged on the floor near the science fiction section; the most quiet and cozy for reading.
My second favourite nook is in Borders, The Curve. Nearly all Borders outlets here have a Starbucks café attached to them. Thus if one is looking for proper chaise lounges or hard-backed chairs for one's reading pleasure, along with a cup of Sumatran coffee or chamomile tea, then sitting at the Starbucks' side of Borders would be the best choice. Note that the Borders staffs will check that you do not bring the books to browse to the café area, though!
Personally, there are days where I would marry my two interests: reading and hunting for good cafés. There are quite a number of cafés providing coffees that appeal to caffeine aficionados around in KL, but many of them enjoy good business with bustling crowds that makes them less than perfect for reading ambience. However, these places provide the best place for coffee appreciation and reading at the same time during their non-peak hours (typically Sunday afternoons from 2pm-5pm, or during office hours on weekdays for those lucky enough not to be bound to a desk-job).
Personal favourites include the cosy Good Golly Miss Molly located at Millennium Square in Section 14, Petaling Jaya, and Frisky Goat Café (excellent espresso crème brûlée among other goodies besides coffee) as well as Artisan Roast Café, both located on Lorong Rahim Kajai in Taman Tun Dr Ismail. For the latter, their specialty is the NitroKopi where the cold brew is carbonated, providing this intense coffee goodness with a refreshing bite. On hot days, sitting in the nook of the café with a good book and a glass of NitroKopi and their peppermint-chocolate slice known as the 'grasshopper' just spells happiness for a girl like me.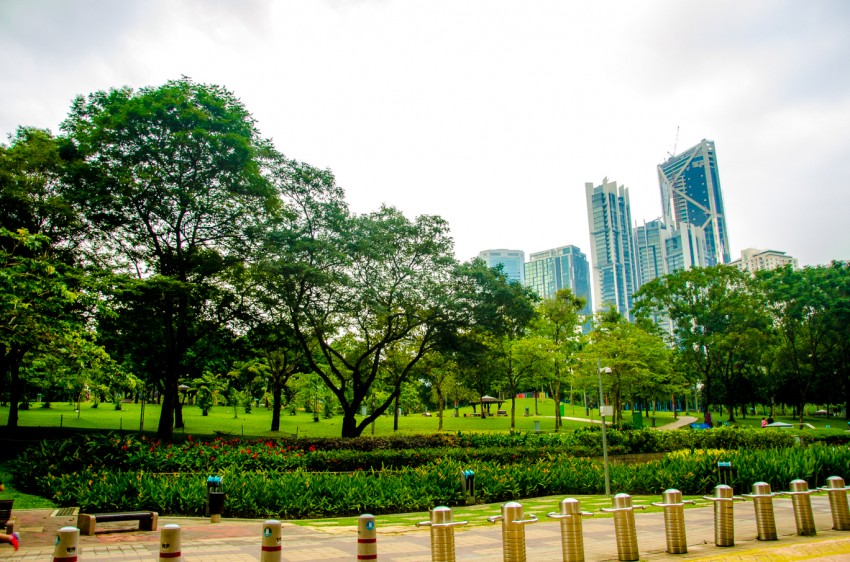 A habit I picked up while living in Brisbane was reading books under the shady shadow of trees in a park. Returning to KL, I found that it is challenging to continue with this hobby due to the humidity; nonetheless, the KLCC Park and the gazebos at Taman Tasik Titiwangsa are good alternatives on breezy, cloudy days.
The recently revamped Lake Gardens area now also provides a good alternative for such ventures, especially under the structure known as "Kanopi Perdana". The catch is there are many events taking place on weekends at the spot, thus readers might find the place too crowded.
Ideally, reading books should be done in massive, silent catacombs known as libraries. While KL is home to a great national library, Perpustakaan Negara on Jalan Tun Razak; I find reading there too serious for my liking despite the wide selection of books one can borrow, and unfortunately, the massive jam on Jalan Tun Razak always dissuades me from going.
I choose to be a hermit in libraries only when I need to get academic reading done, and my hot spots are Perpustakaan Negara (open Tuesdays to Saturdays 11am-7pm, Sundays 10am-6pm) and the community library (Perpustakaan Awam Bukit Damansara) located on Jalan Beringin in Damansara Heights (open Tuesdays to Sundays 9am-5pm) where one can find individual carrels and big tables ideal for study. Of course, the main attraction of such places is one's ability to borrow books instead of purchasing them. Further, access to both libraries is free!
In addition to many nooks and crannies around town, there are also many monthly reading events organized by various groups to promote new and often local materials. Such events include Readings@Seksan that occurs monthly in a beautiful, artsy house on Jalan Tempinis in Bangsar, while local publishing powerhouse Fixi often holds reading sessions at Borders or MPH bookstores.
There is also an abundant number of bookclubs and book exchange programs by local readers around KL, and one need only to search for such keywords on Facebook to get connected to them.
But as true book lovers know, we will find our way in any city around the globe, and KL is no exception.