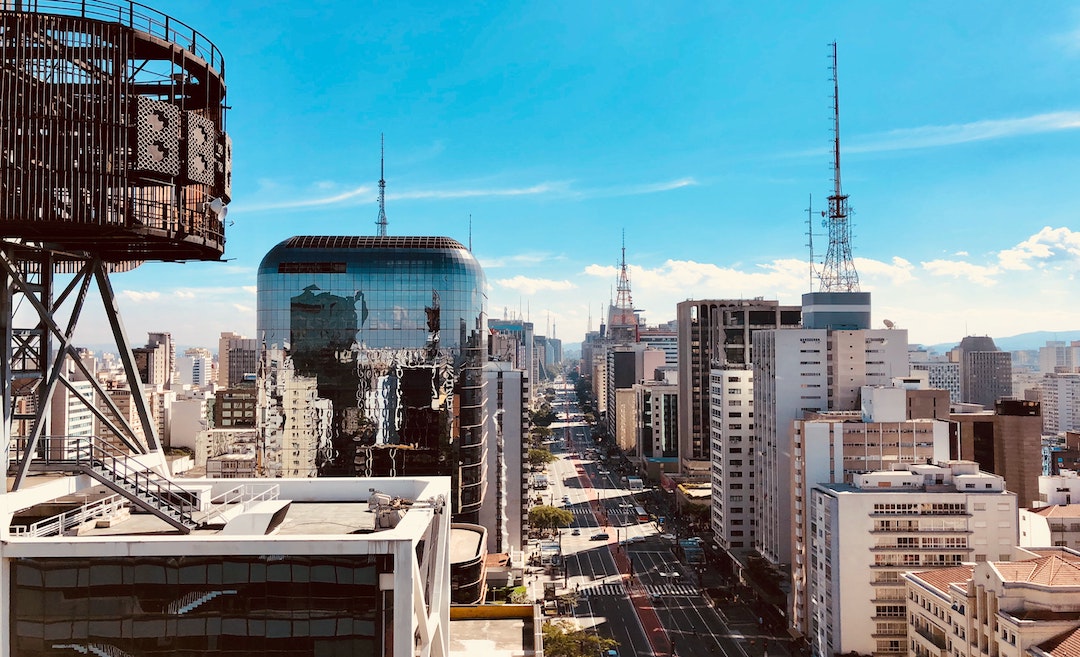 Zafigo's Quick Guide to São Paulo for Women Travelling Alone or with Family and Friends
São Paulo might be overshadowed by Rio de Janeiro's natural beauty and the paradisiacal beaches in the northeast of the country, but what a mistake it is to leave this financial hub off your list. The city, considered the most cosmopolitan capital of South America, is a center of culture, nightlife, food, and possibilities; the true 'city that never sleeps', where you can experience exciting activities any hour of the day.
Bustling metropolis such as this one are a great destination for solo travellers, as there are no shortage of things to do by yourself or even with new Brazilian friends you make along the way – after all, the Paulistas (people born in São Paulo) are known for their friendly and approachable personalities. Welcome to the 'drizzle city' and make sure to follow some of these tips on how to make the most out of your stay.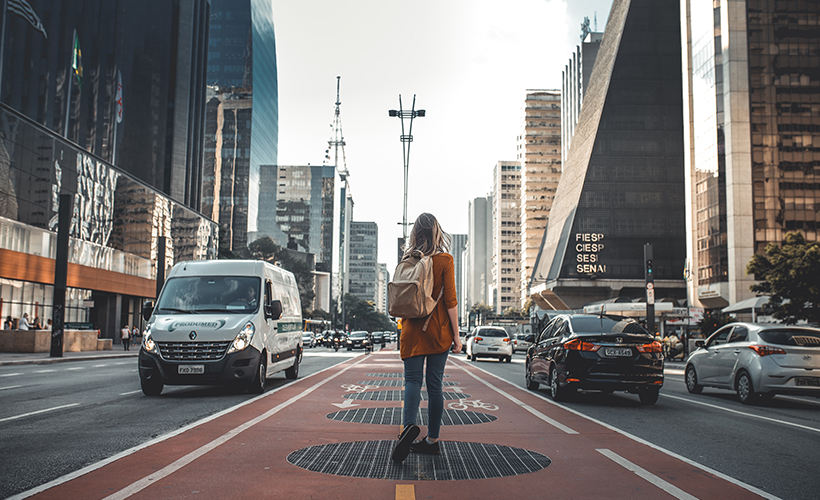 1. Where to stay
In a city as big as São Paulo, where you choose to stay is crucial. While picking your hotel, hostel or Airbnb pad, take in consideration the subway stops around you and if they're in walkable distance. (The subway system is efficient, safe, and will take you to most spots of interest quicker than taxis or car services, but more on that later.)
Avenida Paulista and its surroundings are a favourite among tourists – think of it as the city's heart, with a great share of office buildings, malls, museums, restaurants, and a thrilling nightlife. However, neighbourhoods such as Pinheiros and Vila Madalena are also top picks with young and hipster crowds due to the variety of bars, cafes, stores, and Instagram-friendly spots nearby.
Pro tip Unlike other capitals, the downtown is not a great choice for a stay if you're an outsider. The area is busy during the day with commerce and offices and is not the safest to be coming home to after dark.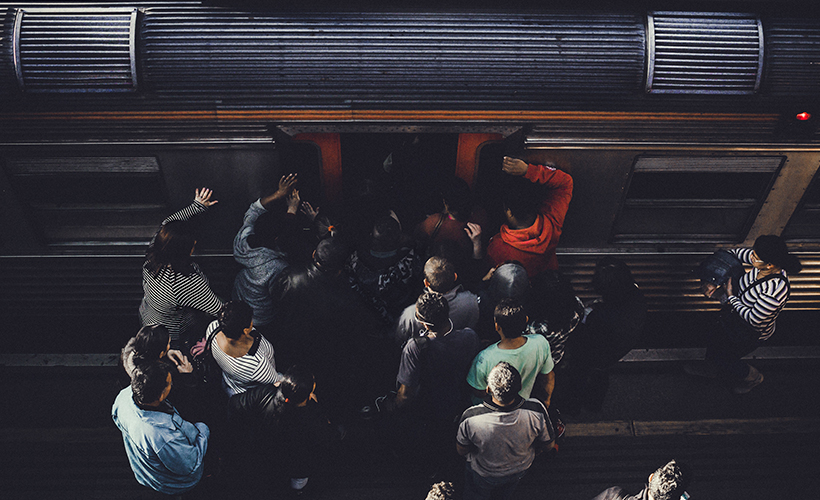 2. Getting around
Navigating the city is relatively easy with public transportation. There are the busses which run all night long and have their own corridors thus allowing them to avoid some of the traffic during rush hour. The train and subway integrated lines that covers most parts of the city. It's important to note that the subway and trains only operate from 4:40AM to midnight from Sundays to Fridays, and from 4:40AM to 1AM on Saturdays.
If you're not sure which is your best option for getting around the city, you can always download the Citymapper app for São Paulo. It shows you the quickest and cheapest way in real time for you to go to your destination while showing options in public transportation, as well as bike stations, ride apps, and by foot.
You can also count with a variety of choices for apps for taxis and ride shares too. Other than Uber, you can ask for a car or taxi with 99taxi, easytaxi, Cabify, and also Lady Driver, an exclusive app with women drivers for women passengers only.
The city is equipped with fairly good bike tracks and there are plenty of sponsored stations across town, but you can also rent yours on Yellow. The free-floating bike sharing app is becoming popular in the city, as you can take and (safely) leave your ride anywhere as you wish.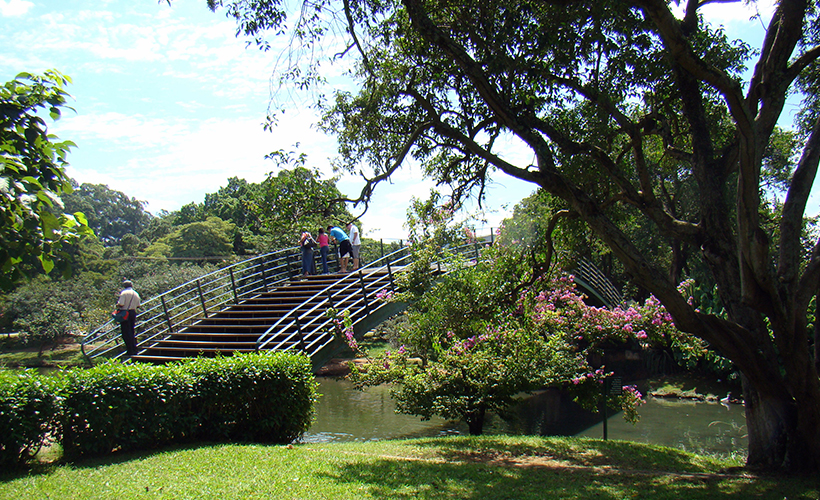 3. Walk the streets (and more)
While some parts of central São Paulo is more gritty than green, some of the city's best and most beautiful architecture can be found here. Spend a day walking around Centro and explore these spots;
MASP, the striking building on Avenida Paulista designed by Italian-Brazilian architect Lina Bo Bardi, is a sight to behold. The entire structure is elevated above ground by four pillars, making it appear as if it was floating over the street below. The museum itself is also well worth a visit, with a fabulous permanent collection of Brazilian and international art.
Ibirapuera Park or Sao Paulo's Central Park, is located just to the south of the center. Regarded as one of the best urban parks in the world it is a piece of tranquility in the middle of this gigantic, noisy city. If you have the time, take a day to just enjoy the park as the locals do; bike around the lakes, have a picnic on the grass, or visit the park's superb museums.
For the architecture fans, Cathedral da Sé and Teatro Municipal are must-sees, so is Mosteiro de São Bento.
Pro tip If you choose to head downtown, be sure to check out the Martinelli building for a 360 degree view. To get into the skyscraper, you'll have to enter through the metallic door at the side of the building where an employee will take you to the observatory.
---
After an unfortunate incident in Sao Paulo, this writer walked away learning something very valuable. Read her Travel Tale here:
---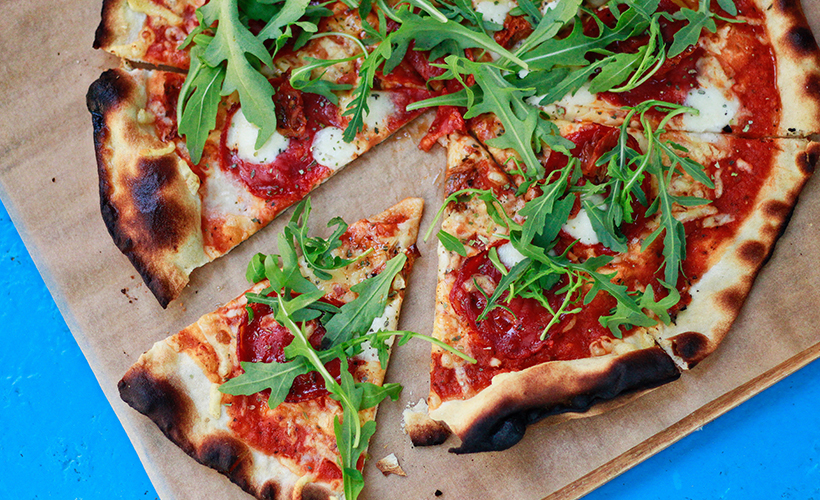 4. Eat your way through the city
São Paulo is without a doubt the most important food city in Latin America. With more than 12,000 restaurants, its culinary identity comes from a mix of cultures and international influences, creating an endless list of options for every price range and taste. Regardless of your list of places to go, don't forget to include some of Paulista's frequent haunts to complete your city experience, such as having breakfast in a bakery, going out for pizza (fun fact: São Paulo is ranked 2nd in the consumption of the Italian dish, only losing to New York) and tasting the world-famous mortadela sandwich from the Municipal Market.
Most restaurants don't require a reservation and they stay open until late; expect busy hours between 8-11PM. If you're in the mood for some authentic grub, check out some of these spots;
Orfeu (Av. Ipiranga, 318 – 3 – República)
Inspired by Afro-Brazilian tastes, Chef Raphael Cesana curates traditional Brazilian flavours from the land to the sea at this industrial styled eatery. With clay pots and beaded curtains amidst iron objects and burnt cement details, the restaurant is perfect for a lazy lunch with its classic Northeastern recipes and barbecue delights.
Mocoto (Av. Nossa Sra. do Lorêto, 1100 – Vila Medeiros)
This no fuss, no reservations village bar serves up great traditional Brazilian food. You'll find hearty dishes such as tapioca cheese cubes and homemade pork sausages flambéed with cachaça, Mocofava bone marrow stew, salt cured beef with biquinho peppers, and cassava chips here. Plus point? The restaurant's caipirinha bar features more than 100 types of cachaça!
Dalva e Dito (R. Padre João Manuel, 1115 – Jardins)
An informal eatery run by Alex Atala, the restaurant provides an authentic South American experience with flavours that feel like they came to live straight from grandma's cookbook. Be sure to try the moqueca baiana, a seafood stew with namorado fish, shrimp, mussels, and squid, served with rice and pirão (a type of broth).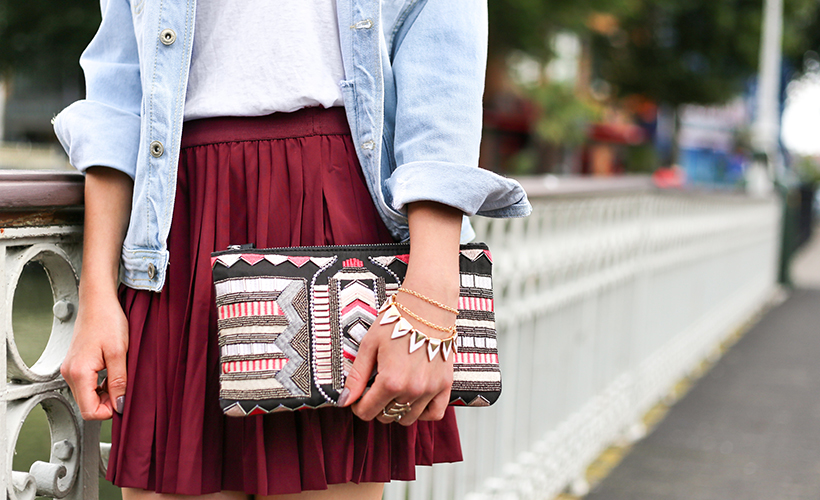 5. Keeping an eye on your belongings
We're not just talking about handbags and phones when you're wandering around the city. In bars and pubs, you'd do well to keep tabs on your tab as they do things quite differently in São Paulo. Instead of paying for your drinks in rounds, you will be given an individual tab to clear at the end of the night. The tab is commonly called a comanda. Depending on the bar, this will either be a slip of paper or a plastic card which automatically records your orders. Be careful not to lose your comanda though, or you may face a hefty fine on top of your drinks!
Pro tip While São Paulo is generally safe for women, it isn't recommended to wander off alone at night. That being said, if you find yourself in an unwanted situation, you can reach the police at 128 or 180 (the latter of which is the police unit dedicated to women).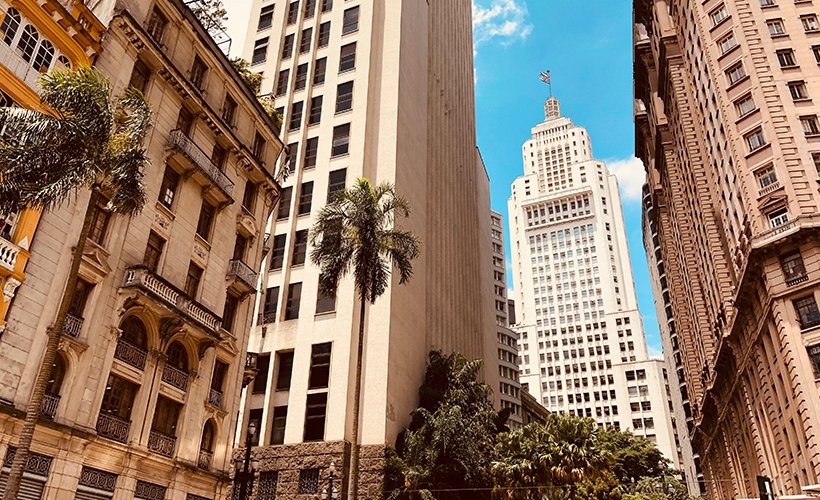 6. History everywhere
Don't let the skyscrapers fool you: the city is old and full of history. Founded in 1554 (only 54 years after Brazil was discovered by the Portuguese), São Paulo still holds some of the charm of past days. The best way to explore the city center and all its wonders is by foot, and São Paulo Free Walking Tour has scheduled groups every day of the week. It's a great opportunity to marvel at the European-inspired architecture, visit an original neo-gothic cathedral, and get to know the scandalous stories behind the Portuguese royal family.
Fancy looking at the city from the top? Inspired by the Empire States building, the former City Hall is now open for visitation as Farol Santander, which has an observation deck, multiple exhibits across its floors, and even a skate park designed by the Brazilian skateboarder and X-Games champion, Bob Burnquist!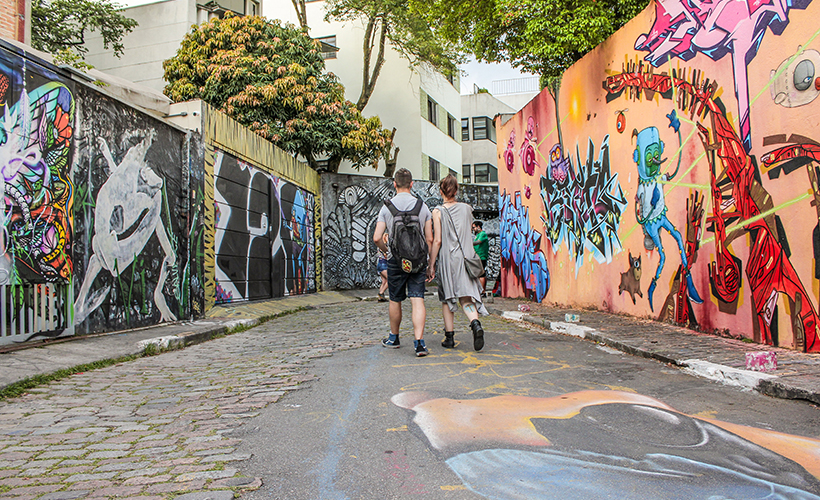 7. Discover the art scene
Known as the cultural capital of South America, São Paulo has over 100 museums, allowing the city to play host to exhibits, concerts, plays, and everything else you can imagine! The real gems though, are actually on the streets. The graffiti scene is part of the urban culture, and seeking art in alleys and corners is part of the fun as a tourist.
Get your starting point at Beco do Batman, a colourful and narrow alleyway filled with street art in the heart of Vila Madalena's neighbourhood. Every graffiti artist has ownership of their wall, so the art changes constantly as they feel like it.
Pro tip Eduardo Kobra, one of the most celebrated graffiti artists in the world, is from São Paulo and has many of his artworks spread across town. His signature colourful and geometric style is a sight you cannot miss!
---
When people say you really get to know a country through its cuisine, they're not joking.:
---
8. Day trip to Japan
How do you feel about visiting Tokyo for a day? Japanese immigrants have been calling the city their home since early 1900s, and now São Paulo have the single largest Japanese community outside of Japan in the world. They call Liberdade their home, a neighbourhood filled with restaurants, karaoke bars, stores, and everything else you can think about when it comes to the Land of the Rising Sun. To blend in with the surroundings, Brazilian companies such as banks and even the local McDonald's have an Asian touch in their storefronts.
Even though the neighbourhood has less people during the week, it's worth facing the crowds on Saturdays and Sundays to visit its popular street market every weekend right in the subway station plaza.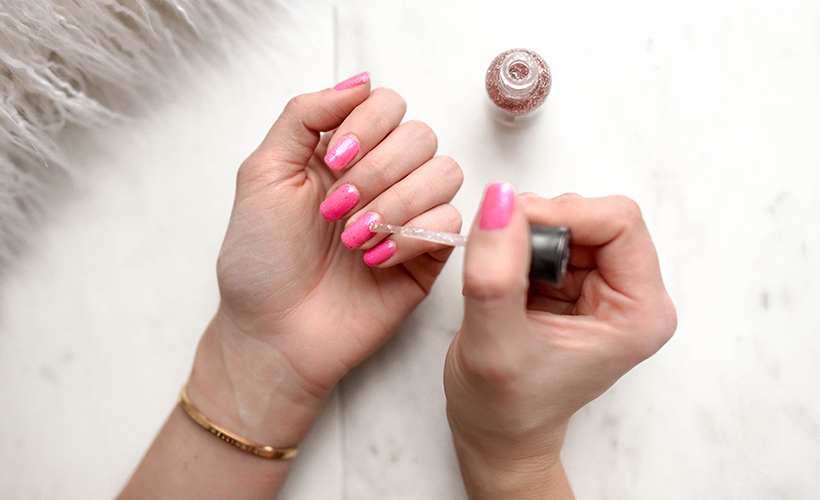 9. Beauty paradise
You will find that there are no shortage of global brands in the city, but even Sephora is filled with local companies. The Brazilian beauty market is an ever-growing industry that offers great products for every budget. Natura, O Boticario and Quem Disse Berenice are mall favourites, but you can also get great finds in popular stores, such as Ikesaki, Sumirê and Omy Perfumaria.
Pro tip Stack up on Brazilian nail polish, as their brands are among the best in the world, and their variety of colours, textures, and finishes are incredible. Risqué, Colorama, and Impala are locals favourites, so pick a few colours to bring back home with you.
10. Communicate carefully
Now if you stay long enough and make friends, you'll notice that Paulistanos have a noticeably love-hate relationship with their own city. Local people complain about São Paulo often, from the traffic to the weather and everything in between. Keep in mind that people from São Paulo tend to get slightly defensive when they hear foreigners complaining about their town (as you would be of your hometown). So if you have a critique, you'd do well to keep it to yourself, or at least wait for your Paulistano pals to bring it up first.
Cover photo by ckturistando via Unsplash