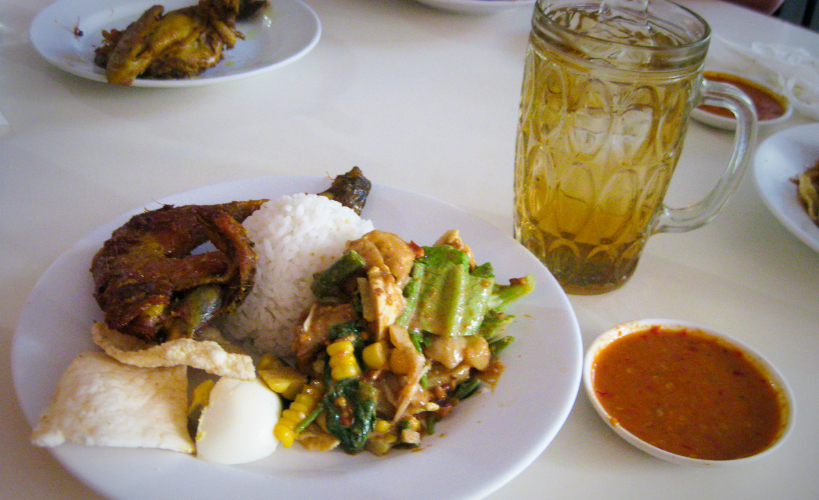 Where and what to eat
Like most South East Asian urban centres, Jakarta is host to a vast array of tasty offerings. Dishes from Indonesia's over 300 distinct ethnic groupings beckon from the roadside, at open-air food courts, brick-and-mortar restaurants and indoor dining spots at shopping malls. Indonesian food is as varied as the country's ethnic cultures and there is also a variety of choices of international cuisine, making Jakarta a cornucopia of delightful culinary surprises.
Popular dishes range from the mainstay nasi goreng (fried rice), which is known across the entire archipelago, to the complex spiciness of Sumatran rendang (chunks of beef or buffalo meat stewed in creamy coconut milk and a mix of herbs and spices) and the highly-textured gado-gado (steamed vegetable salad in a sauce made of peanuts, chilies and palm sugar). And then there is the abundance of seafood dishes typical of a maritime environment: Prawns, squid, octopus, sea cucumbers, and a vastly varied selection of fish, along with the vegetarian-friendly protein of tempe (slabs of packed fermented soybeans used for a wide variety of dishes) and tahu (or tofu, soybean curd cakes that are tasty in stir-fries and other Indonesian dishes).
A wide range of foods from around the world are also available at specialty restaurants across the capital; most of them in hotels and malls, with the occasional stand-alone restaurants in areas frequented by expatriates of various nationalities. Among the cuisines most widely available are American, Chinese, French, Greek, Indian, Italian, Japanese, Korean, and Mexican.