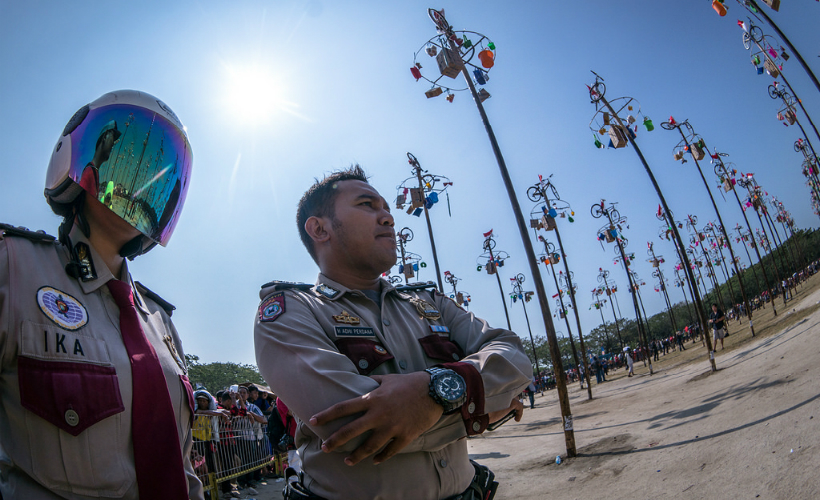 In Jakarta, it is most advisable to contact or even go directly to your embassy when things go badly wrong, before filing a report with the police. Please keep in mind that local police response may be slow, with the possibility that "fees" may be requested to facilitate the processing of your case. Also, be aware that in cases of sexual assault, victim blaming is likely. Your embassy can provide guidance on local laws, and help you navigate the process of filing a police report. The following contacts for local assistance may be helpful too:
Police
The Indonesian National Police Emergency Switchboard number is 110. This central switchboard will transfer your emergency request for assistance to the nearest local police precinct. Please note that not all operators are able to assist in English. Also, response may not be prompt.
Women's Resources
Besides your embassy, the following organisations may be able to provide information, counselling, and possible assistance through legal processes.
KOMNAS PEREMPUAN (National Commission on Women)
Website: www.komnasperempuan.go.id
Tel: 021-390 3963
Email: redaksi@komnasperempuan.or.id / mail@komnasperempuan.or.id
Yayasan Pulih (Trauma Counselling Center)
Tel: 021-7884 2580 (Monday, Wednesday & Friday only)
Email: admin@pulih.org / pulihfoundation@gmail.com
E-counseling: pulihcounseling@gmail.com
LBH APIK
Address: Jalan Tengah Raya No 31, RT1/RW9, Kp. Tengah, Kramatjati, Kota Jakarta Timur, Daerah Khusus Ibukota Jakarta 13520
Tel: 021-8779 7289
RUMAH AMAN UTAMA (Utama Safe House)
Opens: 7AM – 7PM
Tel: 0858 8185 6478 (Monday, Tuesday, Wednesday) / 0818 965 063 (Wednesday, Thursday, Friday) / 0815 807 4778 (Saturday, Sunday)
Medical assistance
Ambulance
24-hour hotline 118 – (62-21) 65303118
The following are reputable healthcare providers in Jakarta that can provide reliable medical service and assistance, including English-speaking staff and emergency evacuation.
Good Practice Clinic Jakarta
This family clinic aims to meet the needs of Indonesians, expatriates, and visitors to Indonesia. Languages spoken at the clinic are Indonesian, English, Dutch and Japanese.
Website: goodpractice.co.id
Address: Jalan Bangka Raya No. 106 B Jakarta Selatan 12730
Tel: 6221 718 3140
E-mail: info@goodpractice.co.id
Global Assistance & Healthcare Medical Centre
Established in 2007, this is one of Indonesia's largest medical assistance providers that's known for its high-quality equipment and professional practices.
Website: www.global-assistance.net
Address: Cilandak Commercial Estate, Building 111-GC, Jl. Cilandak KKO Raya, Jakarta 12560
Tel: 6221 2997 8988 (Medical Centre) / 6221 2997 8999 (Alarm Centre)
International SOS Medika
This is one of the world's largest remote medical and security assistance companies, with two Medika clinics in Jakarta. Both provide 24-hour service, English-speaking staff and doctors, medical insurance, and emergency evacuation service.
Website: www.internationalsos.com
SOS Medika Klinik – Cipete: Jl Puri Sakti 10, Cipete, South Jakarta
Tel: 7505980 (for appointments) / 7506001 (for emergencies, 24-hour)
SOS Medika Klinik – Kuningan: Menara Prima, 2nd Floor, Jl. DR Ide Anak Agung Gde Agung Blok 6.2, Kuningan, Jakarta 12950
Tel: +62 21 5794 8600
Global Doctor Indonesia
Global Doctor Medical Center was established more than 12 years ago as a medical provider serving expatriates, locals, and travellers. It provides facilities for medical evacuations and repatriations of patients from across Indonesia to the world.
Website: www.globaldoctor.co.id
Address: Jalan Kemang Raya 87 South Jakarta 12730
Tel: 6221 719 4565
24-hour assistance +62 21 718 2029
Email: info@globaldoctor.co.id
Medic One Jakarta
Medic One operates 24/7 and specialises in EMS (Emergency Medical Service). It has accreditation from the Australian Registry of Emergency Medical Technicians, the American Heart Association, and the Association of Public Safety Communications Officers (APCO).
Website: www.medic-one.org
Address: Jalan Benda Alam I No.73, Cilandak Timur, Jakarta 12560.
Tel: 6221 725 9111