Bangkok can be divided into multiple zones. The most common areas for visitors are: Sukhumvit, Siam, Silom, Khao San/Rattanakosin, Phahonyothin and Yaowarat. You may also find yourself in Dusit, Ratchadaphisek or Thonburi, but they have fewer attractions for foreign visitors.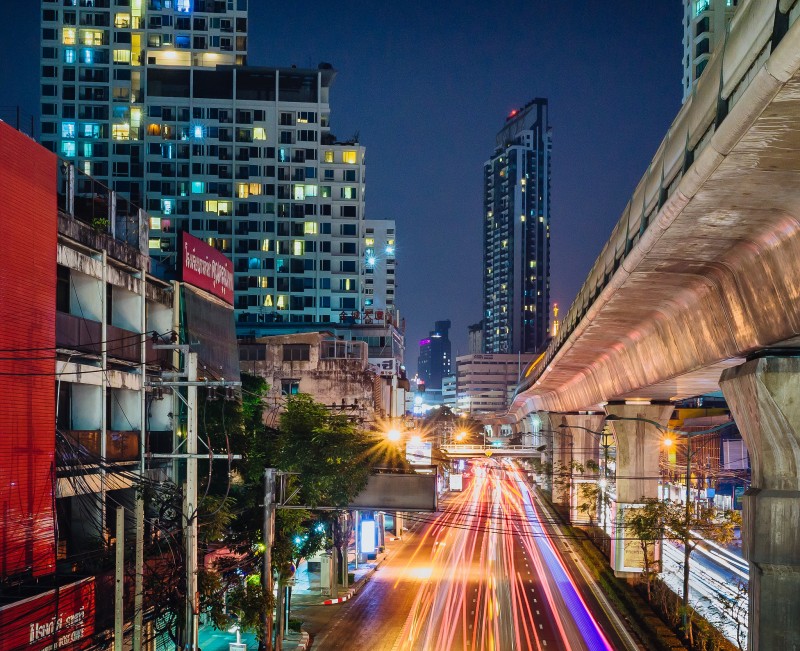 General Layout
Sukhumvit, Siam and Silom
These three neighbourhoods are the easiest to get around and are the heart of the commercial centre of Bangkok.
All three have numerous luxury and brand name malls side by side with entertainment districts and hotels. You can easily get from your hotel to the mall or to a meeting in these areas by taxi, tuktuk, or public transportation.
For visitors who don't mind getting hot, the sidewalks and overpasses throughout these three neighbourhoods are generally less crowded during the day and then full of excitements at night as markets pop up and cover empty space with vendors and food stalls.
All three of these areas are also known for their entertainment districts, both famously and infamously.
Siam houses some of the many large high-end malls and includes multiple movie theatres, restaurants, and family-oriented attractions. Additionally, the Bangkok Art & Culture Centre is within walking distance of Siam Square and Siam BTS station.
Sukhumvit, which is one of the main roads that cuts through Bangkok, varies from seedy red light districts to fashionable luxury hotels to little ethnic neighbourhoods specialising in cuisine and groceries from places like Korea, Japan, and the Middle East.
Nana and Asoke are particular favourites for tourists, as they have hundreds of different food choices, hotels that fit any budget, and bars that cater to any type of tourist or business visitor.
Silom is known as Bangkok's gay district. The LGBT friendly, bars and clubs in Silom offer loud techno, drag shows, and many, many drink specials. The festive atmosphere in Silom makes it a great destination regardless of your sexual orientation, and the Patpong night market is an attraction for many visitors.
A word of caution for all three of these areas, however, is that they can be equal parts family-friendly sightseeing and equal parts sex tourism and adult only. It is not uncommon to see a vendor selling t-shirts and paintings next to a table selling sex toys and discount erectile dysfunction medication. It can be difficult to avoid offers for ping-pong shows and other sex shows, especially in the club and bar areas, but often times female travellers are not the focus of these kinds of promotions and are not as pursued as male travellers.
Khao San/Rattanakosin, Yaowarat and Phahonyothin
These districts cover most of the main cultural destinations in Bangkok but can be significantly less convenient to get around, with the exception of Phahonyothin.
Khao San/Rattanakosin and Yaowarat are all along the Chao Praya River, which generally means you are going to have to mix different types of transportation. Check out the section below on getting around Bangkok for more tips for travelling along the river.
Khao San is famous as the backpacker hub of Bangkok and includes lively street bars, food stalls, night vendors, and late night clubs.
Keep in mind, Khao San Road is technically a single street, but many guides and maps will treat it as a district.
For travellers looking for cheap accommodation, Khao San's guesthouses and hostels can be a good choice if you don't mind the late night noise. Many hostels will include single-sex only options if you are concerned about bunking up with strangers.
For less rowdy travellers, choose a guesthouse or hostel off of Thanon ('Street') Samsen, which is walking distance from the party atmosphere of Khao San.
Check out some of the following blog posts by fellow female travellers for more insight into Khao San Road:
Yaowarat is home to Little India and Chinatown, which makes for great wandering and eating. During Lunar New Year (Chinese New Year), Yaowarat is a must-see destination with food vendors, dancing dragons, and red and gold littering the streets.
Lastly, the BTS/skytrain follows along Thanon Phahonyothin, making it an easily accessible area and helping connect Siam to Victory Monument and Chatuchak Park and weekend market.
If you are visiting on a weekend, make sure to spend some time wandering around Chatuchak weekend market, also known as JJ market. Covering over 25 acres and more than 15,000 stalls, Chatuchak is the best place to buy souvenirs, cheap clothes and colourful accessories.
Oneika the Traveller has a beautiful post on her trip to Chatuchak to get you started.
Business Stays
If you are a business traveller, you most likely want to be in a hotel on Sukhumvit near a BTS/skytrain station because of the ease of transportation and centrality of the location. You'll have the best options for quick and easy post-meeting food and drinks and can get to and from the airport via the skytrain and airport link or a taxi. Traffic is very frustrating along Sukhumvit so budget a lot of time to get from meeting to meeting if you are taking taxis!
If you are planning on hosting a meeting in Bangkok, look at hotels along the BTS/skytrain since they will be the most convenient for your participants and will have competitive prices, often with high levels of service. Many Bangkok hotels have English speaking customer service and event planners to assist you with any meeting needs.
If you're in town and looking for opportunities to network, check out the Meetup.com group, Business in Heels: Bangkok.
Places to stay away from
Although Bangkok is a relatively safe city, keep in mind that pick-pocketing does occur in any busy tourist area. Also, hold your purse on the side away from the street because there have been purse snatchings on occasion by savvy partnering thieves on motorcycles.
Bangkok's streets can be very confusing for first time visitors because the main streets, like Sukhumvit are intersected by side streets that dead-end rather than pushing through to another street. The most important thing to takeaway is that you should consider how far down the side street a hotel is before booking. Many side streets, even off of major roads like Sukhumvit, are poorly lit and very quiet at night, making them uncomfortable for weary single travellers. Many hotels offer shuttle services from the hotel to the end of the street or to the closest train station but won't have return services going back to the hotel. In general, women travelling alone will not be harassed or badgered even when walking down these side streets but keep in mind that many side streets along the Nana and Asoke area host brothels and massage parlours.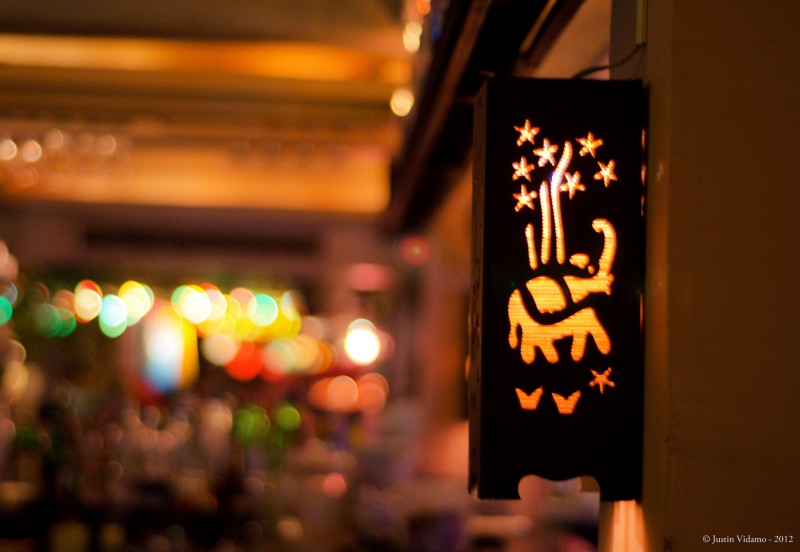 Quick Additional Tips:
Couples shouldn't have any trouble sharing a room regardless of marriage status in Thailand.
Ask for tips as you travel – many vacationers and backpackers swing through Bangkok and will have the best insider tips for picking a good hotel!
Check out Agoda.com and compare the hotel pictures with tripadvisor.com's user pictures. Sometimes professional photography can be very deceiving.
It isn't common for taxi drivers to try to take you to a different hotel from where you've asked but if they do try to convince you that a hotel has been closed or moved, insist on going to the hotel and seeing it. If they refuse or give you trouble, write down the taxi ID number on the passenger door and call 1164 to file a complaint.