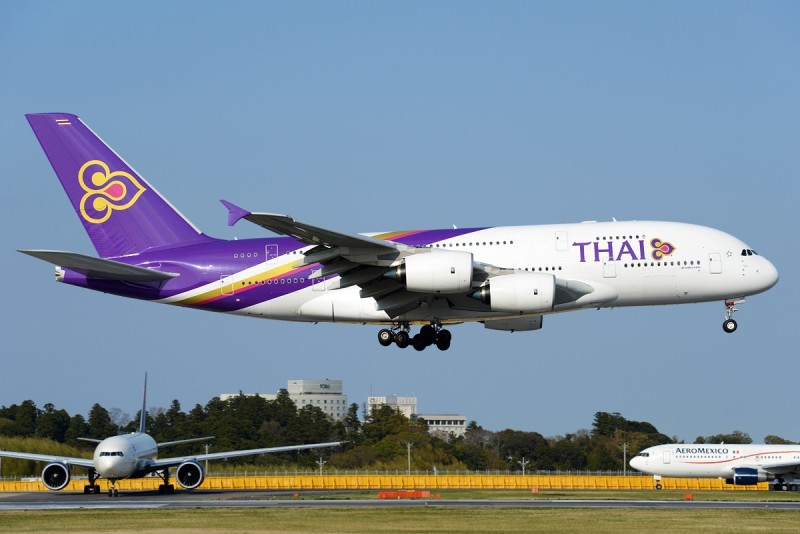 Getting into Town
Arriving into Bangkok can be an intimidating experience. The two main airports, Suvarnabhumi (vaguely pronounced Sue-van-a-boom) and Don Muang, are just outside of the city centre, but in reality they are only a taxi, bus, or train ride away from the comfort of your hotel or hostel.
Top Tips:
It's ok to feel overwhelmed, but don't let it keep you from using alternatives to taxis. The airport link from Suvarnabhumi and the express bus from Don Muang are cost-efficient and fairly easy to use and may save you a lot of time sitting in traffic in a taxi. 
Transitbangkok.com has a great beginner's guide to getting to and from either airport and some helpful information on getting in and out of Bangkok by bus. 
For those going straight to Khao San Road's backpacker haven, check out this One Step 4 Ward blog post.
For those who love seeing the countryside roll past, trains can be one of the most and least comfortable ways to get to other cities in Thailand, depending on the route and class. Seat61.com has a comprehensive guide to the trains, including pictures and detail instructions that saved the day multiple times for the author of this guide.
Getting Around
Bangkok is a large city with numerous options for getting around town. For the adventurous, there are tuktuks (open-air motorized rickshaws) and motorcycle taxis. For those that don't mind the heat and humidity, there are many destinations that can be walked to and from. For the rest of us who like to keep cool and relaxed, Bangkok taxis can zip you all around town, as long as you don't mind traffic.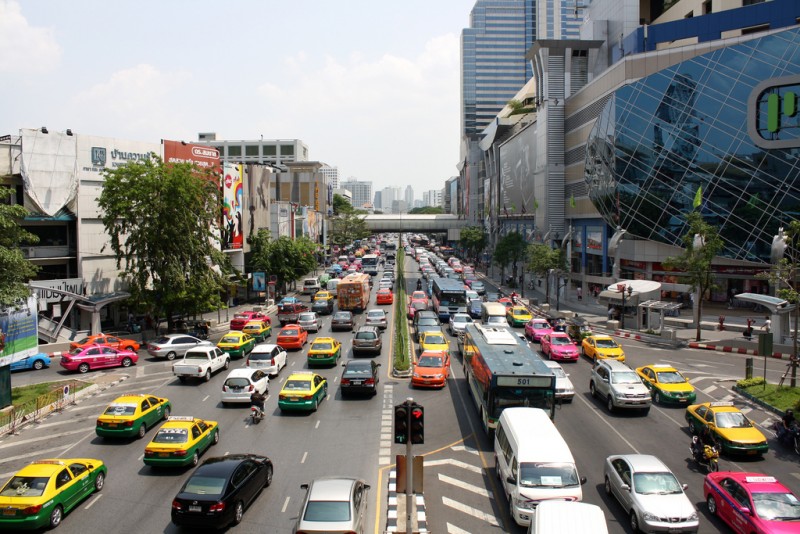 Walking
Because of the many alternatives to walking, it isn't that common to see local Thais walking far distances. Sidewalks can be precarious, full of vendors, and covered in puddles during rainy season so wear comfortable shoes you don't mind getting dirty.
Invest in an umbrella – even if it isn't raining out, you'll be glad to have the shade on a hot day. You can grab umbrellas from 7-11 and other convenience stores or from sidewalk vendors for a reasonable price.
Watch out for loose tiles! They can trip you up, but way more importantly, if it has rained the sidewalk may look dry but then you step on a loose tile and get splattered by hidden puddles. No one wants to think about what they were just sprayed with!
If you're afraid of crossing the street (a completely and totally reasonable fear if you ask me!), then look out for pedestrian overpasses. They are common on main streets and are quicker and safer than trying to dodge in and out of traffic like Frogger.
Motorcycle Taxis
Depending on your level of comfort, you can take a motorcycle taxi (affectionately known just as "motos") short distances, which can zip you in and out of traffic. For a great video to get you started, check out this video in the Bangkok Post for tips on taking a moto or check out this article for in-depth advice.
If you're wearing a skirt, don't try to straddle the bike. Thai women usually ride side-saddle unless they have large bags or in between them and the driver. Many women have recommended holding your purse in front of you without the strap going across your body. There are stories of women getting pulled from motorcycle taxis because a passing driver tried to snatch a purse that was being worn across the body.
Do keep an eye out for the distinct orange vest that all motorcycle taxi drivers wear to indicate they are professionals. Don't take a ride with a driver without an orange vest.
Don't try to flag a motorcycle taxi on the street like you would a regular taxi. Drivers have designated stands on nearly every corner that they hang out at while waiting for their turn to pick up a passenger.
It isn't common for visitors to rent motorcycles in Bangkok, unlike is most other Thai cities. They are available but keep in mind the traffic rules seem very fluid in Bangkok and may be more difficult and more dangerous than in other places in Thailand. Here are some tips if you do plan to rent a motorcycle or a motorbike to take you out of town.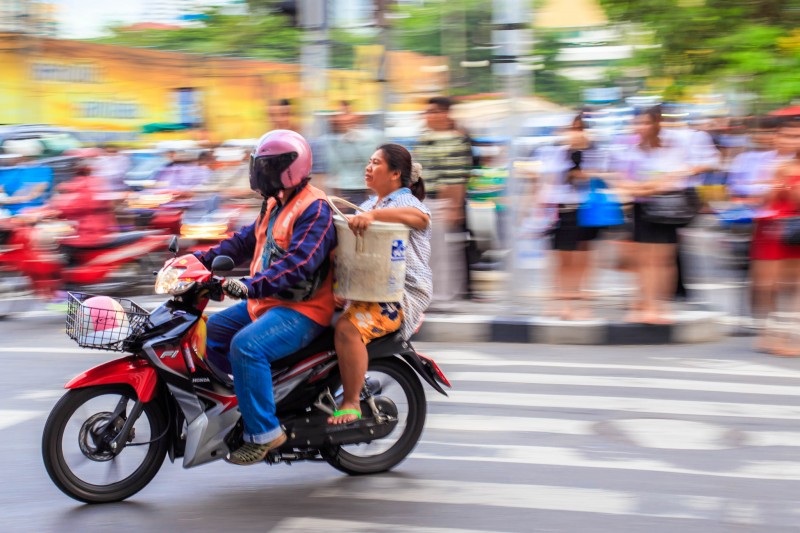 Tuktuks
Tuktuks are a great way to see more of the city, especially when travelling in a group. For more advice on taking a tuktuk, check out this Bangkok.com article.
Do take a tuktuk at least once but don't take it if you're in a hurry or going far. They are great as a tourist experience but very uncomfortable if you get caught in traffic!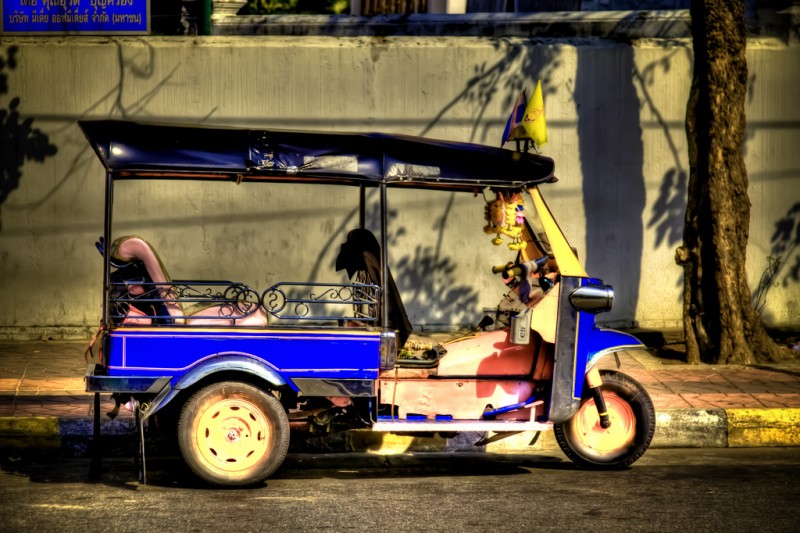 Taxis
All around Bangkok, you'll see colourful taxis, including the distinct bright pink cabs. Here is an article and great short video with great tips about how to flag a taxi, what to do and what to avoid. In particular, pay attention to the red light at the front of the taxi in the video to see how to tell when a taxi is free.
Taxi drivers often try to avoid using the meter in tourist areas or will offer to take you to somewhere better than where you want to go so check out Bangkok.com's 10 Useful Tips For Bangkok Taxis to help you flag a taxi and avoid scams.
Don't forget, if you lose something in a taxi, you can phone the taxi hotline at 1164 to contact the driver but you will need the taxi ID number found on the inside of the passenger door.
If you want to arrange a taxi ahead of time, check out BK Magazine's review of three taxi apps available in Bangkok. You can also book private cars to shuttle you around town like a boss, but do put some time into researching your options beforehand. The airport services are often much pricier than other companies that you can find online.
Other transportation options
The easiest way to get around Sukhumvit, Siam, Silom, and Phahonyothin is the Bangkok skytrain, known as the BTS. For fares between 15 and 50 THB, the skytrain is cheaper and quicker than any other form of transportation and runs directly through Sukhumvit, Siam, Silom and Phahonyothin.
The BTS's website has interactive fare maps and area maps that show you the different exits and noteworthy destinations near the station.
The BTS/skytrain is well lit and has guards at every entrance and on both platforms so most travellers feel safe taking the trains even late into the night, but keep in mind that it closes at midnight!
If you're sightseeing along the Chao Praya, plan a trip on a water taxi for a great view of the temples and the Grand Palace from the river. Before you go, make sure to read up on the water taxi system to get the best prices and to get a quick overview of the many riverside destinations. To watch sneak peak on taking the canal water taxis, check out this video by Nomadic Samuel.
For bicyclists, check out CNN Travel's list of bike tours and routes. Biking has become increasingly popular but is not for the fainthearted – at least until a stronger bike culture is established.