Think about it. You've been traipsing around the splendid beaches of Malaysia getting salt in your hair, humidity is at an all time high (hello old nemesis, frizz) and sweat is everywhere.
Even if your trip didn't involve the beach, exposure to the ever present sun would definitely change your hair and even your nails! Those pretty sun-kissed highlights you put in before your vacation would probably be looking a bit brassy and worse for wear now.
Who's to blame? Absolutely no one. You're having a good time and travelling means you can't bring your whole hair and nail care drawer with you.
It doesn't even have to be a hair emergency like if your hair turned green from dipping in chlorinated pools too much. If you're hankering for some much needed TLC for your hair and nails, check out number76 salon. They have branches in Mont Kiara, Midvalley, Bangsar Village I and II and Starhill Gallery. There'll be another branch coming soon in Atria Shopping Gallery.
At the Mont Kiara branch, once you walk in, you'll be greeted with simple décor and the lack of the pungent smell of ammonia. If waiting is required, a lovely waiting area with magazines to flip through is prepared for their clients.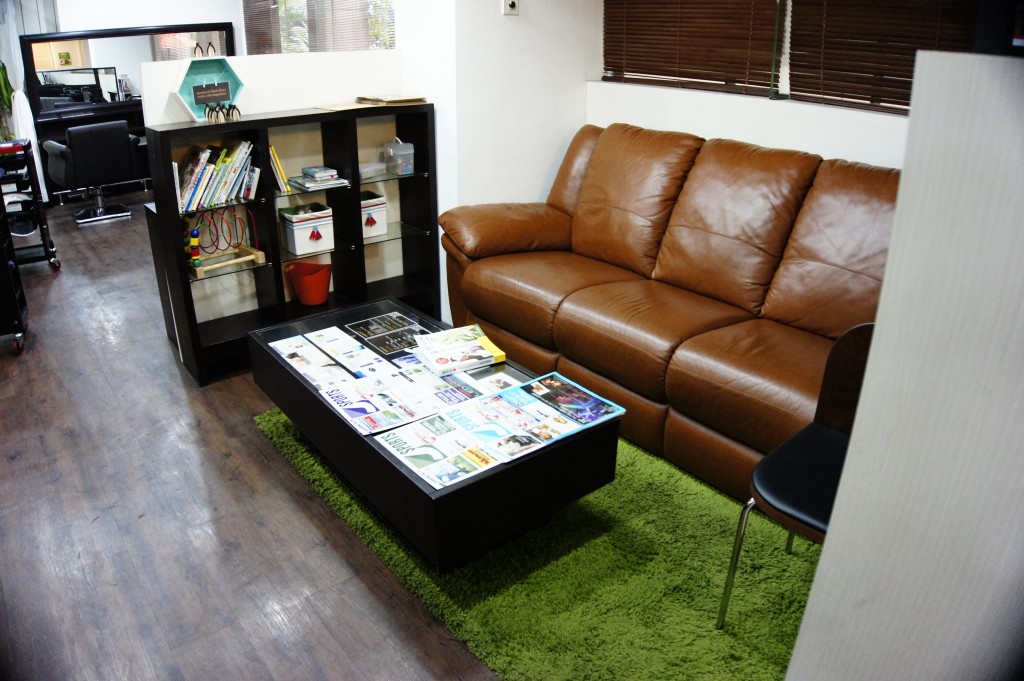 For that fresh clean feel without slaving away in the shower stall, go for a wash and blow (RM40). To get a squeaky clean scalp you could try the Sparkling Scalp Hair Wash! The water is mixed with carbon dioxide and the bubbles help remove excess dirt and oil from the scalp. Other scalp treatments are also available and one of them is only recommended by the stylist after a consultation.
Need to snip those frazzled ends? Want to live in the moment and change your haircut? No problem. For a hair wash, cut and blow dry, prices range from RM76 to RM168. The prices vary depending on the experience of the stylist. For children under five years old get this for free. Children between six and 12 years old get 50% off and children between 13 and 19 years old get 30% off.
Chemical services at number76 range from hair colour touch ups to perming and straightening. Prices start at RM100 and additional charges depend on what kind of chemical service you'd like and how long your hair is. Check out these samples of their work.
Nails, nails, nails. Painted those tootsies before your vacation? Well I'm pretty sure they looked super cute… in the beginning. With all that fun in the sun, there's bound to be a chip or two. The basic nail care menu features things such manicures and pedicures with prices ranging from RM20 to RM66 depending on how many bells and whistles you'd like. If you want to go all out and get really lasting nails, gel fingernails cost RM120 and for the feet, RM150.
Great news for our Muslim ladies! All number76 branches in Malaysia have closed off areas for ladies who wish to have more privacy. In the Mont Kiara branch, there is space for two in their private space, so bring a friend! The space has a curtain which can be drawn and completely obscure the view of the people inside.
The great thing about number76 is that you can check online whether their stylists are available or not. You can even check whether the stylist you like is available and what he or she can do for you. It is best to book an appointment with the stylist of your choice to prevent any disappointment and also so they can serve you better.
Contact details:
Mont Kiara branch:-E-0G-02, Block E, Plaza Mont Kiara, 2 Jalan Kiara, Mont Kiara 50480 Kuala Lumpur; +603 6203 5111 / 4111
Midvalley branch: A-G-2, Ground Floor, North Point, Mid Valley CIty, No.1 Medan Syed Putra Utra 59200 Kuala Lumpur;+603 2287 0661 / 0662
Bangsar I: Shop 9 & 10, No. 39-2, Level 2, Jalan Telawi 3, Bangsar Baru, 59100 Kuala Lumpur; +603 2284 0076 / 0176
Bangsar II: No. 50, Jalan Telawi , Bangsar Baru, 59100 Kuala Lumpur; +603 2283 1776 / 2776
Starhill Gallery: S4, Pamper Floor, Starhill Gallery, Jalan Bukit Bintang, 55100 Kuala Lumpur; +603 2141 6676 / +6018 6310 076
You may also like:
Japanese and Korean Hair Salons to Try in KL (Female Mag Malaysia)
Centro Hair Salon, Midvalley – One of the Best KL Hair Salons (Rebecca Saw)