Let's face it: When you're on holiday in a foreign country, or even on a staycation, maintaining your exercise regime is probably the last thing on your mind.
But trust me, there will be moments where you'll be itching to at least do some simple stretches and get your metabolism going after one meal too many. After all, Malaysia offers visitors an abundance of food choices – all day, every day.
Walk-in fitness centres, especially women-friendly ones are difficult to find unless you're a member of an international gym franchise that allows access to its outlets here. Big names such as Fitness First, Celebrity Fitness, True Fitness and Anytime Fitness are present here. Do remember to bring your membership cards if you are planning to use their facilities.
Should you be staying in a mid-to-high end hotel, gym facilities will probably be provided so take advantage of that if you can.
If all else fails, the following centres have free trials or guest pass that you could take advantage of. These are particularly useful if you decide, at the last minute, that you do want to have a workout mid-holiday.
Fitness First
With a worldwide presence, Fitness First is a well-known gym in the country. It has 14 clubs within Klang Valley; many of them accessible by public transportation. As mentioned, if you do have a membership to Fitness First elsewhere, one of the benefits is that you could use it at any Malaysian outlets. If you aren't a member, fret not: the free guest pass is downloadable from its website
(https://www.fitnessfirst.com.my/free-trial/).
Jatomi Fitness
A recent addition to the Malaysian fitness scene, Jatomi Fitness is certainly gaining ground in the country. With a total of 4 centres, scattered throughout the major cities in Malaysia, including Johor Bahru and Penang, Jatomi is a great place to go for its extensive selection of classes. From yoga and BODYPUMP to freestyle dance, there is something for everyone. You can get your exclusive one-day pass by filling an online form and they will send you a Pass code via SMS. Do note there is a refundable security deposit of RM30 for the wristband.
Anytime Fitness
Boasting over 2400 outlets in 19 countries, Anytime Fitness is also fairly new contender. Currently, they have 3 clubs up and running, with 4 more in the works. Similarly to Fitness First, membership allows you access to any outlets all over the world. As the name suggest, a unique selling point for Anytime Fitness is, well, that you can go workout anytime! Now, going in the middle of the night may not be the best of ideas.
That said, going at off-peak hours is. No more fighting with testosterone-high beefcakes who hogs the weights. (Hey, this happens more than you think!). It does sounds too good to be true. Well, sorry to be a Debbie-Downer, but its free trial is only available in one outlet so far – The Cube, Puchong. On the bright side, you could always Uber or MyTeksi your way there.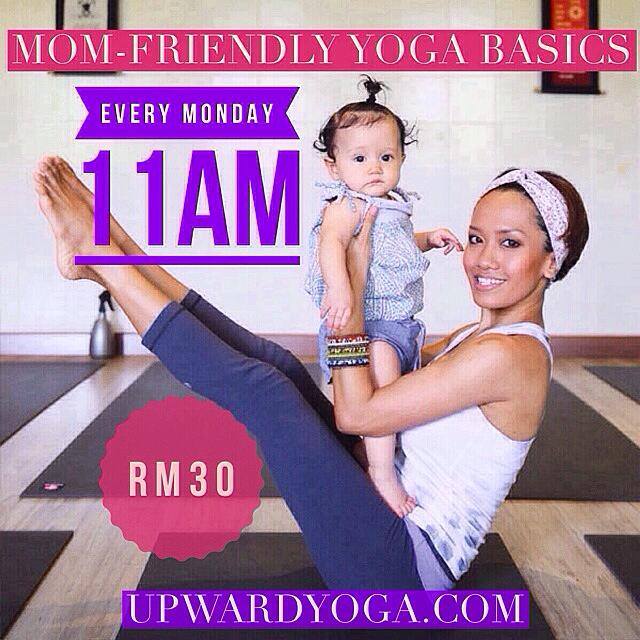 Upward Yoga
Should you want to just do some stretching and exercising without the use of machines, might I suggest heading over to Upward Yoga? The outfit is an NYC-inspired yoga studio, founded by a well-travelled local, Ninie Ahmad. A charismatic instructor, her practice offers classes with no contracts, registration fees nor reservations.
All you need to do is check the schedule, identify a class that you want to attend and be there 10 minutes early. If you are a travelling mom, with kids, Upward Yoga is offering a special Mom-Friendly Ashtanga Yoga Basics every Monday at 10:30am for RM30 per session. So while you work on your Sun Salutations, your bub(s) can keep busy in a designated play area set up by Ninie.
These are just some suggestions of facilities you could try out while you're in Kuala Lumpur. Of course, there is more than one way to skin a cat. Go outdoors and enjoy a jog around the beautiful parks or a hike on trails. Do check out KLCC Park, Bukit Kiara Park and Gasing Hill for a date with Mother Nature. Your last resort? Pack an exercise DVD or better yet, download an app.