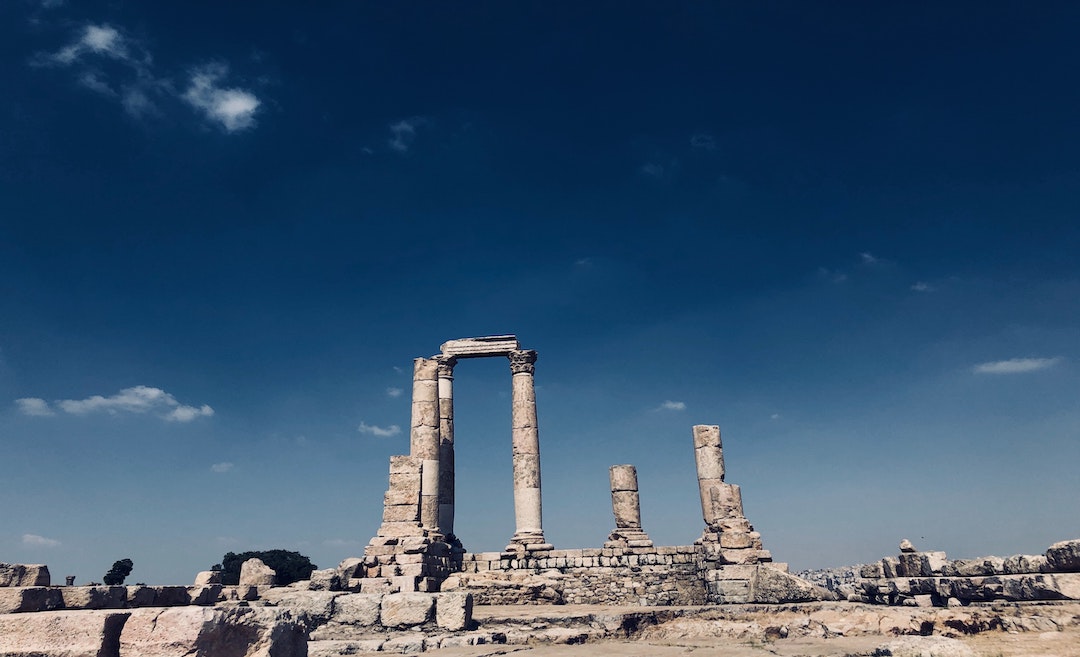 Zafigo's Quick Guide to Amman for Women Travelling Alone or with Family and Friends
When I first went to the capital of Jordan, I immediately fell in love with the city the moment I was picked up from the airport although it was a 5AM arrival. The city was quiet and had not yet woken up then. It was my first time visiting the Mediterranean end of the Middle East, and I remember looking out to the landscape from the taxi window, wondering if it would really feel like how my Middle Eastern friends from the region described their home.
As a woman travelling alone, I felt generally safe wherever I went. Although I've left the city now for other opportunities, my heart remains there and I know I will return there again to live, someday. During my time there, I had many visitors pass through either to visit Amman, or tour the country and they all had something in common to say; Jordan is a country rich in history and culture, with awesome food and exceptionally friendly people. It's remarkably liberal while simultaneously being respectful to tradition; a fine line that Jordan seems to walk effortlessly.
While Amman doesn't have some of the dazzling, soaring architecture of its rising Middle Eastern contemporaries, its modernity is most palpable in the way of living, its culture of acceptance (with a caveat, more on this later), and it must be said, its respect for women. Women aren't reminded of their gender nearly as frequently as they might be in some other parts of Asia, and for that itself, Jordan is entirely worth visiting.
Here are some tips on making the most of Amman when you visit.
1. Best time to visit
The best time to visit Amman and Jordan in general is between March to September. In the summer, from June to August, the daytime temperature gets as high as 35° Celsius so light clothing is advisable. This period also tends to see sandstorms. It gets cooler from early September onwards with evening temperatures dipping to lows of 15° Celsius, so carry a cardigan or light jacket with you. A shawl is always a good handy item too, in case some places women are expected to cover up (such as at mosques and such). Even though Jordan has typical desert weather, there's rainfall from November to February, with December being the wettest month.
Ramadhan, a holy month for Muslims that falls on a different calendar month each year, is a quiet time to visit. Most places are closed during the day — with extended opening hours at night — and no one is allowed to eat in public. Depending on your inclination, it is advisable to avoid visiting Jordan during this month.
2. Quick facts
Jordan's working week is from Sunday to Thursday, and their weekends are on Friday and Saturday. Friday is a special day due to Friday prayers, and shops tend to open in the second half of the day (as do even some shopping malls). The city is busy during the day, but is positively bustling at night. Factor in travel time when getting from Point A to Point B; traffic can build up, and this is especially true in the tourist-heavy months as the city sees a visible increase in density.
General working hours are from 8AM to 5PM, with shorter working hours during Ramadhan. Each Jordanian Dinar (JOD) is worth approximately USD1.40.
3. Best neighbourhoods
Rainbow Street is a long, winding street full of a variety of shops, and where the British Council is located. It's got the best falafel sandwich in town, and tonnes of ice cream parlours and bars. This is also one of the most famous streets in Amman, and where locals bring their visitors first, with lots of food and shopping options, before walking over to Al-Balad.
Al-Balad is the old part of the city known as downtown Amman. The markets here sell cheap souvenirs, perfumes, and traditional clothes. You can also go for argileh (shisha) and yummy street food. Al-Balad is a must-visit, but be careful of pickpockets as you make your way through the beautiful chaos. Visit the corner shop selling Arabic sweets, coffee and nuts, and then hop to the shop next door to concoct your own blend of perfume. They are located right across the famous Hashem's Restaurant.
Abdoun is the posher part of town, where the ambassadors' residences are located along streets and rows of upmarket cafes, restaurants and salons. It's a bit sleepy and mundane during the day, but comes alive at night with mesmerising lights and music.
Jabal Al-Webdeih can be described as hipster central. Ask your driver to take you to Douar Bariz (translation: Paris Circle), it's where the cool kids hang out at night, and where the younger foreigners tend to live. My favourite thing to do on a weekend is to go to Fann Wa Chai for a Friday brunch buffet or after-lunch coffee. It's situated on Kuliyyat Al-Shareya. Weibdeh is also known for galleries and board game cafes.
There's also a thriving street art culture which unveils delight and discovery if you're happy to meander through the city. It's also an unexpected way to learn a bit about the political will and motivations of Amman's young citizens.
4. Getting around
There's limited public transportation available for tourists and foreigners, apart from taxis. Taxi drivers are known to overcharge foreigners and tourists, so always insist on using the metre. If you're not comfortable with hailing taxis and asserting a metred ride, Uber is also available. An alternative ride-hailing app is Careem that works similarly to Uber, and will give you a fixed fare beforehand. You can also hire a driver for the day or week to take you around. Rates for drivers are usually between JOD80 (approximately USD110) and JOD120 (approximately USD170) per day; it's not cheap but such convenience rarely ever is!
5. Tourist attractions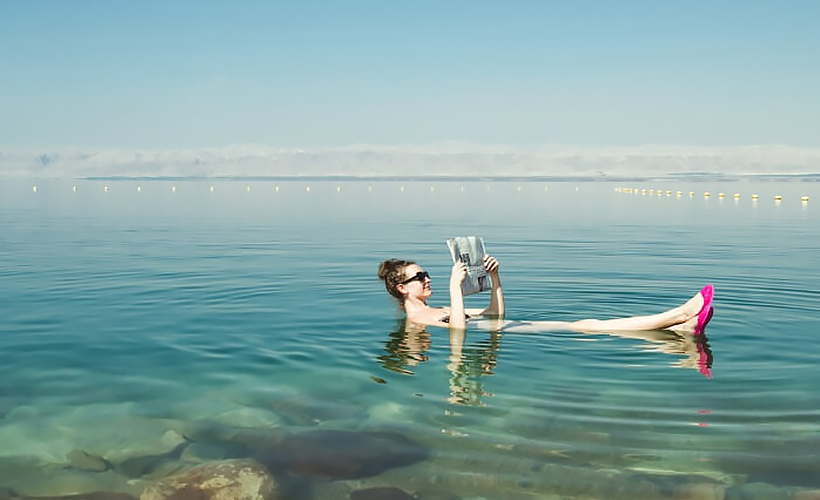 Amman Citadel is located at one of the city's highest peaks with the most amazing 360° view of Amman from a high point. The best time to go is in the late afternoon, towards sundown.
Roman Theatre is near downtown Al-Balad, and is a hillside amphitheatre with a museum at the side of the outdoor theatre. Occasionally, there are also pop-up street markets in the open area next to it.
Royal Automobile Museum is a must-visit if you're a car enthusiast and even if you're not. It houses King Hussein's impressive collection of cars and makes for quite a fascinating visit.
The Dead Sea is an hour's drive away from central west Amman and is famous for its high salt content, making it impossible for living beings to live and grow in it (thus the name). On the flip side, you can float on the water with little to no effort and it makes for a fun dip in the sea. It also purportedly holds healing properties for people with skin allergies and conditions. The Dead Sea products are aplenty within Jordan, and are often bought as souvenirs. There are seaside hotels for a variety of budgets as well as pay-per-entry seaside locations.
Petra, while not in Amman (about a four-hour drive away) is still considered one of the wonders of the world, and when you get there, you'll see why! Nothing can really prepare you for the scale and magnificence of the historical civilisation site of the Arab Nabateans. It's a stunning archaeological site, and every square foot has a story to tell.
6. Places to eat and must-try items
Hashem's is the most famous street food restaurant in downtown Al-Balad, right smack in the middle of it all. Order the falafel, chips, hummus and bread with shai (Arabic iced tea).
Books@Cafe is situated towards the end of Rainbow Street, and is good for brunch or sundown drinks. A rooftop café above a quaint bookstore, the balcony overlooks a rustic view of the old city and a gorgeous mosque in the distance.
Mr. Lollies is a small ice-cream store in the middle of Rainbow Street, and is the perfect pit-stop for a cooling snack. The staff is always friendly, ready to explain the array of different flavours to new comers.
Reem Shawarma is a small shawarma hole-in-the-wall stall located at the Second Circle, before Rainbow Street begins. Be prepared for a long queue but the shawarma you get melts in your mouth and will be worth the wait.
Habibah sells Arabic sweets and is especially famous for its kanafeh – the ubiquitous sweet cheese pastry that is a café staple. It's a wonderful dessert item, and a short walk away from Reem Shawarma.
Mansaf is Jordanian lamb rice pilaf, and widely a local favourite. It's essentially lamb meat cubes stewed for hours, and served with turmeric spiced rice.
Maqluba is grilled chicken pilaf with raisins and nuts, cooked with spices and served on special occasions or on weekends.
7. A word on drinking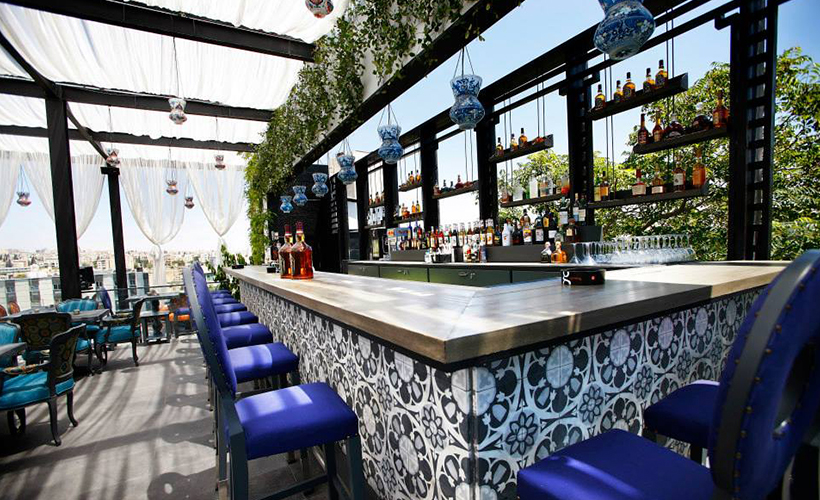 Alcohol is freely available in Jordan, and although many locals may choose to not consume alcohol for religious reasons, there's nothing stopping you from doing so. Once again, to the country's credit, the rules are the same irrespective of gender. Whether it's a chilled beer to wash down some of the amazing street grub you just had, or some fine wine to enjoy over a stunning sunset, Amman's ready to clink glasses with you.
Cantaloupe is a rooftop bar off Rainbow Street and has an amazing view of the city at night. It's slightly on the pricier side, but its definitely worth splurging on a bottle of wine for the astonishing view. OTR (Off The Record) is a 1920s style jazz speakeasy, and can make a mean cocktail or two with arak, the local liquor.
Jordan's local breweries produce Petra Beer which contains 8% ABV and the Premium variant offers a staggering 10% ABV – if anything, that should tell you something about the Jordanian outlook on booze!
Arabic Coffee or Kahua Arabiya is the espresso of the Middle East. It's available at almost every coffee shop in Amman and pairs great with knafeh. For some brownie points, or possibly free cookie points, try saying "Ana bidi kahua Arabiya, soukar khafif" (I would like an Arabic coffee, with a little bit of sugar.)
8. Hotel recommendation for every budget
Save Caravan Hotel is recommended for travellers on a budget who would be happy with basic amenities and a friendly vibe. Run by a family man with the help of his wife and children, it is located at the edge of Jabal Al-Weibdeh. Breakfast is served at the rooftop space with a mix of basic Arabic and continental food. Website caravanhotel.net
Standard The La Locanda Boutique Hotel has individually themed rooms according to legendary Arab singers. There is both a well-reviewed restaurant and a live-music bar at the ground level, while the staff is superbly trained and speak English fluently. The basic breakfast is lovely and served at the bar/café. It is value for money and provides a unique experience. Website www.locandahotel.com
Splurge The Four Seasons Amman is the ultimate luxury hotel within the city centre, with a beautiful lobby and weekend events. If you can afford it, or are looking to indulge on your holiday, then this should be your first option. The Kempinski is possibly the next best luxury hotel in town, though the Kempinski Dead Sea is a better choice between the two branches of the chain. Website www.fourseasons.com
9. Attitude towards women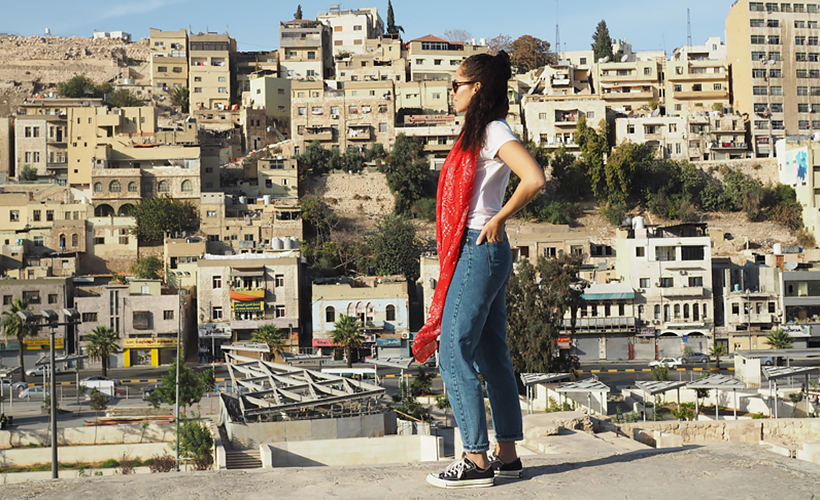 Amman is fairly easy for women; the same rules of common sense apply as they do in any part of the world. There aren't as many women in the workforce despite a high university graduation rate, and King Abdullah II's government is actively trying to change that through local programs and benefits. Many women choose to cover up or to wear a headscarf for symbolic reasons, but this doesn't stop them from being quite stylish! Foreigners and tourists are welcome to wear what they please; shorts and bikinis aren't unusual, but of course as with most things, there's a time and place for them. When you're out and about during the day, avoid low necklines and definitely make sure your hair is dried, because wet hair can be seen as somewhat sexual.
10. The law of the land & emergency numbers
Always carry with you the contact details of your local embassy. Tourist police are always around to help and are attentive to foreigners, but might not be fluent in English. Locals are usually friendly and ready to help, and may even stick around to explain to the police if they are fluent in English and feel confident enough to translate. Dial 199 for the police if you've been severely harassed, robbed or injured with no immediate help around you.
While Jordanians are friendly and hospitable to begin with, they will welcome you even more warmly if you are respectful to their culture. This means respecting what is broadly accepted in Islam since more than 90% of the country's population is Muslim. Harmless public displays of affection like holding hands are fine, but anything more may be frowned upon, especially for same-sex couples. The law can be harsh on people carrying or using narcotic substances.
Your luggage will possibly be checked upon departure to screen for illegal drugs and also for the illegal passage of Jordan's treasured antiquities. Also remember, you may not be allowed to take pictures of government or military buildings; no worries, your camera will have plenty more to capture!
Cover image credit: Pixabay