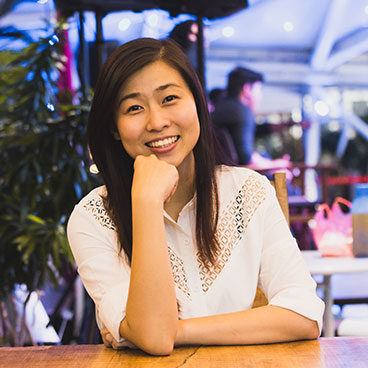 SUZANNE LING
CO-FOUNDER OF PICHAEATS
---
 Talk
Suzanne is the co-founder of PichaEats (FKA Picha Project), a growing food business in Malaysia that aims to rebuild lives through delicious food. PichaEats partners with refugee mothers in Kuala Lumpur, and provides them with kitchen-control and culinary training to cater food professionally around the Klang Valley.
Currently, PichaEats has 12 operating kitchens managed by refugee mothers from Syria, Gaza, Afghanistan, Pakistan, and Iraq. Since 2016, PichaEats has served more than 120,000 meals at both corporate and private events, including Worldbank, Allianz, and UNICEF. In 2018, Suzanne and her co-founders were listed on Forbes 30 Under 30 and Prestige 40 Under 40 for the work that they do.

  Talk 
TRAVELLING RIGHT HERE, RIGHT NOW
How to experience different cultures within your own city or country
11.10AM, 22 September 2019
When we talk about travelling, we think about learning a new culture, trying new food, meeting interesting people, and immersing ourselves in a new experience. What if we told you that we can experience all that right here, right now in our homeland, Malaysia? Since she started working with the refugee community in 2013, Suzanne has "travelled" around the world and learnt about life more than she could have ever imagined.
From Syria to Pakistan, Gaza to Myanmar, Suzanne has embarked on a very special journey – visiting different countries through the stories told by her new friends who have fled to Malaysia from war-torn countries. She has tasted delicious cuisine from the middle east, learnt the culture of their homelands, and caught a glimpse of how beautiful their countries are, places that we might no longer get to visit due to war.
At ZafigoX, we will learn how we can experience the world right here, right now – when we are willing to open up both our eyes and hearts to people around us.

These Three Young Graduates Are Feeding Refugee Families In More Ways Than One, Zafigo.com
From Outsider To Insider: Sharing A Meal With Refugees, OurBetterWorld.org
Picha Project Wins US$50,000 At Chivas Venture Global Final 2018, The Edge Markets

Click below to view and download Suzanne's presentation: