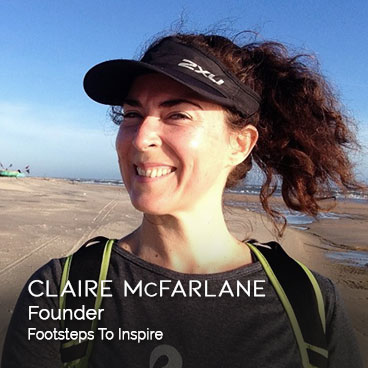 CLAIRE McFARLANE
FOUNDER OF FOOTSTEPS TO INSPIRE
---
 Panel   
 Workshop
Claire, the founder of Footsteps To Inspire, is running 16 kilometres of beach in every single country of the world with the purpose to peacefully end sexual violence. She has already travelled alone and run in 51 countries. Having grown up in Johannesburg, South Africa, Claire understands how to navigate dangerous cities, and she has also survived a traveller's worst nightmare (watch Claire's talk from ZafigoX 2018). This hasn't deterred her from embarking on this heroic expedition and Claire now uses these experiences to help keep others safe and sound.
Staying fit, healthy, and safe are an important part of Claire's travel program and she can't wait to share some of these skills with you.
A NOTE FROM CLAIRE
For all who will be attending Claire's workshop on Sunday morning.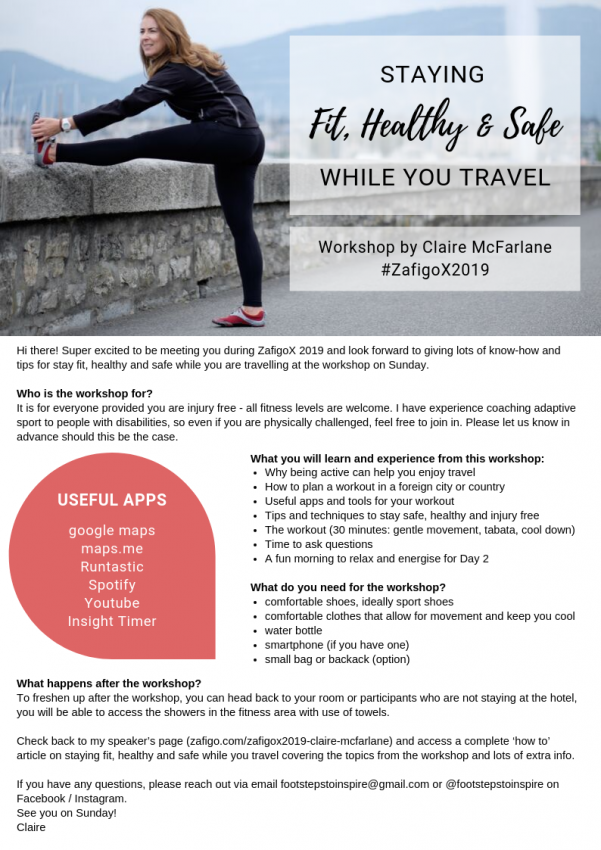 Panel 
UNEXPECTED EVENTS, ACCIDENTS, AND EMERGENCIES
How to overcome them if it happens
2.00PM, 22 September 2019
See full details here.
  Workshop 
STAYING FIT WHILE TRAVELLING
How to stay fit wherever you are in the world
7.00AM, 22 September 2019
Whether you are super active or someone who has never seen the inside of a gym before, travelling requires a certain amount of stamina and fitness. Activities like walking tours, visiting museums, hiking through jungles, climbing stairs or even just managing jetlag can take a toll on the body. Getting in shape before you leave is always advisable but there is no harm in giving it a try once you've set out on your travels. Sometimes an early morning walk or run through a city followed by a stretch in the park (provided it's safe) can be such a great way to discover a new destination. Not to mention how useful exercise is to overcome the fatigue of jetlag and get you energised for your journey.
Join Claire for an interactive workshop on how to stay fit, healthy and safe when you travel. She will be taking us out into Kuala Lumpur for a 'real-life' experience of using a new city as your training ground. She will be showing you how to prepare your workout in a foreign place, what to think about, practical apps you can use and tips on staying safe. You'll then venture into the city and put this fun workout to the test. This is a workshop for all fitness levels.
What you will learn and experience from this workshop:
1) Why being active can help you enjoy travel
2) How to plan a workout in a foreign city or country
3) Useful apps and tools for your workout
4) Tips and techniques to stay safe, healthy and injury-free
5) Time to ask questions
6) A fun morning to relax and energise for the day ahead at ZafigoX2019

Rape Survivor Claire McFarlane: Breaking The Silence On Sexual Violence, Zafigo.com
Catching Up With Claire McFarlane Of Footsteps To Inspire, Nutreats.co.za
Footsteps to Inspire: Claire McFarlane (VIDEO), The Shaka Surf Club
Can adventure change how we talk about rape? by Claire McFarlane (VIDEO), TEDxSaintThomas

Click here for session notes, supporting articles, and other ZafigoX 2019 content from Claire: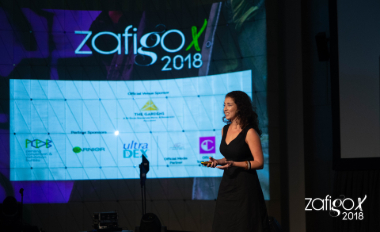 TALK: A WOMAN TRAVELLER'S WORST NIGHTMARE – WHAT I DID TO OVERCOME IT (ZafigoX 2018, Kuala Lumpur)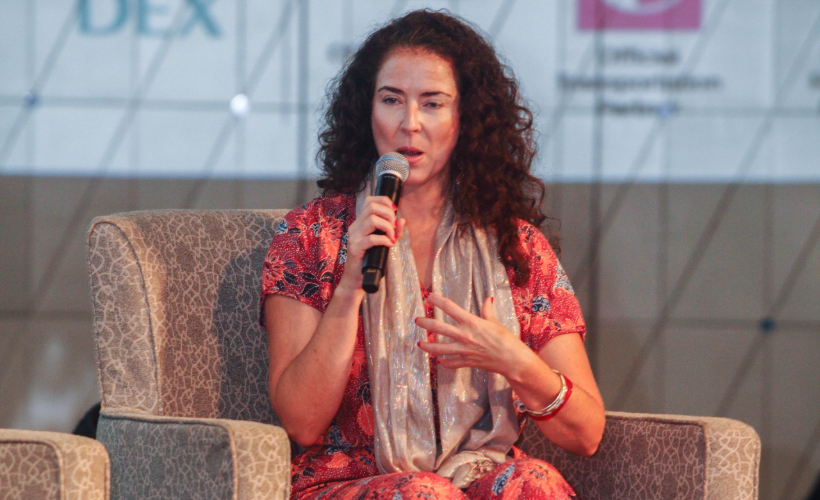 PANEL: OVERCOMING FEAR AND TRAUMA TO TRAVEL (ZafigoX 2018, Kuala Lumpur)