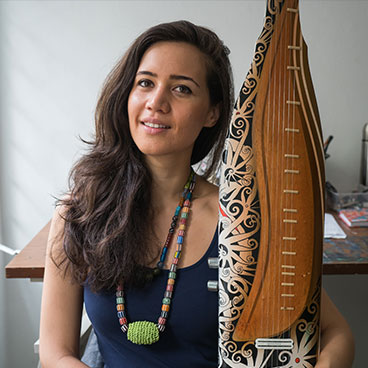 ALENA MURANG
SAPE' MUSICIAN
CULTURAL ARTIST
---
 Act
Alena is one of the first and few females to play the sape', drawing on her native Kelabit heritage to share stories in endangered languages of Sarawak, a Malaysian state on the island of Borneo. Her music evocatively captures the lyrical, mystical essence of culture traditions endangered by rapid, relentless modernisation.
Alena's alluring, mellifluous voice lends an angelic purity and ethereal dimension to the earthy simplicity and soul-soothing quality of these enchanting longhouse ditties. Her consummate skill on the sape' and other instruments like the pagang (tube zither) gives a polished sheen to the entire production. Growing up between two worlds – the indigenous and the cosmopolitan – she effortlessly bridges both. The result is a melodious (and slightly melancholy) compilation of Kelabit and Kenyah songs with a refreshing contemporary sound and spirit.
Her live shows journeyed from Rainforest World Music Festival in Malaysia, to Førde Traditional and World Music Festival in Norway, South by Southwest in USA, Oz Asia Festival in Australia, Etnosur Festival in Spain, Colours of Ostrava in the Czech Republic, and Wonderfruit Festival in Thailand.

 Act
SAPE' MUSICAL PERFORMANCE
Session 1: 11.40AM, 21 September 2019
Session 2: 3.00PM, 21 September 2019

How Alena Murang Is Giving Traditions A New Life With Music And Art, Buro247.my
Indigenous Cultures at the Crossroad of Transitions (VIDEO), TEDxKL 2016
Alena Murang: Musical Escapades From Kuching to Kuala Lumpur, Asia Tatler