A native of Chandigarh now living and running her business in Gurgaon, Meetu Kohli is a fashion designer who specialises in traditional Indian outfits with a blend of modernity. Her brand Damini Collections has been spotted all over the city, and her designs cater to women who wish to dress elegantly and well. Equally skilled in the kitchen, Meetu does private home catering for small gatherings too and her banoffee pie is to die for.
She shares her expert advice on Indian textiles and tells us where to pick up fabrics that are worth holding on to forever.
Trawl Delhi's markets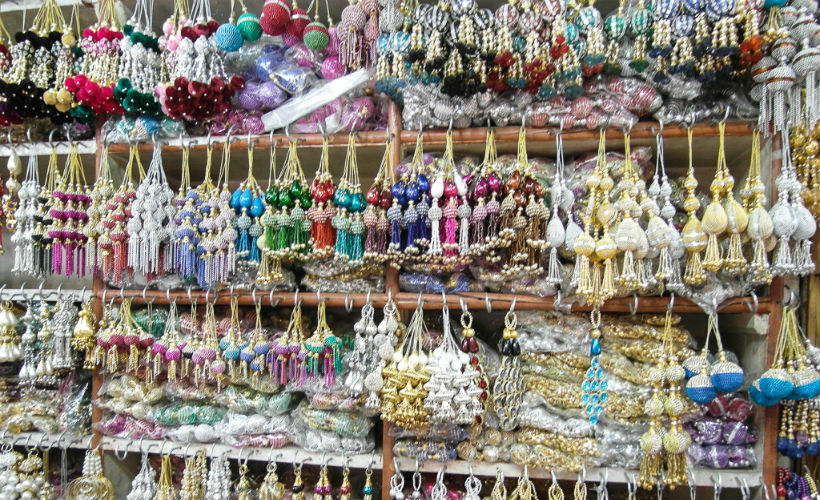 If you spend a day in Delhi, you're likely to suffer some form of clothing envy! I'd suggest trawling through the city's big markets to choose that perfect piece. I source my fabrics from wholesale markets like Chandni Chowk, Lajpat Nagar, and Shankar Market.
Chandni Chowk is the largest wholesale market for all kinds of accessories, whether it's laces, gota (gold ribbon work), embroidered borders, tassels, or buttons and much more. You can get creative and jazz up any fabric as you please.
Shop each state's specialty
India is unique in that every state is famous for a specific kind of weave, and they're all really beautiful. Of course, they are best bought from their native states and I try to get material for my studio from across the country so it's as authentic and well crafted as possible.
Surat in Gujarat is the main hub of cottons and blends; chanderis are sourced from a place called Guna in Madhya Pradesh; silks and brocades from Benaras are simply stunning – you can never get enough of these! Currently I get my chikankari, threadwork (usually in white) done against a coloured cloth, embroideries done in Lucknow, Uttar Pradesh. The traditional stitchwork of Kolkata is called kantha, which I get from a village called Burdwan in West Bengal, and other forms of embroideries from my skilled workers in Gurgaon.
Invest in a Phulkari
The Punjabs have a gorgeous traditional embroidery called Phulkari, and I get my pieces made from Patiala. If you leave with one thing from India, let it be this.
In Insider Guides we ask local women to give us their top recommendations on a particular subject or area of interest in their city. Want to be featured in the next Insider Guides? Drop us an email at
[email protected]
with the subject line 'I want to be an Insider Guide for my city'.
,10298,12582,5847