In need of a blowout before an important presentation, or a quick manicure after a long day at the office? While Bangkok's extensive transportation system makes much of the city centre easily accessible, finding the right salon when you're on a tight schedule is slightly more complicated.
We've compiled a list of budget-friendly options at convenient locations for all of your last-minute beauty needs in central Bangkok. Walk-ins are accepted at all of these locations.
Cheers to your crowning glory
Haircuts in Bangkok typically cost between THB100 (about USD3) to THB2,500 (USD70), and you ultimately get what you pay for. With that in mind, we've skipped past the THB300 quick cuts and landed on Chalalchol, a mid-range salon with several locations around the city. Haircuts start at THB750, with a shampoo and blow dry in the range of THB250-500.
Where: 3rd Floor, Siam Center, Rama 1 Road, Pathum Wan | Opens: 11AM -10PM daily | Tel: +66 02 658 1185 | Nearest BTS Station: Siam (Exit 1)
Put your best face forward
Many beauty salons offers full make-up services, but at a hefty price. Instead of having your make-up reapplied in the middle of the day, why not ensure that the fresh face you leave with in the morning lasts until evening? 'Sree Jan' Thai face powder (available at all 7Eleven stores), goes on over your make-up, shielding your face from dust and the sun's constant glare. At around THB120 (about USD4), you'll want to keep one in every bag.
Tip: Arrived with everything but your make-up bag? Bangkok recently welcomed Sephora, the popular French makeup retailer, with five outlets located at popular malls (Siam Center, Central Embassy, EmQuartier, Central World and Mega Bangna) along the BTS train system.
You'll knead this
We love traditional Thai massages, but sometimes nothing beats a neck and shoulder massage to soothe sore muscles from a long day of office work. Lek Foot Massage offers head and shoulder, foot and traditional Thai massages for THB300 an hour in a clean and comfortable environment directly across the street from Siam Centre and Siam Paragon. If you feel like splurging, add an hour for a facial treatment (THB300) or hot stone facial massage (THB500).
Where: 412/3 Siam Square Soi 6, Pathum Wan, Bangkok | Opens: 8AM – 12AM daily | Tel: +66 02 658 3930 | Nearest BTS Station: Siam (Exit 6)
Nailed it!
Finding your favourite nail salon takes time, but we couldn't be happier with the service at Nail Library. Their high-quality manicures for THB350 and pedicures for THB390 are deals that are hard to beat, and they offer basic treatments for men (starting at THB350) as well. Nail library is very popular with both men and women, so make an appointment if you don't want to wait.
Where: Siam Square, Soi 6, Pathum Wan, Bangkok | Opens: 10AM – 9PM daily | Tel: +66 02 658 0689 | Nearest BTS Station: Siam (Exit 6)
Tip: Gel nail polish has arrived and taken over. Many nail salons offer Shellac, Gelish and/or O.P.I GelColor at 'not-too-much-more' than regular polish prices (THB500-1,000 depending on the salon and level of service). Lasting over two weeks and chip-free, gel polish is great if you're at the start of a busy trip and don't want to keep going back to the salon.
Sole sisters
Broke your heels on the crumbling sidewalk? Stepped in a puddle and soaked through your flats? nuBangkok shoe stalls have saved me on more than one occasion, offering cheap, comfortable and stylish enough flats, with outlets at over a dozen BTS locations (Phra Khanong, Ekkamai, Thong Lo, Phrom Phong, Asok, Ploen Chit, Chit Lom, Victory Monument, Ari, Sala Daeng, Chong Nonsi and Surasak).
Opens: 10AM – 7PM daily | Tel: +66 083 455 1000
Waxing lyrical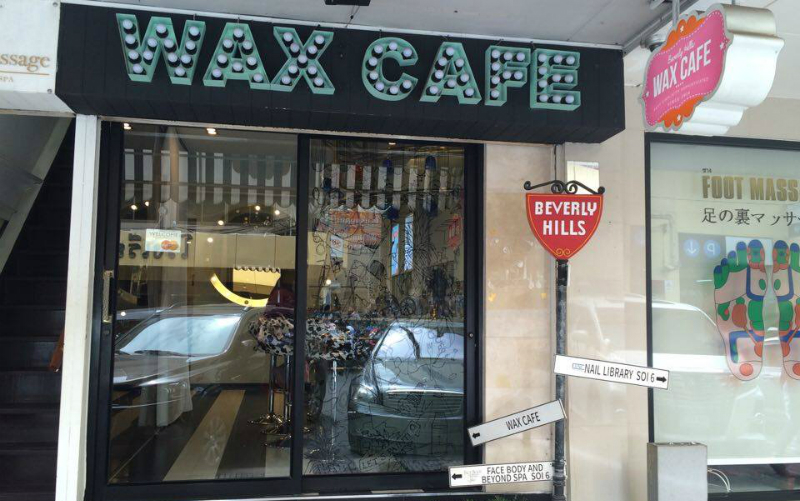 As with haircuts, you'll never regret spending a bit more on a good wax service. Wax Cafe is a small boutique wax shop with a cute New York City-style concept offering a variety of services. Their brow waxes (THB450), bikini waxes (THB800) and full leg waxes (THB1,200) may not be the cheapest around but they do a good job, keep to professional standards and are highly-rated by their customers.
Where: Siam Square, Soi 6, Pathum Wan | Opens: 11AM – 9PM daily | Tel: +66 02 658 1991 | Nearest BTS Station: Siam (Exit 6)

Read Next: