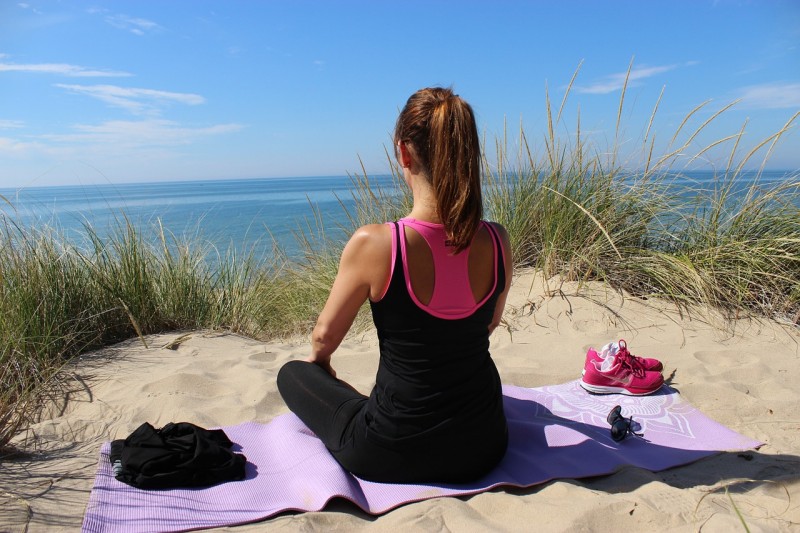 When we travel, there's a huge possibility that our normal fitness routines will be put on hold; our daily schedules change and even the everyday food that we are accustomed to will be different – for that short period of time. And it's completely okay – you're on vacation anyway!
But if you're the kind of person who would prefer not to miss out on your routines but don't know how to do them while abroad, Travelettes has some good tips on how to maintain the habit:
1. Walk or run every day

This is a great way of doing some sightseeing, and who said that your shopping round or way to the restaurant cannot be included in your daily work-out routine? Travelette Frankie says that "From my experience walking is the best and easiest way to squeeze in exercise in a busy travel schedule and can often save you money too if you are not using buses/trains/taxis. That is of course only if it's safe to do so." I totally agree, and if you get lost you get some extra exercise.

2. Do yoga or pilates

If you have some previous experience with yoga and pilates, you can do your exercises basically anywhere without much additional equipment. When I'm in need for some inspiration for my routine I turn to my Yoga iPad App or Blogilates YouTube workouts.

3. Get hold of a bike

It is a great way of getting around, especially in cities with greater distances. Many cities offer guided bike tours, and as Ina says: "Bike tours are the new thing everywhere and usually cheaper than the stupid bus ones anyways." For some bike inspiration, check out our posts on how we roll.

4. Try local sports

Are you in an area where you can go surfing, diving with dolphins, snowboarding, climbing up a volcano, hiking, paragliding or sandboarding in the desert? Why not use this occasion to get some exercise and try something new? A safe option is always to go for a swim.

5. Eat healthy

Staying at a hotel or hostel with breakfast? Marie's best breakfast tip is to stay away from white bread and toast, and rather opt for fruit and veggies. Make sure you eat a good breakfast that keeps some going for some hours. Opting for vegetarian food also makes it easier to choose healthy food (I'm doing some personal propaganda here..)

6. Take your vitamins

The most important source for vitamins is of course a healthy nutrition, but as Lorna says: "I always manage to come down ill after a long haul flight and all that air conditioning/recycled air so it's important to keep topping up especially on vitamin C, B & A." "As you are exposing yourself to a new climate, diet, and different people with different germs, its good to stabilise your immune system," Kyra adds. <cont.>
Read the full article:
The Travelettes' 10 best tips for a fitter holiday
Reposted from: Travelettes
Picture credit: Pixabay

Articles you may also like:
Out and about: A guide to seeking the outdoors in KL
Get all the latest travel updates from Zafigo. Follow us on Facebook, Twitter, and Instagram.