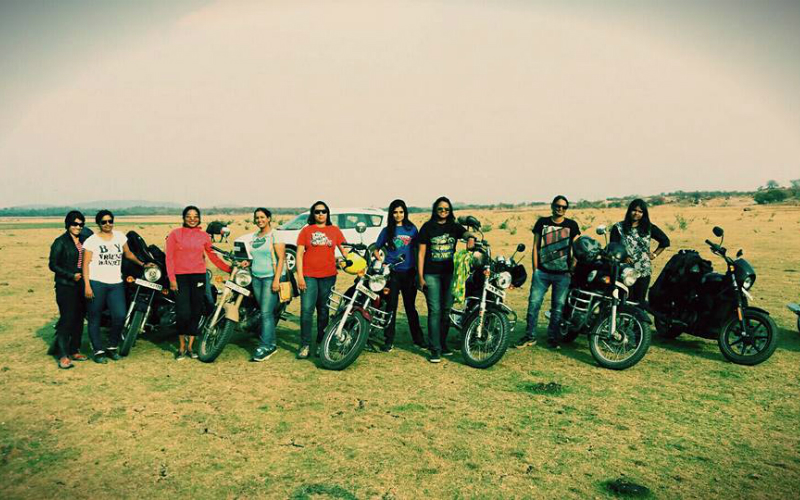 The vroom of a bike should never be restricted by gender, and an all-women biker group in India is blazing the trail.
The group calls themselves The Bikerni, with 'ni' as the common suffix for feminizing a title. The Bikerni is the first and largest all-female motorcycle association in India. With over 600 riders all across the country, there is a Bikerni rider in Delhi, Gujarat, Maharashtra, Bangalore, Chennai, Hyderabad, Assam, Pune and more.
The Bikerni is now a force to be reckoned with, but it started from humble beginnings. Back in 2011 when it was first founded by Urvashi Patole, The Bikerni was simply a group 15 to 20 women who wanted to ride and explore new places. But now, it has become much more.
"It gives the same sense of freedom, the same rush, irrespective of whether you're a man or a woman"
The Bikerni doesn't just making biking the business of like-minded Indian women who follow their passion. They believe in doing so, they also drive female empowerment by providing stories, tips and camaraderie for women who see no hurdle between the road and their beloved two-wheelers.
They state their mission loud and proud on their Facebook page: "The Bikerni aims to spearhead women empowerment through the medium of motorcycles and encourage women to go on adventures they would have never thought to go on."
Every month, the women ride out from their respective cities and meet not only for expeditions, stunting and racing, but also to volunteer for women and children-related causes.
Needless to say, a group of women zooming past on 1,000-CC superbikes turns heads, mostly those of men. The bikers have faced their fair share of hoodlums, wolf whistles and menaces, but they remain unfazed.
"People stare, some try to follow us on bikes. We've even had incidents where people tried to push us off the road. In which case, we have a member among us who simply stops her bike right in front of them and demands to know what they're up to," proud Bikerni Shabnam Akram said in an interview with The Quint, explaining that the men would usually run away at confrontation.
The women continue to break the stereotype that riding is a gendered hobby. "It gives the same sense of freedom, the same rush, irrespective of whether you're a man or a woman," Akram says. Just like any other activity, it's skills and technique, not strength that matters."If my bike were to fall on the road, most men on the road would not be able to pick it up. I will be, because I know the right way."
Not forgetting to be proud of their femininity, The Bikerni's motto is fitting: We wear mud for makeup, and petrol for perfume.
As for those who mistake them for anything less than the badass bikers that they are, The Bikerni has one simple message: "Don't mess with us, you will only see dust far ahead in front of you."
The Bikerni is open to all women in India who have a two-wheeler (geared or non-geared) and a valid license. To register, fill in this registration form: bit.ly/thebikerniform
For more on The Bikerni, check out their Facebook page.

Meet more powerful women who will inspire you:
Get all the latest travel stories from Zafigo. Follow us on Facebook and Twitter.