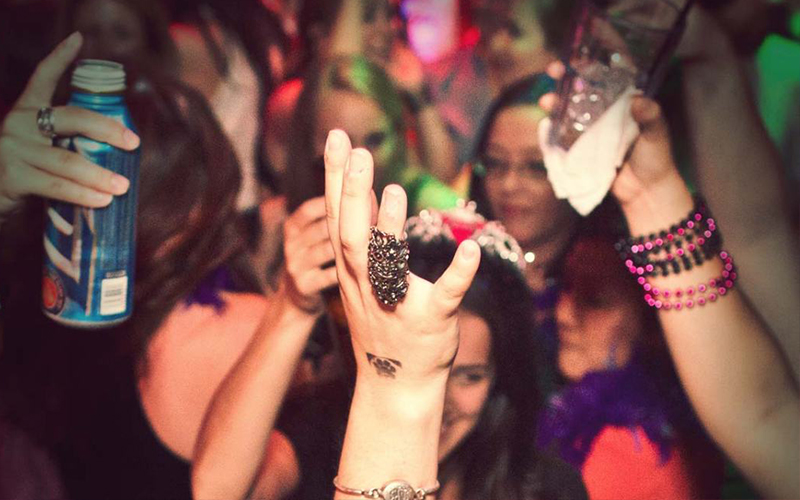 You're here for a wedding, hoorah!
One of the (many, many!) advantages of having Indian friends is the possibility of attending that great big Indian wedding which, no matter how much we try to scale down, end ups being semi-madness at the very least.
Before the wedding, there usually is (and absolutely should be) a fun day/night out for the girl planned with friends that larks back to the prehistoric ritual of female bonding, otherwise quite simply known as the bachelorette party or hen's night. And if you thought that Delhi would make the hens behave like meek chickens, well, that's just not true.
Little Black Book curated this list of places and things for girls who just wanna have fun. Here are some of our favourites:
1. Pamper the bride: Amaltas Spa by L'Occitane at Anya Hotel
Amaltas Spa is the first ever L'Occitane spa in Delhi, and one of the most luxurious and holistic well-being experiences in India. The spa plays matchmaker between mimosas and manicures. They more than welcome groups of girls, opening up some of the larger rooms meant for couples; after all, how many times have we said that we love our besties so much that we could marry them! They'll arrange canapés as well – perfect for those just-polished nails.
Price: Typical 60 minute services is priced at INR 2,000 upwards; call to enquire about customised parties.
Address: Anya Hotel, Opposite DLF Golf Club, Golf Course Road, Gurgaon | Nearest Metro Station: Golf Course | Tel: 012 449 011 11 | Website: www.anyahotels.com
2. Stay classy: Dramz Whisky Bar And Lounge
In our opinion, venues don't get more perfect than Dramz. All you whisky-loving women, you could also probably fit your entire wedding party across their four floors, but for now we'll stick to the bachelorette party. Just book a section, decide on the drinks and food menu, and get the party started. Definitely for the more refined, posh bride (until the whisky and cigars kick in), we vote for the private wine cellar house in the basement. To help you envision your party, you can take a virtual tour of Dramz here.
Price: Starts from INR 1,750 per head, for top of the line food and alcohol.
Address: QR 1580, K.D Marg, Near Qutub Minar, Mehrauli | Nearest Metro Station: Chattarpur | Tel: 011 266 467 020 7 | Website: www.dramz.in
3. Hit the club: Kitty Su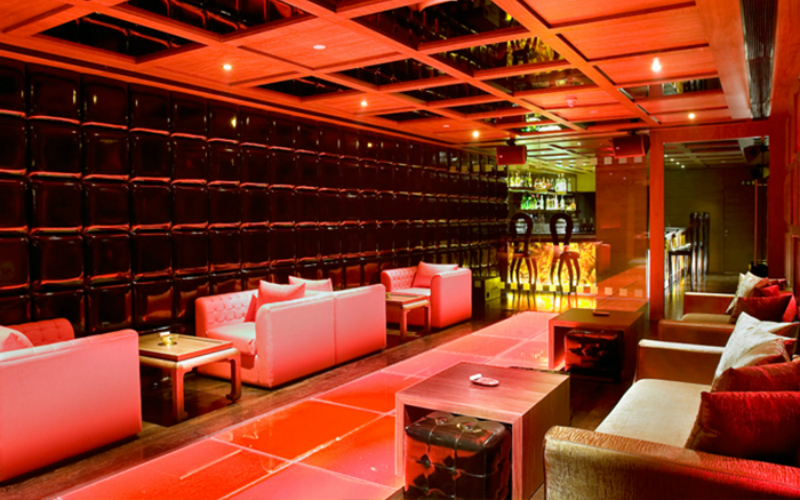 Kitty Su is your good old night club with all the drinks, music, and dancing to go crazy to. For a little privacy, Kitty Su houses a private champagne room, far removed from the main club. It's great for you and your girls to lose your inhibitions because what goes on in there, stays in there.
Address: The Lalit, Barakhamba Road | Nearest Metro Station: Barakhamba Road/Rajiv Chowk | Tel: +91 965 040 044 4 | Facebook: www.facebook.com/KittySu.Delhi
4. Cocktails and movies: PCO
Movie night just so much got better. PCO is a one of a kind cocktail bar located in Vasant Vihar in South Delhi. They have a well-kept secret -a private party room up on the first floor. Equipped to accommodate 15 people, it comes complete with leather sofas, a dining table, and a TV and DVD player (perfect for movies that will make the bride-to-be blush! Also, they offer customised cocktails from the trusted hands of the mixologists at PCO, which always make for a fun night.
Address: PCO, D Block Market, Vasant Vihar | Nearest Metro Station: Chattarpur | Tel: 011 460 624 44 | Website: www.passcodeonly.com
5. Karaoke night: Smokey's BBQ and Grill
Besides the great food, Smokey's potent cocktails will go a long way in getting the bride to reveal all her X-rated secrets. If you're ready for a big spend, you can go ahead and book the entire first floor; all the more privacy for your girls gone wild party. They can also hook up karaoke for you with songs in both English and Hindi.
Address: Smokey's BBQ and Grill, LSC Masjid Moth, GK2 Main Road | Nearest Metro Station: Nehru Place/Kalkaji | Tel: 011 414 355 31 | Website: smokeysbbq.in
6. Own the bar: Aniq
The location might turn you off, since you and your gaggle of girls might have to walk through the market to get to your party, but the terrace will make it all worth it. If you're down for a rager, and by that we mean a 30-person all-girl event, Aniq will hand over ownership of their terrace for one night only, personalise your cocktails, work with you on your menu, and allow you to play your own tunes. It you're looking for a raunchy event, keep an eye out since adjoining terraces can sneak a peek.
Address: 17, First & Second Floor, N Block, Greater Kailash I, New Delhi, Delhi 110048, India | Nearest Metro Station: Kailash Colony | Tel: +91 955 599 665 5
A bachelorette party would not be complete without tiaras, sashes, and feather boas announcing to the world that "I'M GETTING MARRIED!" To start you off, check out Party in a Box and Wanna Party.
Now that you have everything you need to plan your bachelorette party, all that's left is to come up with a good 'story' when the boys ask "how was the party?".
For more Bachelorette party venues and services, check out Little Black Book.

Read Next:
Get all the latest travel updates from Zafigo. Follow us on Facebook, Twitter, and Instagram.