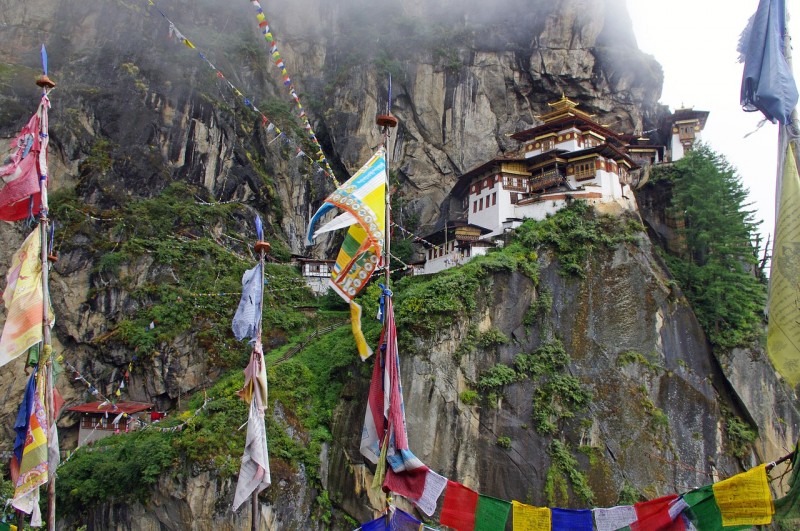 Many travellers, when visiting new countries, would prefer to do their own research and discover the city they're in on their own terms without the guidance of travel guides. While that is certainly something every traveller should do, sometimes to get the best experience possible, we would need the assistance of experts to help us get into 'off-limit' places and see a city to its full potential. As Wendy Perrin says "Such magic can happen when you book your trip through the right insider".
Did you know it's possible to have a private candlelit dinner in an ancient temple at Angkor Wat? Get inside the largest excavation pit of the ancient Terracotta Warriors in China? Take a hard-hat tour of the Louvre and Guggenheim Museums being constructed in Abu Dhabi? Meet the royal family of Bhutan?
Here's Wendy's list of just some of the exclusive benefits you can get when booking through travel specialists:
1. Explore Viet Cong tunnels with a Vietnam War veteran

Near Ho Chi Minh City, Vietnam

Tour the Cu Chi Tunnels – the secret corridors used by the Viet Cong during the Vietnam War – with a Vietnamese veteran, followed by dinner in his home. You'll hear all about what it was like to help build – and then live inside – this elaborate tunnel system.

— Andrea Ross, Trusted Travel Expert for Southeast Asia. Read Andrea's Insider's Guide to Vietnam

2. Meet Jaipur's top fashion designers

Jaipur, India

Rajasthan's capital city is a shopping mecca, with magnificent textiles, jewelry, and bazaars – but it's also a befuddling maze. Let us lead you to the best shops and introduce you to fascinating people. You can discuss gemstones with Sanjay Kasliwal, whose family owns the Gem Palace, and textiles with any number of experts, including Theirry Journo of Idli, Muba and Muza of Andraab, and Lala and Vishal at Tholia's Kuber. We love the hand block-printed quilts and beautifully soft summer sheets at Ridhi Sidi Textiles, a little shop just outside the old city. This customized tour – a favorite of designers in the fashion industry – is a window into a complex and fascinating city.

— Bertie and Victoria Dyer, Trusted Travel Experts for India. Read Bertie and Victoria's Insider's Guide to Rajasthan

3. Visit a sheikh in his palace (by helicopter)

Dubai, United Arab Emirates

Departing from the helipad suspended at the top of the sail-shaped Burj Al Arab hotel, take a luxury helicopter to the private palace of a prominent sheikh. Enjoy a behind-the-scenes tour that shows what life is like for a sheikh in the region. If you want to know more, you'll just have to visit – the sheikh has sworn us to secrecy!

— Lindsey Wallace, Trusted Travel Expert for Dubai. Read Lindsey's Insider's Guide to Dubai

4. See unique biodiversity in an off-limits nature preserve in China

Yunnan Province, China

Only a small part of Gaoligong Mountains National Park is open to the public. There is a beautiful ten-mile hiking trail that is reserved for park rangers and requires a special permit for anyone else to access. We can arrange for travelers to overnight at the simple ranger station at the trailhead and then head out the next morning with a local ornithologist or botanist to see the extraordinary species of plants and birds.

— Mei Zhang, Trusted Travel Expert for China. Read Mei's Insider's Guide to the Yunnan Province

5. Tour Abu Dhabi's still-under-construction Louvre and Guggenheim museums

Abu Dhabi, United Arab Emirates

Take a private hard-hat tour of the museums being constructed on Saadiyat Island. With boldfaced names like the Louvre and the Guggenheim involved, this is sure to be the most amazing cultural district ever built entirely from scratch. (Slated for completion in 2020, Saadiyat will also be home to hotels by St. Regis, Park Hyatt, and Shangri-La.) Seeing the progress of this hugely ambitious project is a glimpse into Abu Dhabi's concerted effort to transform itself into a great city of the future. For added flair, we can fly you in on one of the Sheikh's private helicopters.

— Lindsey Wallace, Trusted Travel Expert for Dubai. Read Lindsey's Insider's Guide to Abu Dhabi

6. Meet the royal family in Bhutan

Bhutan

Because we founded READ Global, a nonprofit that has been building rural library community centers in Bhutan, we have unique access and can arrange very personal get-togethers with key people in the country. Our travelers have met with members of the royal family, local mayors, medical officials, and other movers and shakers. For those romantically inclined, we can arrange a wedding that is astrologically perfect, complete with guests, catering, and Bhutanese finery for all of the wedding party. Just ask!

— Antonia Neubauer, Trusted Travel Expert for Bhutan. Read Antonia's Insider's Guide to Bhutan
Continue reading Wendy's article (at the link below) to see 12 other extraordinary things to do in Asia.
Read the full article at:
Things to do in Asia: Extraodinary experiences you didn't even know were possible
Reposted from: Wendy Perrin