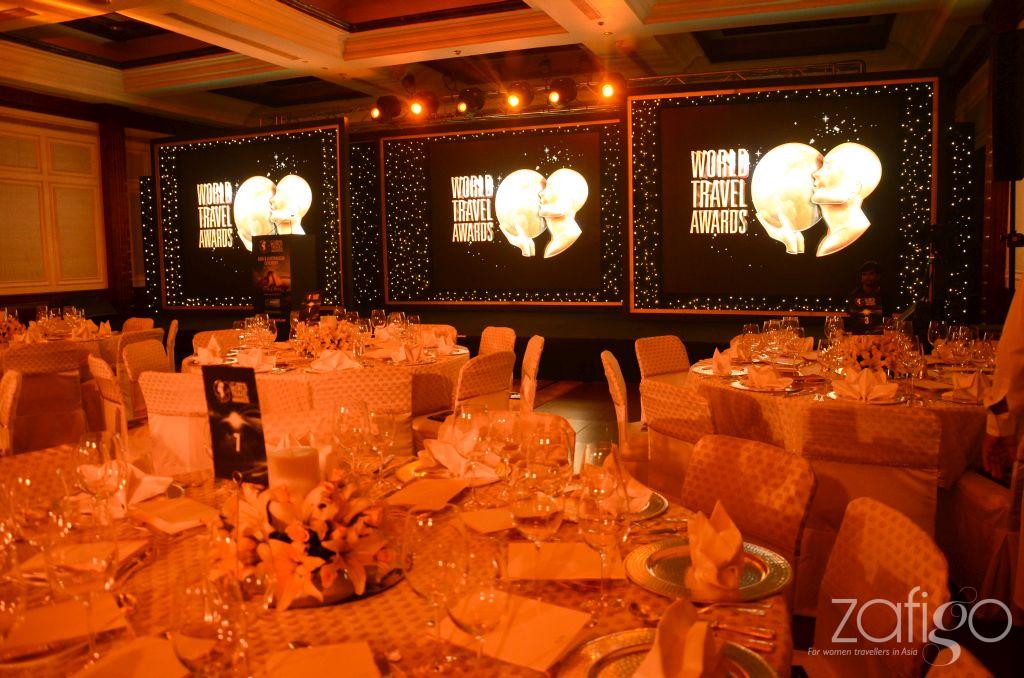 (Release) – China was among the biggest winners at the World Travel Awards Asia & Australasia Gala Ceremony 2014 this evening, with a host of awards headed for the emerging tourism powerhouse.
Hosts The Oberoi, New Delhi also had reason to cheer, picking up the trophy for Asia's Leading Luxury Hotel, while parent Oberoi Hotels & Resorts was recognised as Asia's Leading Luxury Hotel Brand.
The red-carpet ceremony was hosted by Indian superstar Seema Rhamani, and offered the finest in local entertainment, a gourmet banquet and, of course, the presentation of the prestigious trophies.
For China, HNA Tourism Group took the title of Asia's Leading Travel Management Company, while Deer Jet took the prestigious award for Asia's Leading Private Jet Charter. Continuing the winning streak, Tangla Hotels & Resorts walked away with the prize for Asia's Leading Lifestyle Hotel Brand.
In a special presentation at the climax of the ceremony, the title of Asia's Leading Travel Personality was bestowed upon Mr Zhang Ling, Chairman of HNA Tourism Group.
World Travel Awards President Graham Cooke said: "It has been a fantastic evening here at The Oberoi, New Delhi, and I would like to offer my congratulations to Oberoi Group President Kapil Chopra and his team for hosting such an outstanding ceremony.
"Among the biggest stories of the night has been the rise of China as a tourism destination here in Asia. Our voters have recognised some industry leading organisations and I look forward to seeing many of them again at the World Travel Awards Grand Final in Morocco next month."
In aviation, Hainan Air was recognised as Asia's Leading Airline – Business Class, Singapore Airlines was awarded Asia's Leading Airline and Air New Zealand took the title of Australasia's Leading Airline. On the ground Changi Airport defended its title of Asia's Leading Airport for an unprecedented ninth year.
Recognised as a pioneer and an icon among luxury hotels in India, The Oberoi, New Delhi's exquisite interiors, impeccable service and fine cuisine made it a perfect host for the event.
Speaking at the Gala Ceremony Jay Rathore, Vice President & General Manager, The Oberoi, New Delhi, said: "We are very proud and honoured to be voted Asia's Leading Luxury Hotel. The award is testimony of The Oberoi Group's unwavering commitment toward offering guests world-class facilities and unsurpassed service standards.
"In a few months, The Oberoi, New Delhi will complete five decades of excellence in hospitality. Opened in the year 1965, the hotel is regarded as a pioneer in luxury, and has been catering to the most discerning travellers for many years; making the hotel a New Delhi icon.
"I accept this award on behalf of my team as it is their relentless effort to offer our guests warm, personalised and caring service that has resulted in this recognition."
He added: "It has been a pleasure to host this event with the outstanding team at World Travel Awards, it has been a showcase of our hospitality, especially at the threshold of our Golden Jubilee."
InterContinental Hotels & Resorts, one of the largest hospitality companies in the world, took the titles for both Asia's Leading Business Hotel Brand and Asia's Leading Luxury Business Hotel Brand.
Indonesia Ministry of Tourism also took home the trophy for Asia's Leading Tourist Board.
World Travel Awards saw its annual Grand Tour launch successfully in Dubai in May, with Gala Ceremonies following in Greek capital Athens and Quito, high in the mountains of Ecuador.
A final regional Gala Ceremony will take place on the sunshine island of Anguilla later this month, before Morocco welcomes World Travel Awards to Marrakech for the Grand Final 2014.
World Travel Awards Gala Ceremonies are widely regarded as the best networking opportunities in the travel industry, attended by government and industry leaders, luminaries, and international print and broadcast media.
A full list of winners from the World Travel Awards Asia & Australasia Gala Ceremony 2014 can be seen here.
About World Travel Awards
Hailed as 'the Oscars of the travel industry', World Travel Awards celebrates its 21st anniversary this year and is acknowledged across the globe as the ultimate travel accolade. The brand aims to celebrate those organisations that are pushing the boundaries of industry excellence.