Malaysia's capital city reaffirmed as one of the cheapest overall in the world for a hotel stay while Sofia is tops in the world.
Kuala Lumpur – Malaysia offers the sixth best value in the world, for travellers when it comes to the common incidental costs while staying in a hotel, according to a cost comparison report released by TripAdvisor.
The results are taken from the third annual TripAdvisor TripIndex Room Service report, which compares the cost of hotel room service items in 48 popular destinations around the world. The study takes into account the cost of a one night stay in a four-star hotel, a club sandwich ordered through room service, the dry cleaning of one shirt as well as refreshments from the mini bar.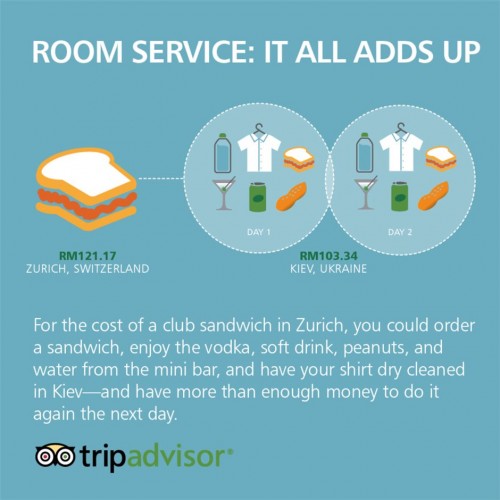 This study highlights the wide range of prices that can be found in destinations around the world, for example, from the destinations included in this study, South-East Asia boasts four of the world's best value destinations with Jakarta (RM400.67); KL (RM444.09), Hanoi (RM465.01) and Bangkok (RM510.79) placed 3rd, 6th, 8th and 12th respectively.
In KL on average a club sandwich will set travellers back RM40.39, a mini bottle of vodka costs RM41.22, a can of cola is RM8.00, a packet of peanuts is RM9.00 and it will cost RM16.75 to dry clean a shirt. Taking into consideration the cost of a night's stay in Kuala Lumpur which costs an average of RM328.73, the total cost for the Malaysian capital city gives it a very good ranking.
Sofia, Bulgaria was named the best value destination, with the combined cost of a night in a hotel, based on availability on TripAdvisor, along with room service adding up to an average of RM355.70 – more than four times cheaper than at the costliest destination, New York, where the average hotel price on TripAdvisor, plus room service amenities, totals RM1,542.57.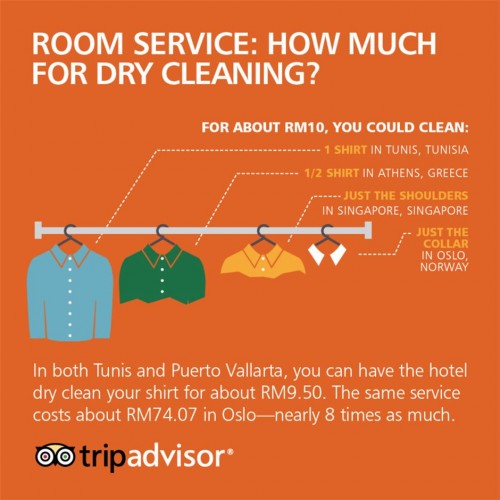 "Hotel prices can vary a great deal across destinations – even when comparing like for like amenities – so it pays to shop around to find the best deal. Hotel room rates, for example, can vary between travel agents, so using the price comparison tool on TripAdvisor can be a great way to find and book a good deal," commented TripAdvisor spokesperson, Jean Ow-Yeong.
Eastern Europe also boasts six of the world's 10 best value destinations (Sofia, Kiev, Warsaw, Budapest, Prague and Moscow), yet is also home to six of the world's 10 most expensive, with Scandinavian cities in particular dominating.