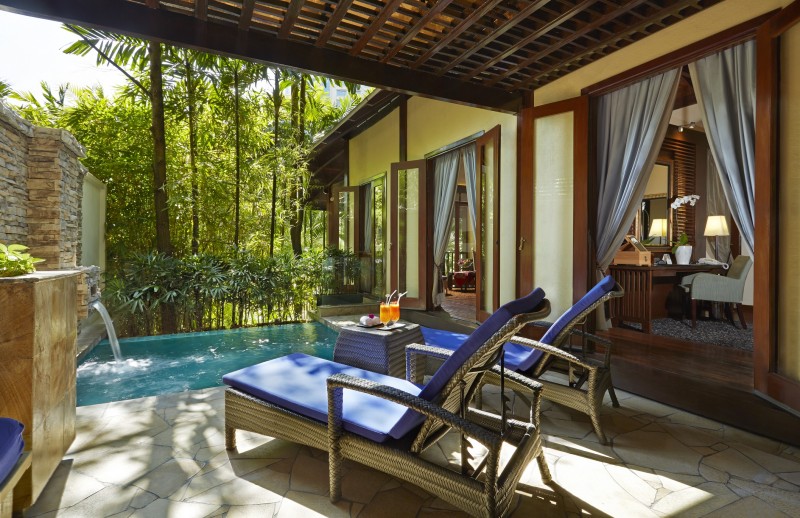 Members of AirAsia BIG Loyalty Programme can earn up to 7X BIG Points when they stay at participating Sunway Hotels & Resorts in Malaysia, Cambodia and Vietnam
---
Kuala Lumpur – Sunway Hotels & Resorts announces a new partnership with AirAsia BIG, one of Asia's leading loyalty programme. Commencing 1 August 2015, members of AirAsia BIG Loyalty Programme are able to earn BIG Points when they book rooms with Sunway Hotels & Resorts in Malaysia, Cambodia and Vietnam via the Hotel's Internet Booking Engine (IBE) at www.sunwayhotels.com.
Through this partnership, AirAsia BIG members can now earn points for every MYR1.00 or USD1.00 spent on a qualifying minimum of two (2) nights' stay in Sunway Resort Hotel & Spa, The Villas, Sunway Pyramid Tower East and Sunway Putra Hotel in Kuala Lumpur, The Banjaran Hotsprings Retreat in Perak, Sunway Hotel Georgetown and Sunway Hotel Seberang Jaya in Penang, Sunway Hotel Phnom Penh in Cambodia and Sunway Hotel Hanoi in Vietnam. And to celebrate this partnership, Sunway Hotels & Resorts will offer up to 7X BIG Points, which is the equivalent of up to 28,000 BIG Points during selected periods.
These BIG Points earned can be redeemed for free travels to places like Penang from just 4,500 BIG Points, Phnom Penh from 6,500 BIG Points or choose to explore even further destinations with BIG Fixed Points. The points for each route are determined by its travelling time.
"With more than 14 million existing AirAsia BIG members from 150 countries worldwide and counting, this partnership enables Sunway Hotels & Resorts to reach out to more travellers which is in line with our direction of enhancing our reach to a wider market worldwide. This partnership will bring great visibility to our portfolio of hotels and allow us to offer additional rewards to guests and to the travel community. Now, our guests can travel more when they stay with us", said Albert Cheong, CEO and Group General Manager of Sunway Hotels & Resorts.
The Hotel aspires to surpass the needs and expectations of avid global travellers and guests by continually refreshing its hotel products, services and programmes. This includes adding new range of products into the portfolio which can be seen in the recent launch of Sunway Putra Hotel in Kuala Lumpur; and the upcoming completion of Sunway Pyramid Tower West and Sunway Velocity Hotel in Kuala Lumpur, which upon completion would be part of this reward programme.
"We have come together with Sunway Hotels & Resorts to announce a lifestyle partnership that will present hospitality rewards to our BIG Members. Being a BIG Member is gratifying as they get to enjoy benefits such as priority access for AirAsia flight sales and redeem free AirAsia flights to over 100 destinations from as low as 500 BIG Points. By bringing together two of the renowned names in the travel and hospitality industry, this partnership will prove itself as a rewarding experience to avid travellers as they earn their BIG Points with Sunway Hotels & Resorts, and fly for free with AirAsia BIG," said Alice Goh, CEO of AirAsia BIG.
To be eligible to earn BIG Points, existing members must book room stays directly through the Hotel website and BIG Points are earned based on best available room rate charge or best available room rates with breakfast. For more terms and conditions, log on to www.sunwayhotels.com.