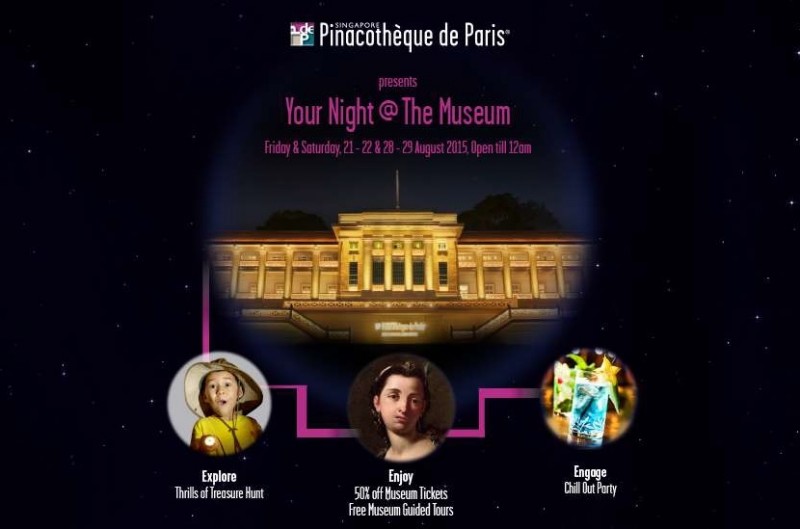 Experience a weekend of art and culture when the sun sets
---
Singapore – Singapore Pinacothèque de Paris is proud to present Your [email protected] Museum during the last two weekends of August, as part of the Singapore Night Festival 2015. Bringing together a line-up of enthralling activities, visitors can experience a weekend of specially curated museum magic.
Explore the Myth of Cleopatra in the Features Gallery as well as encounter renowned artists such as Pablo Picasso, Rembrandt van Rijn, Oscar-Claude Monet and Jackson Pollock in the Collections Gallery by participating in the treasure hunt at the museum. The interactive and educational activity is open to all visitors from 7pm to 12 midnight on 21-22 August and 28-29 August.
Enjoy 50% off all category museum tickets for the entire duration of the Night Festival starting from 21st August to 29th August 2015. Participants who have successfully completed the treasure hunt, will have a chance to win an invite to a sleepover party at the museum and other fascinating prizes which include a 2D1N hotel staycation, museum membership and many more.
On the last weekend of August (28th August and 29th August) visitors to the museum should prepare to be dazzled by the Chill Out party at the beautifully lit outdoor patio area of Fort Canning Arts Centre. The lush greenery and tranquil surroundings of Fort Canning Arts Centre coupled with its ideal location in the heart of the city, provides a perfect setting for visitors to enjoy a scrumptious culinary experience, specially created by distinguished chefs.
At the sleepover party, lucky winners of the Treasure Hunt will have the thrilling experience of spending the night at Singapore Pinacothèque de Paris where they will be treated to an enlightening studio session at the Art Academy, followed by a feast of scrumptious dining at Fort Canning Arts Centre (FCAC), ending the night with an exciting movie screening.
| | |
| --- | --- |
| Programme | Treasure Hunt: Come in a group of 4-6 and take part in our Treasure |
| | Hunt! First 30 groups to sign up will receive an exclusive goodie bag. All |
| | participants will also be entered in our Grand Draw with exciting prizes |
| | to be won. Prizes include a sleepover at the museum, 2D1N hotel |
| | staycation, museum membership and more. |
| | |
| | Sleepover: Participants in the Treasure Hunt will stand to win a chance |
| | to sleepover in the historical Fort Canning Arts Centre. Bring along |
| | your sleeping bags and spend the night with Singapore Pinacothèque de |
| | Paris, with specially curated cuisine, a movie screening and a special |
| | studio session just for you. |
| | |
| | 50% off Museum Entry Tickets: From 21 – 29 August 2015, enjoy |
| | 50% off museum entry. Come and experience The Collections |
| | featuring masterpieces from Rembrandt, Monet, Pollock and Picasso |
| | and explore our Heritage Gallery dedicated to Singapore's legacy as a |
| | confluence of diverse cultures, and our current features exhibition – |
| | The Myth of Cleopatra. Join special guided tours taking place hourly: |
| | 7pm to 11pm during the Night Festival. Get to learn snippets of history |
| | and hidden facts about the featured artworks. |
| | |
| | Chill Out Party: Chill out during the Night Festival at outdoor patio |
| | area of Fort Canning Arts Centre which faces the Fort Canning Green |
| | with scrumptious dining offerings, drinks and cool music. |
| Date | 21 – 22 August 2015 |
| | |
| | 28 – 29 August 2015 |
| Time | 8 pm – 12 midnight |
| Price | Enjoy 50% off museum entry from 21 – 29 August 2015. |
For more information:
Visit: www.pinacotheque.com.sg
Engage: www.facebook.com/pinacothequesingapore | +65 6883 1588 | [email protected]
Explore: Singapore Pinacothèque de Paris, 5 Cox Terrace, Singapore 179620