Richard Branson, who is already known for his vast Virgin Airlines empire, is expanding his travel repertoire to include a chain of hotels developed specifically with women in mind.
Branson said the goal with Virgin Hotels, the first of which opened this year in downtown Chicago, was to create a better guest room through the eyes of the female traveller, an idea originally inspired by Branson's wife.
"Over the years [I saw] just how awful hotels are for women," he said, giving examples. "You're standing trying to do your makeup and you can't actually see your face in the mirror or somebody opens the door and you've got no clothes on and there's no ways of protecting yourself. … So we thought let's make sure our hotels are really friendly for women travellers."
His company, Virgin, has gotten praise for focusing more on women. The company recently announced it is now offering employees in its London and Geneva offices a year's full pay for shared parental leave.
The high school dropout-turned-billionaire is known for his eccentricities and willingness to experiment, even if that sometimes means failure, and this chain of hotels is no exception. But the idea of this new venture is to give customers the ultimate Virgin travel experience from takeoff to landing, and beyond.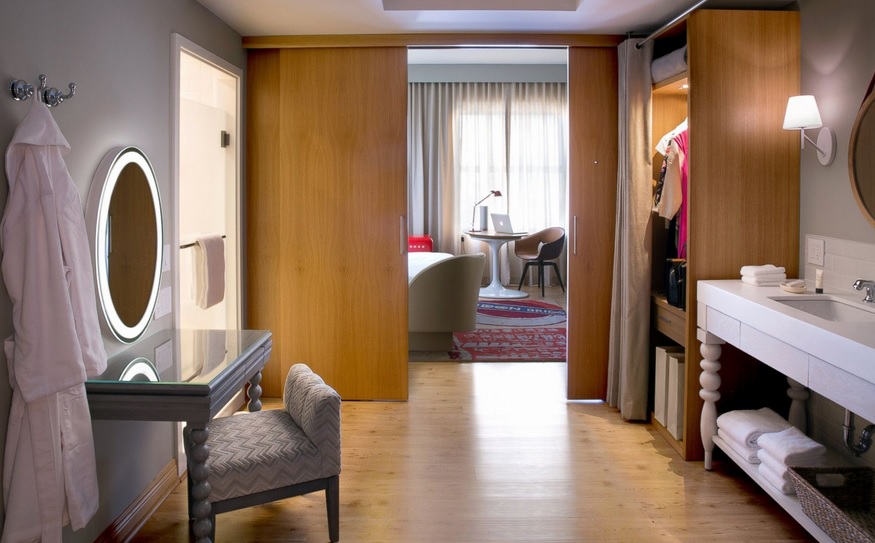 "We have thousands and thousands of business travellers who travel on Virgin Airlines around the world and we couldn't give them a seamless experience," Branson told ABC News Chief Business and Economics Correspondent Rebecca Jarvis in an interview for "Nightline." "Now we can give them a seamless experience and so when our planes fly into Chicago we can make sure they are pampered and looked after in a sort of Virgin way, in a beautiful hotel and we plan to do the same in quite a few other cities around the world."
Nestled inside a 1928 historic bank building, the first of the Virgin Hotels chain includes 250 rooms called "chambers," some of which are dog friendly, denoted by a life-size ceramic pit bull sitting outside the door. Chambers start around $428 a night.
Everything from the check-in process to the bed design to the room layout was created to embody the Virgin brand, the team said.
"Virgin Hotels the brand is really about choices at the end of the day," said Virgin Hotels CEO Raul Leal. "We were able to carve out everything that we wanted inside one building; two or three different food and beverage outlets, a great spa, meeting spaces, great rooms and suites. And also not just one but two rooftop bars."
In an industry that generated more than $41 billion last year, launching this new hotel chain is one of Branson's biggest bets yet, and he has plans to expand to other cities including, New York, New Orleans and San Francisco.
– ABC News