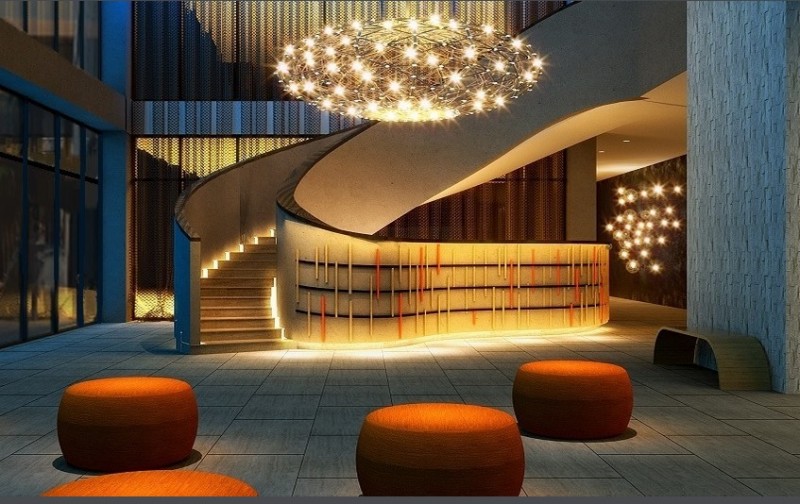 Qliq Damansara debuts as the new place to be, located at trendiest lifestyle, shopping and arts area amidst Petaling Jaya's vibrant business enclave in Damansara Perdana
---
Petaling Jaya – Vive Hospitality, provider of bespoke white label services for new or existing hotels, resorts and residences today announced the opening of a new stylish hotel Qliq Damansara marking the first hotel conceptualised, branded and managed by Vive Hospitality in this region. Qliq Damansara reflects the quirky stylish and upbeat design of the Qliq Hotels brand while embracing the urban culture and vibrancy of Petaling Jaya.
Qliq Damansara is situated adjacent to eclectic architecture, corporate offices, business district and the Damansara Performing Arts Centre, blending contemporary charm and culture – all within the commercial hub of Petaling Jaya, the place to be for business and leisure.
"We are delighted to be bringing the Qliq Hotels brand to the dynamic and multi-cultural country of Malaysia, and in particular to be housing the hotel in Damansara, Petaling Jaya. It is an exciting task to conceptualise and brand a quirky hotel with the needs and aspirations of 'generation next' travellers and avid consumers in mind," said Michael Luible, Executive Director of Vive Hospitality. "We are confident that the upbeat design and ambiance of the hotel, combined with the intuitive, genuine and vibrant service delivery of our talents will position Qliq Damansara firmly as the choice hotel for the avant-garde and business travellers to feel at home for business and pleasure within the Petaling Jaya area."
"We are excited about this new iconic development and its expected contribution to the community and economy of the area and the Petaling Jaya's hospitality sector. We are pleased to be associated with Vive Hospitality to conceptualise and create the branding for Qliq Damansara and subsequently firmly position and successfully manage the hotel," commented Thomas Ong and Trutz Winter of Triton Equity Sdn Bhd.
"We are committed to delivering prompt and effective service, creating rare and unforgettable experiences, through our resourceful, young, lively, and enthusiastic team of talents – 'The Qliq-ers'. 'The Qliq-ers' are selected through a stringent yet unique selection process, where candidates introduce their abilities through various social media platforms. Together with our team, we are thrilled to have our doors open and welcome guests from around Malaysia and the international market to this special location," said Bennet Chang, General Manager of Qliq Damansara.
"Our special attention from personal touches, talent selection, female guest's needs, Qliq corner, touch of magic, music philosophy, to lasting impressions embodies the Qliq essential touch points," added Chang.
"We take pride in delivering personalised touches even before guests arrive and to the extent of demonstrating our special touch of magic and music from jazz to new age that complement the different environment in the hotel making our guests stay extra memorable with lasting impression."
"Apart from the dedicated ladies floor only, another unique area that we provide in the hotel is the Qliq Corner that is equipped with high-speed internet and engaging facilities so business and pleasure meet seamlessly. Guests can charge their handheld devices, share ideas at communal tables and even print airline tickets or boarding passes wirelessly."
Qliq Damansara provides the ultimate haven amongst the city's labyrinth of bustling traffics. It is close to Curve Shopping Centre, Ikea, Centre Point and One Utama. The hotel is also easily access to local attractions like Kidzania, Damansara Performing Arts Centre and Pusat Sains Negara (National Science Centre). This hotel's great location also provides quick access to Kuala Lumpur and key suburbs via major expressways, while the surrounding lush greenery and the adjacent hillside add scenic view and a refreshing backdrop.
Guest rooms
Qliq Damansara features 271 guest rooms, including 31 clubrooms and 8 suites. All the rooms reflect the Qliq Hotel brand's, upbeat design and ambiance providing an ideal place to stay for the avant-garde visitors and discerning business and leisure travellers.
It personifies a perfect blend of contemporary style, modern technology, and sheer practicality. It is well equipped with amenities from lightening-speed internet, scores of wall sockets for UK, EU plug types, USB for digital devices, oh-so-comfortable beds, and rain-showers to exclusive pampering bathroom products. All guest rooms' type features either spectacular views of refreshing treelines or the modern city landscape.
With the ever increasing number of women travellers be it for business or leisure, Qliq Damansara has thoughtfully set aside its Qute and Quest Ladies rooms with Qliq-essential pampering, security and privacy that every woman wants and deserves – on the ladies-only floor with exclusive access to the Q Lounge which is also available for Club floor guests.
Dining
At Qliq Damansara, there are various dining options including the latest Hugos by Modestos and Starbucks, all on the same premises. There are also food outlets located at the adjoining Empire Damansara complex offering choices from Western, Asian to Fusion to satisfy the taste buds. Guests can also choose to chill out at the Q Lounge.
Meeting & Events
Qliq Damansara prides itself on a business unusual approach where meetings, conferences and events take on a whole new life in dedicated meeting spaces. The hotel offers more than 6,400 square feet of radical meeting space and well-equipped meeting and event facilities, accommodating anything from discrete board meetings and small, intimate social occasions to elegant cocktail receptions, and stylish state functions. All the 11 meeting rooms offer the latest audio-visual equipment and individually adjustable air-conditioning.
Recreation
For those in search of rest and relaxation, guests are able to enjoy the tranquil sanctity of the hotel's sheltered infinity edge salt water pool and a fully equipped 24-hour Anytime Fitness Centre featuring state-of-the-art cardio and strength training facilities.
In conjunction with the hotel opening, Qliq Damansara is introducing a "Weekend Last Longer" package from 1April till 30 December 2015. Offering guests a special rate from RM259 ++ with a 50% off for the second night including complimentary breakfast for 2 persons plus discounted tickets at KidZania and Damansara Performing Arts Centre. For more details, book directly on [email protected] to enjoy our weekend deals, and special opening rates of up to 30% knocked down.
To be the first to experience Qliq Damansara, please visit www.qliqhotels.com or email us at [email protected].