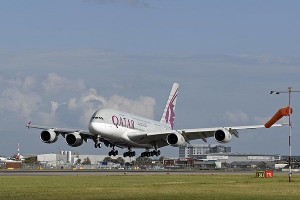 Qatar Airways' first A380 has commenced services on the popular Doha-London route marking another major milestone for the airline.
The arrival of the world's largest commercial airliner on the Doha-to-London service reinforces Qatar Airways' presence in the United Kingdom, with six flights a day between the two cities in addition to direct services from Doha to Edinburgh and Manchester.
Qatar Airways will add a second A380 to the Doha-London route this December.
Featuring a tri-class configuration of First, Business and Economy Class seating over two decks, the Qatar Airways A380 is designed to offer the airline's signature five-star service with outstanding in-flight entertainment and service on board.
There are a total of 517 seats, with eight in First Class, 48 in Business Class and 461 seats in Economy Class.
First Class passengers benefit from 90-inch seat pitch, 180 degree flat-beds and 26-inch LCD TV screens while Business Class passengers experience 52-inch seat pitch, with 80-inch, 180 degree flat-beds and 17-inch touchscreen monitors.
In Economy Class, the onboard experience is enhanced with 10.6-inch entertainment screens and seats with a seven-inch recline.
Qatar Airways chief executive Akbar Al Baker, said: "We are delighted to witness the beginning of the first Qatar Airways A380 commercial service.
"Qatar Airways is committed to offering our passengers the best possible experience when it comes to travelling with our airline, and this aircraft, with its customised interior, will set a new level of comfort for our passengers, who will also benefit from a smooth and pleasant passenger experience at the world's newest airport, Hamad International Airport."
Qatar Airways is the first airline in the world to offer the next generation Thales in-flight system on the A380.
The Android-based system features a touchscreen handset, giving users a "second screen experience" where they can watch a movie on their main screen and follow the flight progress on the moving map on their handset.
There are games, films and cartoons for every age group, and passengers can also watch the pilot's view from the external landscape camera.