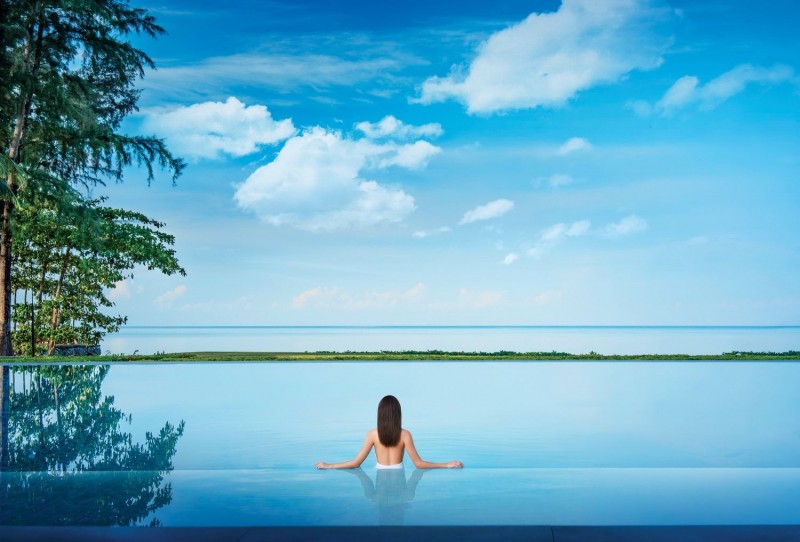 BANGKOK – July 1st 2015 marks the official opening of the Dusit Thani Krabi Beach Resort, located on a secluded stretch of beautiful Klong Muang Beach on the west coast of southern Thailand.
"Rebranding under the Dusit Thani label, the original hotel brand of leading Asian hospitality group Dusit International, 'means the resort now fully embodies the beauty of being Thai,'" said resort owner and President-CEO of MBK Group, Mr Suvait Theeravachirakul.
"With a world-class management team in place, we are confident in the 5-star service Dusit will provide, as it has been recognised globally for over 65 years," he continued. "The resort's location and facilities, coupled with Dusit's signature gracious Thai hospitality, will surely impress tourists from around the world here in the 'Emerald of the Andaman Sea.'"
The island's white sandy beaches, crystal clear waters and limestone karsts have made it a preferred location for movie producers from around the world. The modern-Thai architecture of the 240-room resort blends in harmoniously with its natural surrounds and offers guests a variety of settings to unwind and enjoy themselves in.
Nature lovers can take part in the conservation of Klong Muang Beach's Fiddler Crabs, play a variety of water sports, or stroll through the ground's unspoilt mangroves. Sun worshippers can choose to sunbathe on the resort's grand, green lawn adjacent to the beach while families can take advantage of the Kid's Club and 2 sea-facing swimming pools. Those on business can mix work and play by hosting an event at one of the resort's 5 meeting rooms.
Three international restaurants, a bar and a spa complete the list of exquisite facilities on offer to create an unforgettable experience for guests.
"We are proud to add the Dusit Thani Krabi Beach Resort to our portfolio and to play a role in making Krabi a major tourist destination in the region," said Mr Chanin Donavanik, Managing Director and CEO of Dusit International.
"We believe that under the professional management of Dusit International, the Dusit Thani Krabi Beach Resort will be a truly great success," added Mr Theeravachirakul.
For more details, please visit www.dusit.com/dtkr.
– PR Newswire Asia