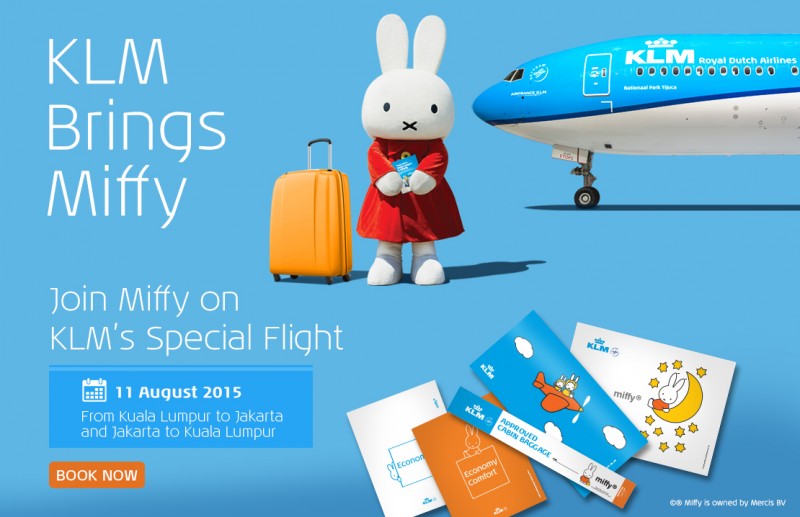 Committed to making flying an inspirational and fun experience, KLM brings Miffy to Kuala Lumpur to announce special offerings for the Malaysian market.
Kuala Lumpur – KLM Royal Dutch Airlines will be bringing a special guest to Kuala Lumpur from the Netherlands, Miffy, the adorable white rabbit will launch a one-time special KLM Miffy flight on 11 August 2015 between Kuala Lumpur and Jakarta.
Miffy, is the creation of Dutch artist Dick Bruna and is also known as 'Nijntje' – the shortened form of 'Konijntje', meaning 'rabbit' – in Dutch. Miffy was 'born' in 1955 during a vacation in The Netherlands where Mr. Bruna would tell his son a story about a white rabbit who would wander through the gardens of the holiday village in which they were staying at. This rabbit later became the inspiration for Miffy, who came to life through Mr. Bruna's drawings. Miffy just celebrated her 60th anniversary early this month.
The special themed flight KL810, from Kuala Lumpur to Jakarta, and flight KL809, from Jakarta to Kuala Lumpur on board a Boeing 777-200 aircraft will feature the brand new KLM Economy class cabin with the latest improvements in seat comfort and technology offering passengers an enhanced travel experience. The Miffy themed flight will offer an all-round experience beginning at the check-in counter, to items onboard including a KLM and Miffy themed meal tray, head rest, pillow case and much more.
"The 'KLM Brings Miffy' campaign is in line with KLM's philosophy of making flying inspirational and fun. We hope to raise awareness, especially among the younger audience, of our new KLM cabins and our extensive worldwide network through new and exciting social media activities they can engage with," said Aude-Lise Combier, KLM Country Manager Malaysia-Brunei. "Malaysia is also one of the major tourism markets for Indonesia, especially Kuala Lumpur. KLM has daily direct services to Jakarta, Amsterdam and other exciting destinations in Europe."
Before the special flight, fans can follow Miffy's adventures around Kuala Lumpur and Jakarta as she visits both cities for the very first time on KLM Malaysia's Facebook page and Twitter. A KLM stewardess will accompany Miffy to discover the unique places, food, arts and cultures of her host country. Fans can also follow her in greater detail on the travel blog – KLMbringsMiffy.com and stand a chance to win exclusive KLM Miffy prizes. Following the special flight, fans can follow Miffy's adventures while she visits several cities in Europe including Amsterdam, London, Paris and Barcelona. Several contests will be organized for fans to win exclusive KLM Miffy prizes.
KLM Malaysia is introducing Miffy, following other Asian markets such as Japan, China, Hong Kong and Singapore. Miffy is set to arrive in Jakarta on 30 June and she travels to Kuala Lumpur on 18 July.
Bookings can be made on KLM.my or via KLM Reservation at +603 2203 2003.
| | | | | | |
| --- | --- | --- | --- | --- | --- |
|  Date |  Flight |  From |  Departure |  To |  Arrival |
| Tues, 11 August 2015 | KL809 | Kuala Lumpur | 16:20 | Jakarta | 17:25 |
| Tues, 11 August 2015 | KL810 | Jakarta | 18:45 | Kuala Lumpur | 21:55 |
Special themed flight schedule amended on 3rd July 2015 as per update from KLM.

Follow Miffy's journey on:
– KLM Brings Miffy blog –
– KLM Indonesia/Malaysia Facebook – https://www.facebook.com/KLMMalaysia
– KLM Indonesia/Malaysia Twitter – https://www.twitter.com/KLM_ID/KLM_MY